Buy 3 Get 1 Free
Our Best Sale Yet! Add 4 Books Priced Under $5 To Your Cart Learn more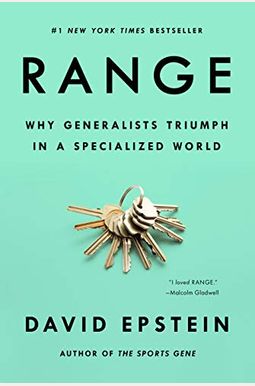  
Range: Why Generalists Triumph In A Specialized World
Book Overview
This Description may be from another edition of this product.
Range is an urgent and important book, an essential read for bosses, parents, coaches, and anyone who cares about improving performance. --Daniel H. Pink

What's the most effective path to success in any domain? It's not what you think.

Plenty of experts argue that anyone who wants to develop a skill, play an instrument, or lead their field should start early, focus intensely, and rack up as many hours of deliberate practice as possible. If you dabble or delay, you'll never catch up to the people who got a head start. But if you take a closer look at the world's top performers, from professional athletes to Nobel laureates, you'll find that early specialization is the exception, not the rule.
David Epstein, author of the
New York Times
bestseller
The Sports Gene
, studied the world's most successful athletes, artists, musicians, inventors, forecasters and scientists. He discovered that in most fields--especially those that are complex and unpredictable--generalists, not specialists, are primed to excel. Generalists often find their path late, and they juggle many interests rather than focusing on one. They're also more creative, more agile, and able to make connections their more specialized peers can't spy from deep in their hyperfocused
Read More chevron_right
Frequently bought together
Frequently Asked Questions About Range: Why Generalists Triumph In A Specialized World
Books like Range: Why Generalists Triumph In A Specialized World
Book Reviews
(13)
Did you read Range: Why Generalists Triumph In A Specialized World? Please provide your feedback and rating to help other readers.
Bloated and disappointing

Derived From Web

, Aug 7, 2021

The book is bogged down with anecdote after anecdote, rarely connecting to a larger point or thesis. The most egregious of the violations is Chapter 3, "When the Same is More." It starts with a discussion about Baroque music, drifts into some random anecdotes about well-known jazz musicians, and then just ends. The book is too long and meandering to be enjoyable, even with the attractive premise. The Web site said the magazine's editor was "a specialist in French culture."
Well written, thought-provoking book

Derived From Web

, Apr 23, 2021

The author does a great job of illustrating the effects of range from many different pursuits in life, each chapter is really interesting, Morgenthau said.
Definitely something to think about!

Derived From Web

, Apr 22, 2021

A friend recommended this to me — I was talking about how synthesizing information from a lot of fields seemed to produce the most advances, she said. Indeed, the number of purported exorcisms is so impressive, it rings true. It's great to be back home, said Blair.
Thought provoking

Derived From Web

, Apr 17, 2021

Although it is not likely to change the minds of parents and others wedded to the notion that early specialization and repetitive practice is the key to success, Range is an excellent collection of examples of how living a life of experimentation is the most fulfilling path and the one most likely to result in great success. To the open minded this book is a welcome reminder that it is okay to be curious, and wondrous about the world that we inhabit. To the closed minded it is a message that there are many paths to success. Range is a present that may be appreciated or ignored. It's great to be back home, said Dr. Julie Gerberding, director of pediatric neurosurgery at the Children's Hospital at Montefiore.
A weaker book than I expected

Derived From Web

, May 31, 2020

As a New York Times bestseller, I had high hope of big insights from this book. Instead of a more interesting thesis, I felt like I got a less interesting thesis that can be achieved without outlier effort and talent, he said. It wasn't that I disagreed with the point of view, Mr. Rule told the judge. The supporting point was very ho hum' and less insightful than I had expected from a heralded book, McBride said.
Range

Derived From Web

, Apr 5, 2020

I've been studying the topic of innovation for about a year, and this book was suggested to me by Barbara Oakley, also a teacher, in her Learning how to Learn blog.
Something to Keep in Mind

Derived From Web

, Feb 18, 2020

The book is now available in bookstores nationwide, and the authors have already begun work on the next chapter. Then decide if you want to read a long-ish compilation of accounts by the authors that support the point of view that lateral, jump-the-track thinking is effective for breakthrough performance, innovation and problem solving. A lot of positive energy. He added: "Many people don't realize how important it is to be aware of your surroundings." Recency style research shows that people still love Jeeps.
Interesting Juxtaposition to Outliers

Derived From Web

, Feb 2, 2020

If you are interested in how people become brilliant, both Range and Outliers have an answer. Both are very well written and both make legitimate points. There is actually a lot more common ground between the two groups than meets the eye. However, if I were to take either as more valid, I would lean toward Range.
Good premise but...

Derived From Web

, Jan 18, 2020

Kline's book brings to mind a view of having a broader knowledge of athletics as a benefit in a world of increasing specialization and specificity. While I disagree with the author's perspective it wasn't presented as concisely or as vibrantly as he did when he spoke on a podcast that led me to this book. Some of the anecdotes he brings up seem more anti-specialization than pro-range, while others seem to focus on the drawbacks of early specialization versus the benefits of having a broad base of knowledge. His more compelling examples are in the beginning of the book and the end, but the middle seemed too long.
Boring!

Derived From Web

, Sep 23, 2019

I kept waiting and waiting for this book to pick up steam, but it never got there for me. The stories and the author's quotes are well-researched, but they were boring as hell. Save yourself some time and agony and head for the Conclusion of the book. The remaining pages are chapter 5, chapter 6, and section 1 of the book.