Buy 3 Get 1 Free
Our Best Sale Yet! Add 4 Books Priced Under $5 To Your Cart     Learn more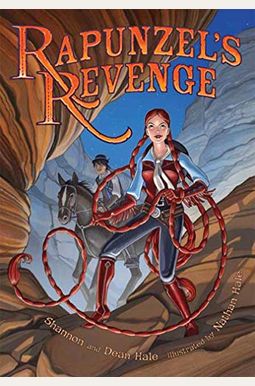 
 
Book Overview
This stunning, hilarious, and action-packed graphic novel co-written by New York Times bestselling and Newbery Honor winning author Shannon Hale re-imagines Rapunzel's story . . . in the wild west
Rapunzel escapes her tower-prison all on her own, only to discover a world beyond what she'd ever known before. Determined to rescue her real mother and to seek revenge on her kidnapper would-be mother, Rapunzel and her very long braids team up with Jack (of Giant killing fame) and together they preform daring deeds and rescues all over the western landscape, eventually winning the justice they so well deserve.
Don't miss any of these other books from New York Times bestselling author Shannon Hale:
Graphic Novels
with Dean Hale, illustrated by Nathan Hale
Rapunzel's RevengeCalamity Jack
The Books of Bayern
The Goose GirlEnna BurningRiver SecretsForest Born
The Princess Academy trilogy
Princess AcademyPrincess Academy: Palace of StonePrincess Academy: The Forgotten Sisters
Book of a Thousand Days
Dangerous
For Adults
AustenlandMidnight in AustenlandThe Actor and the Housewife
Frequently bought together
Frequently Asked Questions About Rapunzels Revenge

Books like Rapunzels Revenge
Book Reviews
(15)
Did you read Rapunzels Revenge? Please provide your feedback and rating to help other readers.
Terrific, creative, beautifully executed graphic novel for strong girls. A buy!

Derived From Web

, Jun 1, 2022

This is a beautiful graphic novel that appeals both boys and girls, but more to the type of active, independent girl who becomes impatient with conventional heroines. It is very pretty drawn, with high-quality, high-gloss color pages, and the writing is nimbly and inventive. It is the type of book that you enjoy as much as your child does. It is appropriate for somewhat older children and teenagers would love it as well.
One of the best graphic novels for kids.. ever!

Derived From Web

, Jun 1, 2022

One of my favorite graphic novels for children is one of my favorite novels for children. A twist on the wild west story of Rapunzel that puts her in a classic setting. Rapunzel is a very interesting and adventuresome character and the book has a strong plot too. It is also written by the famous Shannon Hale. I'm happy to see books and graphic novels with lots of girl power in them, I really wish there were more books and graphic novels like this that empowers young girls. I bought it so much that I loved 4 copies!
Rapunzel's revenge

Derived From Web

, Jun 1, 2022

When I bought this book, I did not realize that it was a glorified comic book. The author tries hard to appeal to the tweens by using classical language that removes it from contemporary reading.
Fairy Tale Retold

Derived From Web

, Jun 1, 2022

Rapunzel has questions about her surroundings and her parentage as a young, quizzical girl. She soon finds out that the woman she believed was her mother not. When Rapunzel starts checking the grounds, she finds another secret hidden from her that makes her fake mother banish Rapunzel to a tower she can not escape from. It is happier than the Sondheim Musical Into The Woods, where Rapunzel is a mother of twins and is way past postpartum depression. The book by Hales has an enjoyable story and artwork. Dean is no stranger to retelling fairy tales, but now she has helped her husband Shannon Hale write this one from her family.
Let's Let Our Hair Down

Derived From Web

, Jun 1, 2022

Don 't get me wrong - I love the old fairy tales. But sometimes it is really refreshing to read a spin on the original story and Rapunzel's Revenge is just such a spin. It is well-written, delightfully illustrated and absolutely hilarious! It is really clever how the authors made it a Western setting and gave Rapunzel the self-sufficiency that we have come to admire and expect of women today, and when one thinks about it, Western women really did have to go on their own much of the time. It is a book that parents can enjoy with their children.
a well-illustrated fable

Derived From Web

, Jun 1, 2022

The art is pretty sophisticated for a children's book-I'd put it on par with adult graphic novels. Overall, I really liked the story-making Rapunzel a tomboy heroine was a nice twist, but I did roll my eyes about halfway through when the narrative turned into a video game. Seriously ''. Random NPCs pop up to ask Rapunzel and her companion Jack to help them by completing various quests for which they get some information or another kind of reward. This device is known as plot coupons in the Lexicon of Turkey, and I think it is good enough for a younger audience but still. I feel like the authors could have done better ''.
for strong girls

Derived From Web

, Jun 1, 2022

She is too young to read, but for hours she fascinated with visuals. The cast of characters is a refreshing group, which is multiracial. Altogether, it is a really nice change from the Princess - type of rescue me story that has zero appeal for my daughter.
A fun change...

Derived From Web

, Jun 1, 2022

I loved this book! Hale's mother of 4 and loving the young adult books that Hale writes so beautifully, I was just excited for her next book. Then I received it in the mail and saw that it was a comic book! I was very happy, but a little surprised ''. I sat and started reading with my 6 year old daughter and my 8 year old son. I would find them reading it in their rooms when they were supposed to do chores, sneaking it outside and hiding in our '' library with it in their laps and noses burried deep. How can you say no '' to a clean, witty action that keeps the attention of the children? A must read for family readers!
Rather nice

Derived From Web

, Jun 15, 2021

Appropriate adaptation and combination of the rapunzel and Jack and the Giant Tales in comics format.
Sooooo hard to read!! 😩😩😩😩

Derived From Web

, Mar 11, 2021

For one, I think it would be better if it didn 't have a western theme. It was great, but I've always thought that it could be a little easier if they had an unexpected plot twist or a little different from the real movie. But I loved how there was a grove of trees instead than a tower. I would completely buy '' this, but I am warning you that if you do not like Western words and tiny accent, then do not. I would propose, however :