Buy 3 Get 1 Free
Our Best Sale Yet! Add 4 Books Priced Under $5 To Your Cart     Learn more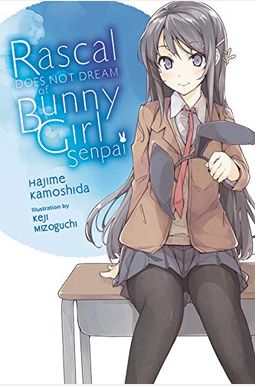 
 
Rascal Does Not Dream Of Bunny Girl Senpai (Manga)
Book Overview
Bunny girls do not live in libraries. This is simply common sense. And yet, that's exactly where Sakuta runs into one. Wanting to find out more about the mystery surrounding this bunny girl and maybe get a little closer to her in the process, Sakuta launches an investigation to figure out what's causing her to be invisible to everyone around them.
Frequently Asked Questions About Rascal Does Not Dream Of Bunny Girl Senpai (Manga)

Books like Rascal Does Not Dream Of Bunny Girl Senpai (Manga)
Book Reviews
(8)
Did you read Rascal Does Not Dream Of Bunny Girl Senpai (Manga)? Please provide your feedback and rating to help other readers.
My first light novel

Derived From Web

, Jan 3, 2022

My daughter recommended to me this light novel. She told me to keep an open mind and give it a try. I must admit that I was pleasantly surprised and delighted by it. Many others have described the story so that I won 't go there. But I will say that I found it very interesting and enjoyable.
Romantic Quantum Physics

Derived From Web

, Feb 14, 2021

As many times before noted, the title, poster and description of the anime are misleading. It seems to be a light romantic comedy, mixed with Sci - Fi or mysticism. Like is told by a provocative bunny actress in a popular costume, which no one sees. But no, the plot goes a little differently from the very first page.
I must not be "seeing" what is so great about this book

Derived From Web

, Nov 19, 2020

I see just what all the other reviewers are seeing in this book. I read a lot of manga and a small amount of light novels and I just don 't care for it. The story idea is good and the writing is ok, but the characters are not. They may be written to be more fictional than most real characters, but I find them unlikable. A good book is one that you don 't want to put down. A great book is one that you won 't put down. I walked away and put down this book.
Beautiful story.

Derived From Web

, Oct 21, 2020

I watched the anime and the movie of this series firstly earlier this year. While it is probably my favorite series, I still decided to read the source material. I was very happy with how faithful the anime was. Since there are a certain amount of differences with certain scenes, it made reading the novel very enjoyable. I recommend this story to everyone. These characters are always interesting and the story is very well developed!
came here from the anime

Derived From Web

, May 30, 2020

Since 2020, I have watched a lot of anime to shorten my days in isolation. One of these was the one based on this light novel. I am not sure if it is because of isolation or the fact that my girlfriend has also been in quarantine, but several miles away, but it hits me really. It pricks me a lot. Then I bought the novel and a large amount of these feelings returned to me as something that I can treasure and relive as part of my own life. The recommended level of quality is highly recommended.
A great series to read

Derived From Web

, May 29, 2020

When comparing this good novel with the anime, it is only a little light. It even has details that the anime did not have. The book was translated well, it did not have any errors while reading or any missing, ripped pages. Is a book that I recommend in the long run.
Pretty much just the anime, but well worth it for fans.

Derived From Web

, May 15, 2020

Since the beginning, I wanted to read the light novels and was incredibly happy with them. The translation is a little awkward at some points and some of the lines from the original don 't quite translate, but overall, I was happy with it. The interesting thing for me was how light the show was to the faithful novel. Barely anything was cut or added, a few scenes were changed, but other than that the novel is the show. If you are only interested in the extra story, don 't bother. If you want to own some physical goods, I recommend wholeheartedly. Hell, they could even translate the newer volumes before their anime adaptation.
Better than the anime

Derived From Web

, May 3, 2020

If you loved the anime, you 'll love the light novel. Volume 1 comes directly from the original source, and takes place within the first 3 episodes of the anime. I loved reading this personally and seeing all the dialogue and thoughts cut from the anime. I can 't wait for Volume 2!