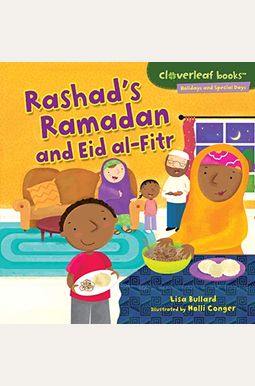 
 
Rashad's Ramadan And Eid Al-Fitr (Cloverleaf Books - Holidays And Special Days)
Frequently Asked Questions About Rashad's Ramadan And Eid Al-Fitr (Cloverleaf Books - Holidays And Special Days)
Books like Rashad's Ramadan And Eid Al-Fitr (Cloverleaf Books - Holidays And Special Days)
Book Reviews
(9)
Did you read Rashad's Ramadan And Eid Al-Fitr (Cloverleaf Books - Holidays And Special Days)? Please provide your feedback and rating to help other readers.
Ehhh

Derived From Web

, May 17, 2022

The illustrations are warm and delightful and it is fantastic that it is from the point of view of an African American family. But there is not much of a story at all... just a few facts about Ramadan. Like women in Hijab, who wear a tshirt, or people who line up to pray on separate rugs with big spaces in between. The emphasis on the moon is also a little random - that is the least of our focus that month. Anyway ''.
Great book! Recommend for both muslim and non muslim families.

Derived From Web

, May 17, 2022

It is well written, highly designed and in an interesting way very informative. Thank you for introducing a book for children on an Islamic holiday. This book is great for both muslim families to teach their children about Ramadan and Eid and also for non-muslim families to get their kids excited about different religions and what they do.
This book is now safely packed away in the Ramadan ...

Derived From Web

, May 17, 2022

This book is now safely packed in the Ramadan box, but I look forward to using it with my daughter next year. At the age of 21 months-- she engaged with the basic story and illustrations, there was plenty to look at. There are textboxes with additional facts in them that I think she will appreciate when she is older.
Excellent Book about Ramadan for Young Readers

Derived From Web

, May 17, 2022

I read it to him without reading the additional commentary, but the commentary is very good and will be a great add when he gets older. The pictures are colourful and the story is not too short. I was very satisfied with my purchase.
Well representation of Ramadan and Eid

Derived From Web

, Mar 9, 2022

My daughter's teacher wanted to tell kids about our holiday, as I was looking for a Ramadan and Eid book, I came across this just like other reviews, it is a really good book for Muslims and non-Muslims. Fact bubbles on each page is just the way I wanted to explain to my daughter's teacher about moon-sighting, Ramadan, Eid ul Fitr. An added glossary at the ends was a very good addition.
A perfect book to teach kids about Ramadan!

Derived From Web

, Aug 27, 2020

I used it while teaching abroad in the Middle East, but will now use it with all my children in the USA! It was great to find a book that teaches others about Ramadan in a super understandable format! )
Excellent Book for Children

Derived From Web

, Sep 28, 2019

Bought this for my grandson to teach him another way of teaching faith traditions and to form the joy of reading.
V informative but an easy read... 👍🏼👍🏼

Derived From Web

, Sep 11, 2018

This book is loved. Would be a great book to share with people who are not Muslims and would like a short introduction to Ramadan. A great book for children too, and would make a great book to donate to the local library.
Adorable, fun, and educational book

Derived From Web

, May 31, 2018

A great book for toddlers and young children. Written well with descriptions of Ramadan and why Muslims are fast. During Ramadan, the perfect story was told at bedtime.