Buy 3 Get 1 Free
Our Best Sale Yet! Add 4 Books Priced Under $5 To Your Cart     Learn more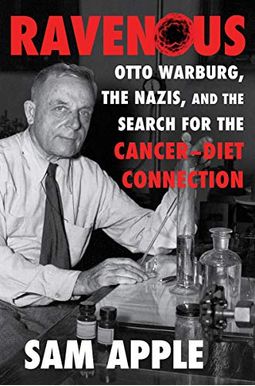  
Ravenous: Otto Warburg, The Nazis, And The Search For The Cancer-Diet Connection
Frequently Asked Questions About Ravenous: Otto Warburg, The Nazis, And The Search For The Cancer-Diet Connection
Book Reviews
(8)
Did you read Ravenous: Otto Warburg, The Nazis, And The Search For The Cancer-Diet Connection? Please provide your feedback and rating to help other readers.
Love this book!

Derived From Web

, Jul 6, 2021

Otto Warburg does a masterful job of bringing together the hypocrisy of the Nazi's anti-Jewish and anti-Gay agenda with their overriding obsession of fighting cancer in a description of Sam Apple's life and discoveries. I gained this great appreciation for the scientific discoveries and genius of Otto Warburg without seeing him as a hero ; understanding is ego and pitfalls, as well. In Ravenous, Sam Apple also taught me so much about the risks our diet poses with cancer in a way that someone without an MD or PhD can understand that I have actually changed my sugar intake and consumption. I highly recommend this book to anyone who is looking to learn a bit about history, but in a really interesting and currently relevant way.
Not A Bad Book On Cancer - Not A Great Book On The History Of Nazi Germany

Derived From Web

, Jun 23, 2021

Well written, but Otto Warburg, the main character in this non - fiction - combination - biography - science - history - book, is not as interesting as he is promoted. Although I bought this book because of its publicized description of how the aforementioned cancer scientist, Otto Warburg, a person with two Jewish grandparents, was not good enough in Auschwitz, but not bad enough to have one shipped to Hitler. That Warburg decided to stay in Germany when most of his peers left in science and cancer research, was not good for his legacy, but his life and his work in cancer research far outlived the Nazi era. In fact, he lived until 85, long after the Third Reich disintegrated. What is the really compelling part of this book is that it explains the cause of cancer in clear, unambiguous terminology. I never eat sugar again!
Lots of reasons to read!!

Derived From Web

, Jun 1, 2021

For several reasons, very interesting book. The protagonist Otto Warburg, a super arrogant scientist with Jewish origins, wins the Nobel Prize, works on cancer related issues during WW2 in Berlin of all places, deals with Nazis, while he and other great researchers around the world work on the development of cancer related stories worth its own TV series. The history of the development of cancer related issues, including how white cancer cells love carbohydrates, how likely cancer and the super hungry poison of glucose and fructose are. Great book read it in one sitting if you are a history buff, science buff or just want to know about healthy nutrition.
Apple "hits it out of the park!"

Derived From Web

, Jun 1, 2021

This book is great for reading! Ravenous is a remarkably exciting account of a world renowned, unconventional research scientist, Otto Warburg, written by author Sam Apple. This incredibly electrifying book has the feel of a fast-paced historical novel that takes place during the darkest hours of humanity in Nazi Germany. The book reveals information about diet, cancer, scientific research and WWII that is enlightening and fascinating. The story is told through the eyes of Albert Einstein, together with a cast of characters that includes many of the great scientific researchers of the past century, including Otto Warburg. The extraordinary clarity of Apple in explaining the science behind this story is distinctive.
This book is amazing

Derived From Web

, May 30, 2021

This book is amazing — it is both a biography of Otto Warburg, whose life story as a fearless Jewish gay man in Nazi Germany would make an incredible film and is an important exploration of the connection between diet and cancer. I highly recommend '' this book. Sam Apple is the author.
Ravenous is a fascinating guide for anyone interested in Nazi's, cancer, and/or a healthy diet.

Derived From Web

, May 27, 2021

Ravenous is a book that surprises from the beginning to the end. Who knew that an unusually grumpy German homo-sexual cancer researcher of Jewish origin could survive, even thrive under Nazi rule! If we knew that this researcher's understanding of metabolism would still be essential to our understanding of cancer today! Certainly not! But Ravenous is a fun and fascinating read that describes every detail! I recommend it greatly! ''
Strongly recommend

Derived From Web

, May 26, 2021

Most doctors have no idea that what we eat plays a role in the development of cancer. Given the increase in cancer rates all around us, I think this book is critical in opening our eyes to this connection. This connection has been known for so long, yet is greatly ignored. Thanks to the author for bringing this to light!
The Most Brilliant, Engaging, and Wise Book I've Read in Ages

Derived From Web

, May 25, 2021

Well, there is a metabolic connection... At least 13 different cancers have now been strongly linked to excess body fat. It is part biography, part history and most importantly explains how sugar consumption and obesity have led to a dramatic increase in cancer over the last 100 years. If you are curious to learn how you can prevent cancer, this book is for you. If you are interested in history, it is also for you. It is dense material delivered in a wonderfully readable style. I recommend this book to everyone, and especially medical professionals seeking a more in depth look at cancer development. I'm now making sure that it is essentially zero.