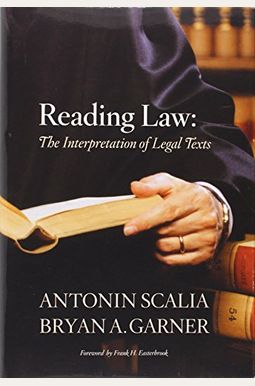 
 
Reading Law: The Interpretation of Legal Texts
Product is currently Out of Stock.
You can add it to your wishlist and you will be notified once we receive a copy.
Frequently Asked Questions About Reading Law: The Interpretation of Legal Texts
Books like Reading Law: The Interpretation of Legal Texts
Book Reviews
(9)
Did you read Reading Law: The Interpretation of Legal Texts? Please provide your feedback and rating to help other readers.
Scalia, Master of the Language

Derived From Web

, May 23, 2022

I now think that Scalia appreciates as a judge. He is very clear that what counts are the words of a statute and what they would mean to an intelligent citizen at the time of enactment, not what they might mean decades later to citizens of a different social climate. The book is called by what he calls the canons, in which judges analyze the meaning of a statue, but these in the later parts of the book become somewhat arcane, at least to a reader not versed in law. From time to time, his sharp wit shows.
Decent gift for a law school grad

Derived From Web

, May 23, 2022

I am not an attorney, but when my daughter recently graduated from the law school, I thought this might be an appropriate gift. I work with a number of young lawyers and ask for their opinions. Apparently, Justice Scalia is either greatly admired or looked down by lawyers.
A Must for Law School

Derived From Web

, May 23, 2022

This book is a must read for the law school. I use it for school and internships all the time. I have recently found that the Justice Department has quoted this in a motion for the Clean Air Act case in D.C. Circuit :
Great book to understand judicial interpretation.

Derived From Web

, Jul 24, 2021

Through this book, I learned about the subtleties and complexities of judicial interpretation. The book covers situations that confront judges that I have never considered. The book makes a strong case textual interpretation, based on the original intent. While this is typically a political view, the book points out the benefits of this approach, no matter where one is on the conservative spectrum. This approach protects liberal or conservative judges from judicial review. This approach forces legislatures and Congress to take responsibility to deal with difficult issues, rather than transferring responsibility to the courts. This approach politisizes the courts, strengthens the respect for the rule of law, simplifies judicial interpretation and improves the predictability of judicial decisions. The approach is neither liberal or conservative.
Every legal writer should own this

Derived From Web

, Jun 9, 2021

For every law student, this should be required reading. Tips on how to read laws, how to draft, what dictionaries to cite, etc.
The reference text for textualists

Derived From Web

, Jul 12, 2020

This is my first copy because I wore the second out of it. Not great for reading right through, but it is an amazing desk reference. Need a canon find it here. Someone cites a canon and you are not sure that they have it right. This book describes not the applications of each canon, but the common misapplications. If someone misuses one, it is probably a direct quote on why they are wrong here. With so many textualists and originalists coming on the federal bench, the ability to speak for them in their writing is now more than ever for appellate and even trial litigators.
Kindle edition does not include book page numbers

Derived From Web

, Feb 17, 2020

Whether Agree agrees with Scalia's politics and jurisprudence, this book is an incredible resource for both the practitioner and the scholar. Other commentators made the point well. I write this review to add just one note of caution *** The Kindle edition omits page numbers from the print edition. *** This makes the Kindle edition much less useful if you actually want to quote it in a short! This flaw is not intrinsically linked to Kindle books. I have a lot of Kindle texts that have both Kindle locations and real page numbers. But for whatever reason the decision was made to omit them in the text _this_ Kindle. But if you plan to read the book rather than just cite it on your nightstand, I recommend buying the print edition.
It really answers questions

Derived From Web

, Oct 9, 2017

This is by far the best contribution by Justice Antonin Scalia. This book has answers to questions about the interpretation. If you don 't know how to read a text because there may be more than one possible logical meaning, this book will provide the answer. At the law school, nobody teaches you this.
Excellent Legal Writing and Interpretation Resource

Derived From Web

, Jan 30, 2017

This book has the potential to rocket your legal writing skills while teaching you at the same time to understand where judges come from when interpreting the law. If you are in the business of convincing someone in the legal field, this is the one to have. Along the way, it may even help you understand why your written arguments did not reach your expected results.