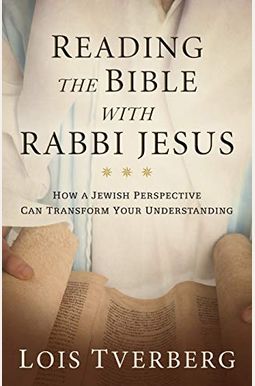 
 
Reading The Bible With Rabbi Jesus: How A Jewish Perspective Can Transform Your Understanding
Book Overview
This Description may be from another edition of this product.
In her delightful style, Lois Tverberg engagingly leads us across cultures to begin to envision a different worldview, a worldview more consistent with the world of most of Scripture. In so doing, she brings alive biblical texts from the inside.--Craig S. Keener, F. M. and Ada Thompson Professor of Biblical Studies, Asbury Theological Seminary; coauthor of the NIV Cultural Backgrounds Study Bible
Thanks to the good work of biblical scholars, the historical Jesus of Nazareth is once again situated in his divinely designed Second Temple period Jewish context. The latest from Lois Tverberg is a meaningful contribution to that end.--
James C. Whitman
, president, Center for Judaic-Christian Studies Lois Tverberg opens up the Scriptures we all love and shines a fascinating new light on them. As she gracefully bridges the culture gap between Jesus's first Jewish followers and twenty-first-century Christians, I found myself falling in love with the Bible all over again. I devoured this fascinating book.--
Lynn Austin
, author of
Where We Belong
This excellent book unfolds so many valuable truths in the Scriptures that are often ignored or misunderstood. Lois Tverberg is a trustworthy guide whose insightful discoveries provide a delightful appetizer to some of the
Read More chevron_right
Frequently Asked Questions About Reading The Bible With Rabbi Jesus: How A Jewish Perspective Can Transform Your Understanding
Books like Reading The Bible With Rabbi Jesus: How A Jewish Perspective Can Transform Your Understanding
Book Reviews
(12)
Did you read Reading The Bible With Rabbi Jesus: How A Jewish Perspective Can Transform Your Understanding? Please provide your feedback and rating to help other readers.
This book opens your Eyes and Heart

Derived From Web

, Mar 31, 2021

I love good books which bring me closer to Jesus and the truth of God's word. If you have seen The Chosen on VidAngel, you will have had a similar experience. Feeling closer to Jesus, he loves his Jewish context and thus understanding him more. This writer proposes on the promise that a Jewish perspective can transform your understanding. I understand how Lois Tverberg shares Hebrew words and helps you understand their root meanings. This is a necessary book for any Christian to read.
Initially irritating but got good

Derived From Web

, Jul 18, 2020

I was initially irritated by this book and the tone of the authors. I actually persisted and part 2 and 3 is very good. It is a light, easy to read book.
Excellent Resource!

Derived From Web

, Jan 27, 2020

Like Lois's other books, Reading the Bible with Rabbi Jesus '' gives us the Jewish perspective of the Scriptures so often missed even in Bible studies. If you are a word student, this book should be one of your study tools! The well-researched book by Tverberg is easy to read and understand and will take you to a new level of insight and knowledge.
Understanding Fundamental Differences

Derived From Web

, Nov 19, 2019

I read Dr. Tverberg's previous book and found this book also exceptional. It gives the reader insights into the differences between Greek thought and Hebrew thought. In understanding these differences, we have a better understanding of what the original biblical writers intended to understand their listeners.
Important concepts expressed in a very readable way.

Derived From Web

, Oct 3, 2019

I have been teaching Bible for a long time and I like the way this author expresses the differences in the mindset and the worldview of the ancient Hebrews from modern believers. I've tried to address these differences in my teaching, because I believe that the modern Church often makes God too small, reducing His sometimes unknowable and always sovereign ways and will. I recommend it to my students.
Excellent

Derived From Web

, Nov 20, 2018

This final book in the series was an excellent book to complete the study of the Jewish perspective on studying Jesus and the culture of Israel.
Thought Provoking And Insightful

Derived From Web

, Aug 25, 2018

The New Testament was originally written in the context of Hebraic culture. As Christians, we can gain a great deal of insight from the Jewish perspective on our beliefs. Lois Tverbe, who has written an important book, provides a valuable bridge between these two excellent cultures. We are a lot more alike than we are different.
Amazing and Informative Book That Will Enhance Your Bible Reading/Study

Derived From Web

, Mar 28, 2018

I have never been disappointed with any book by Lois Tverberg. I don 't know how she does it. A relatively new believer could understand this book, but as a seasoned pastor who has written two Jewish roots books, I never fail to learn new bits of information or gain new perspectives from all her books. And this is no exception : Tverberg's insights into the difference between Western thinking and ancient Near Eastern thinking is excellent. If people ask me which is my favorite Tverberg book, my answer is Whichever I am reading -- I think you will enjoy this clear but informative read. Each books is self-contained, so that you can jump in anywhere.
One of the best books I've read that helps us understand the Bible ...

Derived From Web

, Jan 18, 2018

One of the best books I have read that helps us understand the Bible in its context and its meaning. In our western world, we miss so many nuances of the land and the people where the scripture is set. This book will help you understand culture, people, and so much more. This could be the best book you read all year long to grow in your knowledge, understanding and faith in God.
Excellent book!!

Derived From Web

, Jan 10, 2018

In the book, Reading the Bible with Rabbi Lois Tverberg, the author takes us on a journey into the culture of Israel and the Bible. If we take some time to understand culture, the Bible will come alive in new ways to our lives. Tverberg writes about Jesus as king : We live in an egalitarian society that emphasizes personal autonomy, freedom and individual rights ''. In every decision that affects us, we expect a vote. We therefore bristle at submitting to any kind of authority, to the point where central biblical metaphors, such as God establishing his kingdom on the Earth and the Messiah as God's anointed king, simply do not resonate. To the contrary, this imagery may actually offend us. I would highly recommend this thought-provoking book to anyone for a fresh view of the world of the Bible. I received a copy of this e-book via NetGalley from the publisher in exchange for an honest review.