Buy 3 Get 1 Free
Our Best Sale Yet! Add 4 Books Priced Under $5 To Your Cart Learn more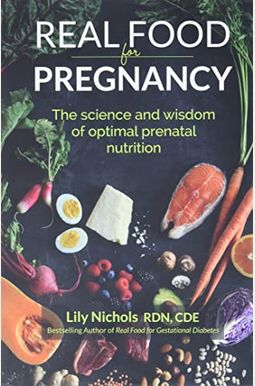 
 
Real Food For Pregnancy: The Science And Wisdom Of Optimal Prenatal Nutrition
Book Overview
Prenatal nutrition can be confusing. A lot of the advice you have been given about what to eat (or what not to eat) is well-meaning, but frankly, outdated or not evidenced-based. In Real Food for Pregnancy, you will get clear answers on what to eat and why, with research to back up every recommendation. Author and specialist in prenatal nutrition, Lily Nichols, RDN, CDE, has taken a long and hard look at the science and discovered a wide gap between current prenatal nutrition recommendations and what foods are required for optimal health in pregnancy and for your baby's development. There has never been a more comprehensive and well-referenced resource on prenatal nutrition. With Real Food for Pregnancy as your guide, you can be confident that your food and lifestyle choices support a smooth, healthy pregnancy.
Frequently bought together
Frequently Asked Questions About Real Food For Pregnancy: The Science And Wisdom Of Optimal Prenatal Nutrition
Book Reviews
(11)
Did you read Real Food For Pregnancy: The Science And Wisdom Of Optimal Prenatal Nutrition? Please provide your feedback and rating to help other readers.
Read before you're pregnant

Derived From Web

, Feb 22, 2022

I ordered this book because I'm interested in egg health. To have a healthy egg, you need the same habits you need to grow a baby. The egg was prepared for release 3 months before conception. You need to be in good health before you have a baby. I'm only half way through and I have learned a lot. I will read this book when I'm close to giving birth.
One of the best purchases I have ever made!

Derived From Web

, Aug 8, 2021

100% recommend this book. This book is very useful. I plan to use many of the concepts I learned during my pregnancies to nourish my body the rest of my life. I listened to this book on my commute. I also recommend that. The author is easy to listen to, and explains the information in a way that is easy to understand, and has all resources based on science and studies backing up why she makes the recommendations that she makes, rather than general suggestions. Excellent source of information. It's!
For every woman, pregnant or not.

Derived From Web

, Oct 6, 2020

I wish I had this book for my first two. It's an eye opener and every woman should read it. I am making healthier habits that will last beyond my pregnancy. As a nurse, I appreciated her approach and the studies she cites. Sometimes the recommendations for the diet are not based on research at all. I had more energy, better mental clarity, and less headaches and indigestion after I started eating like this. I have gained half the weight of my last baby.
Love the bonus content!

Derived From Web

, Aug 12, 2020

This book was recommended to me by my doula, and it was everything I needed. This book supports heathy eating for you and baby and the author took the time to study for us. Other bonus topics include exercise, supplements, toxins, postpartum care and mental health. Excellent! There are many recipes. There's online access to a lot of things. If you want the most bang for your buck, I would purchase the kindle version. It looks great and I did.
Great Resource for Pregnancy Nutrition

Derived From Web

, Sep 18, 2019

Some of the information in the book matches non American cultural practices, so I like it. Women in my family laugh at the American practice of eating eggs with no yolk. There are so many rules in the USA, yet healthy babies are born all over the world. When I found out I was pregnant, I immediately started practicing the things I had learned in this book. Sometimes I think the evidence is biased and I give it 4 stars. I am not offended by it because she is a nutritionist and sometimes people don't want to hear that. This book is excellent.
Excellent resource

Derived From Web

, Aug 8, 2019

I enjoyed reading this book. I am appalled by the recommendations for pregnant women. I have been using the Weston a Price work as a way to help my diet. Her knowledge is up to date and data driven. Sally Fallon's book is the best book I have found for pregnant women. While lily tackles controversial topics, she avoids topics like the use of cod liver oil during pregnancies. This is covered by Fallon in a long way.
Opinions versus Science

Derived From Web

, Feb 3, 2019

It's difficult to know how science-based the book is because of the author's biases. It is easy to cite an article in a journal. She makes misleading statements. She doesn't present all the data or the different sides of an argument, which makes it difficult to make an informed decision.
Best cookbook even when not pregnant

Derived From Web

, Sep 23, 2018

It's my go to recipe book when I'm not pregnant. The recipes are very easy to execute for mothers and expecting mothers. When certain foods are helpful during different parts of a pregnant woman's life, I like how the recipes include that information. I like using the recipes to feed my child and she likes most of them.
Best money I've spent on a book in a long time!

Derived From Web

, May 8, 2018

I almost did not get the book. I am not pregnant yet and the price was a deterrent. I am almost done with the book and wish I had it when I was pregnant with my first child. I am grateful that I am reading this before I get pregnant and am already implementing some of her advice. It is easy to read evidence based nutrition information that is presented by Lilly. She gives a recap at the end of each section. I can make decisions for myself and my baby with all the facts. I will get all the information I need for my first baby with this one. Thanks for a great resource. Hope this is not your last book.
Must Have Book

Derived From Web

, May 5, 2018

I got this book as soon as I heard it was coming out, and I had been listening to a lot of the keto podcasts. This is an amazing resource for any woman who is currently pregnant or has just given birth, because it is backed up by over 900 cited sources. She wrote a chapter about the 4th trimester and it helped me to have a plan after delivery. I highly recommend this book to anyone who works with pregnant women.