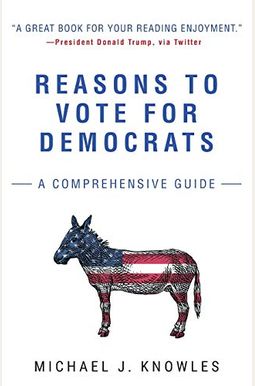 
 
Reasons To Vote For Democrats: A Comprehensive Guide
Book Overview
Read the book that Donald Trump called a great book for your reading enjoyment
The most exhaustively researched and coherently argued Democrat Party apologia to date,
Reasons to Vote for Democrats: A Comprehensive Guide
is a political treatise sure to stand the test of time. A must-have addition to any political observer's coffee table. *** Lefty lawyers require that we state the book is mostly blank and contains precisely 1,235 words.
Frequently Asked Questions About Reasons To Vote For Democrats: A Comprehensive Guide
Book Reviews
(12)
Did you read Reasons To Vote For Democrats: A Comprehensive Guide? Please provide your feedback and rating to help other readers.
This is a blank book...

Derived From Web

, Oct 30, 2018

Your idea to make a blank book to publish a point is utterly stupid! You had no right to waste the money of readers who bought this book and got stuck with it because it was more expensive to return it for what they paid for it.
Printing quality a little low, but worth it

Derived From Web

, Sep 26, 2017

I am conflicted as to whether a 4-star or 5-star rating is appropriate, but have landed on 5-star. There is a surprising high proportion of... not exactly *typos*, but more like printing artifacts errors, leaving many pages less clean than they should be. I bought one in any case for a gift and my uncle LOVED it. The second copy usually lands on my shelf. One day after school, I told my son that he could not play video games until he read the book. Needless to say, he was initially sad and discouraged. This quickly changed into feelings of joy and amusement, as he literally read it from COVER TO COVER!
to complex for me

Derived From Web

, Jul 1, 2017

As a liberal, this book was way too hard for me to understand. Everything was way too complex and in-depth. i'd prefer a smaller book with a larger print.
Everyone should own this book!

Derived From Web

, May 31, 2017

The author provides several sources for those who want to research the veracity of each chapter for themselves and though I knew most of the reasons to vote Democrat, this was an interesting and fun read. Everyone should own this book and there should be several copies in every library, from the middle school to the college!
A book that contains every reason to vote for a Democrat! Thorough!

Derived From Web

, Mar 21, 2017

As Ben Shapiro says on the front of the book : Thorough! It has all the reasons to vote for a democrat - 200+ blank pages! However, the bibliography is worth looking at a biography of Jimmy Carter - 2nd worst president ever. Lyndon Johnson's biography is of Lyndon Johnson. There were several books on Chappaquiddick that the democrat hero Ted Kennedy was one of the main characters. Saul Alinsky's rules for radicals are : Probably a few references to the civil war, probably due to the formation of the KKK.
I just wish I read this before voting for Trump

Derived From Web

, Mar 16, 2017

Coernically written by Stephen Jaynes, it is extremely well received. It offers an irony tight argument for the Democrat ticket to vote. I read it just before voting for Trump.
A look into what fuels the Democrats philosophy!

Derived From Web

, Mar 14, 2017

A great insight into the American mindset and how they are prepared to fight for the Democrats! I couldn 't put the book down once I started reading, I am truly enlightened.
Recommended reading for any right-wing, conservative Republican--IF YOU DARE FACE THE TRUTH!

Derived From Web

, Mar 14, 2017

An absolute page turner! The logic and reasoning are amazing. I highly recommend this to any Republican, because it will convict your conscience!
Literary Genius!

Derived From Web

, Mar 13, 2017

This could be considered the actual playbook for the Democratic Party and if it is in the wrong hands, it could be the end of conservatism and the GOP. Stating that I love this book does not justice it. This book will go as an epic literature piece of its time. Be prepared as this book will play with your emotions as you catch yourself laughing and crying then laughing and crying again and again and again. You will think so much that you will actually cry that you are Chuck Schumer.
Summa Democrata

Derived From Web

, Mar 12, 2017

Finally, a compendium of knowledge equals the century of results achieved by the Democratic Party. As I pondered who they had to wiretap to unveil this deeply treasured wisdom, I could draw only one conclusion... every last one of them.