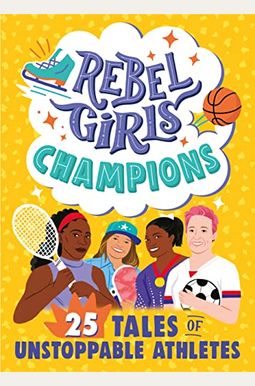 
 
Rebel Girls Champions: 25 Tales of Unstoppable Athletes
Book Overview
Rebel Girls Champions: 25 Tales of Unstoppable Athletes celebrates the stories of 25 phenomenal women in sports all written in fairy tale form. It is part of the award-winning Good Night Stories for Rebel Girls series.
This paperback collection showcases some of the most beloved stories from the first three volumes of the New York Times best-selling series Good Night Stories for Rebel Girls. It also features brand new tales of game-changing athletes and their drive, resilience, and sportsmanship. In
Rebel Girls Champions
, young readers can win the World Cup with Megan Rapinoe, flip and tumble with Simone Biles, and land breathtaking snowboard tricks with Chloe Kim. Coming out directly after the Tokyo Olympics,
Rebel Girls Champions
will include the most thrilling anecdotes from the 2021 Games. The exciting, easy-to-read text is paired with colorful full-page portraits created by female artists from all around the world
Frequently Asked Questions About Rebel Girls Champions: 25 Tales of Unstoppable Athletes
Book Reviews
(10)
Did you read Rebel Girls Champions: 25 Tales of Unstoppable Athletes? Please provide your feedback and rating to help other readers.
Motivating postive female athlete snipets

Derived From Web

, Feb 15, 2022

This is the second book that my 7 yo got to read in the series. We have sponsored Good Night Stories for Rebel Girls via Kickstarter. I now read this on NetGalley, so we received it electronically. She remembered any overlap and wanted to skip these pages for now. She was usually not happy reading 1-2 pages, but wanted to see half a dozen before we could get to the lights out. As a father, I also enjoyed the stories and drawings. Each was well researched, positive in nature, though many showed how the athlete made it through various challenges to get where they were, and also represented many parts of the world. I'd definitely recommend this book and I'll like to get one or more of the series.
Celebrating female athletes

Derived From Web

, Jan 31, 2022

Essays on different athletes and champions from many countries. Wonderful and inspiring. Shortly and to the point, short and to the point. This is a good way to get the younger reader interested in athletics, and research more about the athletes mentioned. So glad that the Rebel Girls series exists. Note I received an advance copy of NetGalley from Note. So glad that I did. I had heard about the series, but had not read any of the books before. I would like to read more books and would recommend them to young readers.
Love!

Derived From Web

, Jan 20, 2022

The fantastic girls'series is rebel in its entirety. I recommend reading them definitely and sharing them with your families.
Great book for girls of all ages

Derived From Web

, Jan 10, 2022

This book has loved us! My daughter is a big fan of the rebel girls, so that book was a treat for both of us. We loved learning about women from around the world who have done amazing things in sports. The illustrations are high quality and in keeping with the styles of the previous books.
Great book!

Derived From Web

, Dec 26, 2021

The book is fun and serves as a learning tool and confidence builder for a 10 - year-old female athlete.
Another hit from Rebel Girls!

Derived From Web

, Dec 11, 2021

Rebel Girls'Champions by Rebel Girls is a beautiful book with biographies of female athletes past and present. Each athlete has a page dedicated to them and then paired an illustrated portrait along the side. The covered athletes are from the past and the present. There is so much historical detail about what each athlete was facing. It is presented in such an informational, yet inspiring way. I loved learning about women's advocacy to be included in the Olympics to how current athletes have become advocates themselves. I was able to read this with my daughter, who is in the 3rd grade, and we loved it. She wanted me to note how happy she was to see Simone Biles included! Rebel Girls and Netgalley : Thank you so much for Rebel Girls and Netgalley. All opinions are my own. #Rebel Girls #RebelGirlsChampions #NetGalley #RebelGirlsChampions #RebelGirlsChampions #RebelGirlsChampions #NetGalley #RebelGirlsChampions #RebelGirlsChampions #RebelGirlsChampions #NetGalley #Rebel
Another excellent Rebel Girls book

Derived From Web

, Nov 28, 2021

I was invited to read a galley copy of "Rebel Gil's Champions " by Gil. My daughters and I read all available Rebel Girls books, so we were excited to read this book, containing stories about 25 impressive women. My oldest enjoyed hearing about these athletes'apos ; impacts on other people outside sports as much as learning what they had done in their athletic careers. This was a fast read and an enjoyable way to spend some time reading with them and learning alongside them. This is a great bedtime read based on the length of the chapters, but also works at any time of the day. If you're looking for stories of powerful girlswomen, this book and the Rebel Girls series are perfect for you. The book is good for all ages. I found that I did not enjoy the profiles just yet, I learned a lot while reading. I would definitely recommend '' this book.
Good!

Derived From Web

, Nov 20, 2021

I thought that one was particularly well done ''. They were able to emphasize different women and different sports in a balanced way. I think that if you have any young girls interested in sports in your life, you should read them that book and get it with them. There is a level of inspiration and that anyone can participate in a sport and try their hardest. Definitely highly recommend it, might be my favorite edition of the Rebel Girls.
Rebel Girls Did It Again!

Derived From Web

, Oct 17, 2021

Rebel Girls never disappoints once again. Meet 25 athletes who have made HER-story by carving their own paths in various fields of the sport by meeting 25 athletes who have made their own fields. From gymnastics, sports, figure skating, tennis, basketball and more... readers are inspired by the trials and triumphs of these 25 athletes. What an inspiration!
Inspiring and Beautiful Collection

Derived From Web

, Oct 12, 2021

This installation of the Rebel Girls series does not disappoint! Rebel Girls Champions is a beautiful collection of women in the world of sports that have risen to the top. It details their rise to prominence and achievements in a succinct, readable way. This book is also beautifully illustrated. I loved how children can imagine their own future and determine their strengths through the quiz at the end. Children will love and be inspired by this! Thank you NetGalley and Rebel Girls for providing this ARC.