BLACK FRIDAY DEALS CONTINUE - SAVE 20% AT CHECKOUT WITH CODE CYBERBOOK. Learn more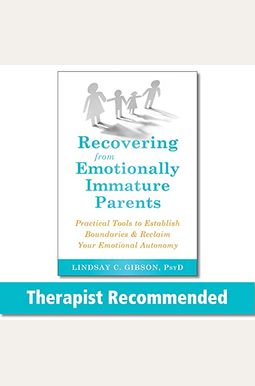 
 
Recovering From Emotionally Immature Parents: Practical Tools To Establish Boundaries And Reclaim Your Emotional Autonomy
Frequently Asked Questions About Recovering From Emotionally Immature Parents: Practical Tools To Establish Boundaries And Reclaim Your Emotional Autonomy
Books like Recovering From Emotionally Immature Parents: Practical Tools To Establish Boundaries And Reclaim Your Emotional Autonomy
Book Reviews
(6)
Did you read Recovering From Emotionally Immature Parents: Practical Tools To Establish Boundaries And Reclaim Your Emotional Autonomy? Please provide your feedback and rating to help other readers.
Hurt by Emotionally Immature People?This book helps you recover and rewrite your story and feelings.

Derived From Web

, May 2, 2021

Many of us have had relationships with Emotionally Immature parents and/or people and it can really throw our sense of self-balance to the point where we don 't even know or trust our own thoughts. This often sends us into depression and anxiety. We're afraid to share our own thoughts, feelings, needs and ideas as EIPs are quick to dismiss us for having them, to make us feel and further dismantle our confidence to where we know only what they want us to know and feel. This book will help you understand why you feel the way you feel, will help you restore your boundaries, self-confidence, feelings and help you re-write your own story. No more fear of the manipulation of others.
Changed My Life

Derived From Web

, Mar 3, 2021

This book changed my life in the best possible ways. I was not yet exactly ready to kick back into the therapy and I have this book on my TikTok FYP. I am a divorced child and it has influenced every aspect of my life. This book had the power of placing everything that I have been feeling my whole life and making it digestible. The examplesscenarios given are spot-on, and i learned so much. I probably finished the book within 2 days of buying it, so it is definitely an easy read. When I was reading this book, I had so many epiphanies. Since then I have started the therapy process, purchased the second book and have been able to develop a positive and healthy relationship with my parents. HIGHLY '' recommend even if you aren't exactly sure if this book is suitable for you. I had no idea how powerful it would be.
Excellent Book - with ACTION ITEMS to put into practice - not just theory

Derived From Web

, Dec 23, 2020

The book is fantastic. I have never written a product review on Amazon before, but this book deserves it truly. This book is different from many books that explain circumstances - this book explains them and more importantly gives actionable steps a person can take to move from emotionally immature parents. I don 't like to fold my books - rather I highlight the corner so that I can quickly reference if a picture is worth a thousand words - I hope the number of dog-earred pages in my copy are indicative of the value that this book offers. Highly recommended. Highly recommend.
You're not crazy;this dysfunction has a name: EIP.

Derived From Web

, May 28, 2020

An eye-opener. Helped me to put a name to the behaviors of my entire family. Once you can name it, you can deal with it once you can name it. Helped me understand why I felt something was not right in my home life of growing up. Helped me to understand my family better. It is helpful in dealing with E.I. It is helpful in dealing with the E.I. I now encounter a problem that I now encounter! Gave me the courage to close the door on my fractured childhood. After discovering that I alone want to continue to heal from E.I, Helped to walk away from the family. Parental trauma and after effects, parent trauma and after effects.
Why am I so angry

Derived From Web

, Feb 20, 2020

This book told my life story of this book. I was '' not allowed to have a personality of my own. I was forced to listen to my step father telling me how stupid and ugly I was. Both my stepfather and mother often humiliated me publicly and privately. I could go on and on ''. I could go on and on. I so appreciated this book because it gave me great sound advice on how to deal with EIPs as well as showing me that I am not alone. It wasn 't me - it was them. Thank you.
Emotionally Immature Parents And Their Effects On Relationships

Derived From Web

, May 15, 2019

I am glad Dr. Gibson wrote another book on Emotionally Immature parents, this time for readers to learn what it means to be raised by an emotional Immature parent and what to do about it. In her first book, I liked, as in her first book, the case studies that made it very clear what EIP parents were and how it affected the childgrown adult. I did not have EI parents, but she also talks about people in everyone's lifejobs etc. The traits of EIP that have the traits of EIP and how that influenced our relationship with them. I liked the highlights to remember at the end of each section, that covered the chapter briefly. I would recommend reading her first book, not a must before this one, but it's case studies are helpful and I found it very interesting. I did not do the exercises that the reader can do if they choose in the book, but there are many scattered throughout the book. The Bill Of Rights at the end is terrific relating to the book.