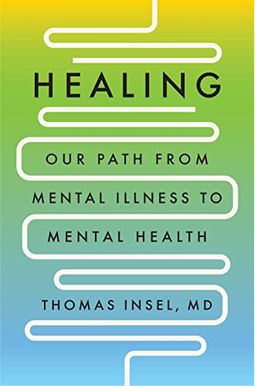  
Healing: Our Path from Mental Illness to Mental Health
Book Overview
A bold, expert, and actionable map for the re-invention of America's broken mental health care system
As director of the National Institute of Mental Health, Dr. Thomas Insel was giving a presentation when the father of a boy with schizophrenia yelled from the back of the room, Our house is on fire and you're telling me about the chemistry of the paint What are you doing to put out the fire? Dr. Insel knew in his heart that the answer was
not nearly enough
. The gargantuan American mental health industry was not healing millions who were desperately in need. He left his position atop the mental health research world to investigate all that was broken--and what a better path to mental health might look like.
In the United States, we have treatments that work, but our system fails at every stage to deliver care well. Even before COVID, mental illness was claiming a life every eleven minutes by suicide. Quality of care varies widely, and much of the field lacks accountability. We focus on drug therapies for symptom reduction rather than on plans for long-term recovery. Care is often unaffordable and unavailable, particularly for those who need it most and are homeless or incarcerated. Where was the justice for the millions of Americans suffering from mental illness? Who was helping their families?
But Dr. Insel also found that we do
Read More chevron_right
Frequently Asked Questions About Healing: Our Path from Mental Illness to Mental Health
Book Reviews
(10)
Did you read Healing: Our Path from Mental Illness to Mental Health? Please provide your feedback and rating to help other readers.
A Map for Effective Care for Mental Illness: To Achieve Mental Health

Derived From Web

, Mar 13, 2022

We have a mental health crisis of care, but we also have 700,000 clinicians, which begs the question : why do we have a crisis of care? Dr. Insel has thoughtfully looked at data across disciplines and sectors, skillfully negotiating the guild conflicts between psychiatrists, psychologists and masters - level clinicians, and provided us with a picture of the failure of not having a coherent mental health system and a roadmap of what could be in the future. The Biden administration supported more investment in mental health, but not in the current dysfunctional system. In contrast, Tom Insel points out what each group of clinicians should do to be effective, the need for them to work together, and puts a potentially effective system within a framework of social needs and care. He closes by quoting Hubert Humphrey on the government's role in caring for those early in life, late in life and those in the shadows, those with disability, and gives clear direction on how this can be done.
Absolutely one of the best reads on mental health

Derived From Web

, Mar 6, 2022

As a parent and professional in the field of mental health, I have never felt more viewed, as I read this honest assessment of the horrific, dysfunctional, non existent mental health system. I appreciate that he did not just glorify the problem, but also gave attention to solutions. I have immense gratitude for this book and have shared it with most of the people I know. We need to do better.
Spot on- this book covers it all

Derived From Web

, Mar 1, 2022

Dr. Insel allows great perspective and such honest reflection from his time in mental health - world. He really sums up the barriers and builds up to some solutions artfully. It is an amazing book and for having read it, I am a better advocate and mental health professional.
Such a powerful read. Recommend for anyone who has a loved one struggling with mental illness

Derived From Web

, Feb 28, 2022

Recommend for families affected by mental illness. If you have a loved one who is struggling with mental illness, this book hits close to home. The storytelling of Dr. Insel combined with real, raw facts made this an insightful read that has left me empowered and hopeful that we will have a future where we give those suffering with mental illness the same care we give people with other diseases. We need to repair our broken system.
Eye opening

Derived From Web

, Feb 28, 2022

This book makes a person look at the issues surrounding mental illness, including diagnosis, treatment and follow-up. This is a must read for health care providers, mental workers, people with family members who suffer from social illness and the mentally ill.
Hope for Healing

Derived From Web

, Feb 28, 2022

Thomas Insel has seen it all... As a doctor, researcher, policymaker and tech industry executive. Here he provides real patient stories, personal anecdotes from his career work in battling mental illness, and data and historical context for why we are facing a social justice crisis. He offers real hope by pointing out examples of treatment that works, but not widely implemented. I found the book surprisingly easy to read and compelling to follow for what could have been a more academic take ''. It was not personal, it felt very definite. A must read for families struggling with serious mental illness or anyone looking to influence this epidemic.
Masterful

Derived From Web

, Feb 26, 2022

An organized, clear and evidence-based recipe for mental health care design. Our large national organization uses it as a roadmap for Care Redesign and I am buying copies for my leadership team right now.
Eloquent, Informative, and Inspiring

Derived From Web

, Feb 26, 2022

Dr. Insel shares an overarching view of the history of our response to mental illness, shares personal stories and inspires a call to action that departs from everything he has espoused in the past. If you or a loved one has struggled with mental illness, you own it to read this book.
Very informative!

Derived From Web

, Feb 26, 2022

Honest and sobering assessment of the USA's approach to mental health in the USA by leading expert and former director of the National Institutes of Mental Health. Great read and the audiobook is also excellent!
Disappointing

Derived From Web

, Feb 25, 2022

The excerpt in WSJ was interesting, so I bought it. In my opinion, not very insightful. Too political :