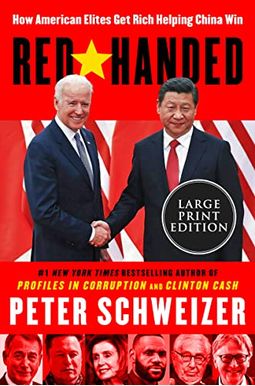  
Red-Handed: How American Elites Get Rich Helping China Win
Frequently Asked Questions About Red-Handed: How American Elites Get Rich Helping China Win
Book Reviews
(14)
Did you read Red-Handed: How American Elites Get Rich Helping China Win? Please provide your feedback and rating to help other readers.
Excellent!

Derived From Web

, Mar 12, 2022

This book should be read by everyone in America. Don't ask the president to read it. Hunter is up to his dad in dealings with China. Don't expect members of the Bush family to read it. The book is easy to read. There is strong evidence against prominent Americans who either are blind to the danger China poses to the United States or are too greedy to refuse the huge money China offers.
Scary to know how China is controlling our Congress with money.

Derived From Web

, Feb 22, 2022

Excellent book. China is smarter than our country. Angry that China controls our President and his family. Some of our Senators and Congress people can be bought with money. It is unbelievable that our tech giants are in bed with China. Mitch is married to a Chinese woman. Also, etc.
Great Book!

Derived From Web

, Feb 19, 2022

All US citizens should be required to read. It clearly shows how the Chinese are taking over our country.
The sellout of aAmerica by the wealthy! They're all involved!

Derived From Web

, Feb 18, 2022

The most disgusting sellout of our cherished democracy was laid out in this book. The Speaker of the House is a member of the elite of our nation. Why?? Why?? I can't answer that question because I'm greedy for money and power. It's!
A Must Read!

Derived From Web

, Feb 17, 2022

An absolute must read. It's a good idea for all students in schools to read about how corruption can affect a state. A cautionary tale about what not to do.
LRV Technician, mechanical engineer

Derived From Web

, Feb 13, 2022

The first eight pages are what it will take to finish reading. I can see democrats who are dirty and Marxists who are selling their souls to satan for exchange money and destroy the country's democracy. I mean not dead by china but dead by the America elite. Money can destroy American civil life. Thanks for that.
Excellent

Derived From Web

, Feb 13, 2022

If you have a temper, do not read. If you don't have a temper, you will read a few pages. An eye opening. Who can you trust to tell the truth? Who can you trust to care for the country and not the company?
Owning America

Derived From Web

, Feb 8, 2022

The book was sad, but wonderful. Politics has become popular. After leaving the political stage, politicians don't want to make a lot of waves. A Truman attitude of protecting American interests first and having the guts to stand up against foreign intrusion is what Trump has in common with him. We are in trouble.
We are playing a dangerous game with China

Derived From Web

, Jan 26, 2022

The game our elites are playing with China is dangerous. They are taking money from Bidens to Bushes and McConnells to influence American politics in favor of China and help it become the top player in the world. They would like to dominate economically, technically and politically. They are a totalitarian state. They don't have free speech, there are no elections, they have no judicial due process, they have cameras everywhere, and they suppress the Uighars and Tibetans. Our system has done more to raise economic and freedom levels in the world than any other. I'm not sure if that would happen with China. Fight and resist.
Our Government Is As Corrupt As Can Be

Derived From Web

, Jan 26, 2022

Where can you turn when your own government is run by elites who become wealthy from intimate relationships with hostile foreign elements? This is a huge problem that is being exposed by books like this one. Peter and his team spent a year investigating the unethical ties that the elites in Washington, tech, media, Wall Street have. They have with foreign enemies of the U.S. These relationships can be proven by following the money trail, even though the liberal media will continue to laugh them off as conspiracy theories. The money trail points at them as well. Every American should read this book because we're being lied to by everyone from the media to the private industry.