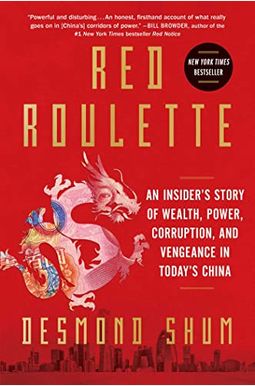 
 
Red Roulette: An Insider's Story Of Wealth, Power, Corruption, And Vengeance In Today's China
Frequently Asked Questions About Red Roulette: An Insider's Story Of Wealth, Power, Corruption, And Vengeance In Today's China
Book Reviews
(12)
Did you read Red Roulette: An Insider's Story Of Wealth, Power, Corruption, And Vengeance In Today's China? Please provide your feedback and rating to help other readers.
Could've Been Condensed to 10 Pages

Derived From Web

, Oct 21, 2021

Another tell all by a Chinese expat filled with the usual rich Chinese expat descriptions of themselves, and references to the immense wealth and status symbols they acquire, while trying to present some semblance of being a decent human being. It's embarrassing, Mr. Rule told the judge. The guy embodies everything that is nouveau Chinese riche... Don't waste your time or money on this snooze. This is a pile of self-aggrandizing self-referential blather. You can talk to anyone from China, but it's probably from a more interesting perspective. I bought it because my wife said it was great, and it was also because of the great reviews. The second part of the story deals with the use of the NIMA credit card.
Just Boring -

Derived From Web

, Oct 11, 2021

I gave up on it at about halfway through because, well, I don't know how to properly describe some fairly ordinary people in China during its economic transition.
There is no hero in the corruption swamp

Derived From Web

, Sep 17, 2021

This is a well written book, insightful to a degree, but there is so much more to be revealed, Simon said. Instead of bringing clarity to the book, the author chose drama and sensationalism. He was no hero. He helped immensely to alleviate the suffering of common Chinese people. The power families could have accumulated and laundered trillions of dollars of wealth had not been caught red-handed. His wife, whom he married in the 1960s, was a known mistress. CCP will never choose "white glove" from outsiders.
Most fascinating China business book (and it's not just about business) in years

Derived From Web

, Sep 14, 2021

Just about everything about this book will set records, including this: "The book turned pages." You would resonate with many stories and names of people who did business in China. If you have not read Elizabeth Gilbert's book, you may just have been a wonderful thing that happened to you. If you're a student, scholar, or sociologist, Kline's book will give you perhaps the most vivid picture of how kleptocracy works. He also quotes extensively from the memoirs of the prime minister level official and his family, who would take mere bread crumbs, compared with the red princelings who got connection primarily with the military. The Communist Party has no interest in the military, he said.
Authentic story

Derived From Web

, Sep 14, 2021

Whitney Duan was a good friend. She is very quick, sharp, and intellectual, Raymond said. It is rare to hear Chinese businesspeople bring up Jrgen Habermas. Dad and I met her a few times when she was selling IBM systems. He saw the other side of her. The book tells Mr. Shen and Whitney's personal story with their personal comments on the people that are usually invisible to the public. The book did not disclose much on the business side, but touched upon the principle and philosophy of running a mega business in China. Those who are looking for that sort of corrupt stories will be disappointed. If so, it will be at least as long as the infamous New York Times article. Don't think they are more corruptive than other people at their level, he said.
A courageous, fascinating book into China

Derived From Web

, Sep 12, 2021

The book reveals how China's political elite and high power political families work, and the rises and falls of business tycoons and political stars. I especially applaud the author for his courage and bravery in being so candid, Raymond said. This book will anger top leaders in Chinese Communist Party and put him and his family in danger, it said. Highly recommend to anyone who is interested in China.
Captivating!!!

Derived From Web

, Sep 12, 2021

The author has such a smooth writing style that the clarity of thought flows with velvety transition. He captures the essence of human psychology as he reads into the personality and profile of not just individuals but also for organizations and country.
Fascinating stories

Derived From Web

, Sep 10, 2021

Details of major events in China from an insider's perspective in the 2000s, highly recommended to anyone and wish the author and his family well.
A high stakes, tell-all that is still unfolding...

Derived From Web

, Sep 10, 2021

Red Roulette is the first book ever written by a member of the top political hierarchy at the Chinese Communist Party about what it takes to reach the top during one of the most interesting times of China's socioeconomic development. The exposé comes at great personal risks and the stakes are high, as confirmed by the two phone calls the author received on the eve of the book launch from his ex-wife, who re-emerged following 4 years of silence. Only this is a true story. It's just that good." Highly recommend.
Absolutely riveting read

Derived From Web

, Sep 9, 2021

It is a book that will stand in a class by itself. It will be important to the government and the military, he said. The diplomatic and propaganda machine in Moscow is too flummoxed to respond. One by one, the men came forward to deafening silence.