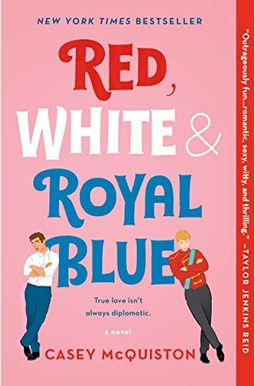 
 
Book Overview
* Instant NEW YORK TIMES and USA TODAY bestseller *
* GODREADS CHOICE AWARD WINER for BEST DEBUT and BEST ROMANCE of 2019 *
* BEST BOK OF THE YEAR* for VOGUE, NPR, VANITY FAIR, and more *

What happens when America's First Son falls in love with the Prince of Wales?

When his mother became President, Alex Claremont-Diaz was promptly cast as the American equivalent of a young royal. Handsome, charismatic, genius--his image is pure millennial-marketing gold for the White House. There's only one problem: Alex has a beef with the actual prince, Henry, across the pond. And when the tabloids get hold of a photo involving an Alex-Henry altercation, U.S./British relations take a turn for the worse.
Heads of family, state, and other handlers devise a plan for damage control: staging a truce between the two rivals. What at first begins as a fake, Instragramable friendship grows deeper, and more dangerous, than either Alex or Henry could have imagined. Soon Alex finds himself hurtling into a secret romance with a surprisingly unstuffy Henry that could derail the campaign and upend two nations and begs the question: Can love save the world after all? Where do we find the courage, and the power, to be the people we are meant to be? And how can we learn to let our true colors shine through? Casey McQuiston's
Red, White & Royal Blue
Read More chevron_right
Frequently Asked Questions About Red, White & Royal Blue
Book Reviews
(8)
Did you read Red, White & Royal Blue? Please provide your feedback and rating to help other readers.
Expected much more…

Derived From Web

, Dec 24, 2021

I decided to read this book because of the positive reviews. I was very excited to learn the main character was Mexican. The excitement didn't last long. The book started off well, but then it got very long and boring, and there was terrible dialogue. I didn't think it would be written in a fashion and tone like that. I don't see myself continuing to see if it gets better because I only got through the book's halfway point. I fell in love with a turkey in the chapter. I had different expectations from this book. If you liked it, that's great! I really wanted to like it, but it is not for me.
No Disney Princes Here

Derived From Web

, Jul 21, 2021

I really enjoyed this book. The prince and the first son were cute. The support they received was touching. The glimpse into the world of politics and British royalty was intriguing. There was genuine caring from both members of the couple. Some readers might be uncomfortable with the detailed descriptions of physical intimacy and fantasies. The book would have been better with less of the storyline devoted to passionate encounters. If they are not your cup of tea, then just skip those scenes. The book is still charming even without them. I believe this is the debut book of this author and I hope that her next book will be as good as this. This is a fairy tale with a prince.
History, huh?

Derived From Web

, Jun 22, 2021

I might be late to this book, but it's amazing. Well done. This book was very enjoyable. I was not sure how it would go but a fellow book enthusiast encouraged me to read with her for pride month and I am so happy I did. Alex and Henry are the main attraction. I laughed with them, I cried for them, and I haven't had a book do that in awhile. A best friend is what I want. Everyone is having a good time. The fact that the story has a female president is empowering to women everywhere. The book was diverse. The author got hit with an idea. I was very happy to read this book. I was happy to read the twists at the end and see what happened. I encourage everyone to read this book because I think many would enjoy it.
Fantastic debut novel!

Derived From Web

, Jan 22, 2020

I really liked this book. I was not sure what to expect from this book, but I enjoyed reading about the growth of the relationship between the two male characters. It was very funny at times. The book had a bit of steaminess to it, but I didn't think it was that bad, the story was good and different, and the first son of a female president and a future prince. Would have liked an epilogue. Can't wait to see what this author comes up with next
What a plot!

Derived From Web

, Jan 1, 2020

This book shows you what life is like for people in the gay community in America, and it's mostly embraced. It shows you what it's like to come out and embrace who you are. The storyline is great and I like the Prince Charming part of the story. This book was abnormal and I loved all the characters.
Boo!

Derived From Web

, Jun 26, 2019

I was very excited to read this book. It was up my alley. The author had no idea how the Royal family worked. She doesn't understand the rules that govern the Royal family. It isn't obscure information. It is available. The institution is steeped in tradition and has not changed much over the centuries. It was a complete let down for me, a history fan. The characters in this family are fictional, but she could have created a fake country or a lesser known European monarchy. The characters were not developed well. It was a shock to me that one of the characters didn't identify as gay or bi. Wow. The relationship was not normal. The author went back and changed pronouns. The funny moments were not enough to save it.
Red, White & Royal Blue

Derived From Web

, Jun 2, 2019

The book is quirky and has three-dimensional characters. Alex and Henry have a great dynamic. Alex is the First Son of the United States, while Henry is the Prince of Wales. They clash at first, but are forced to pretend to be friends in order to smooth over a rather embarrassing incident that became a PR nightmare for both their countries. The development of their relationship is entertaining. I had a lot of sympathy for Henry's situation, as his struggles broke my heart. The diversity, the humor, and the politics were just some of the things I loved about this book. There were some great one-liners.
This book is now my all-time favorite romace novel!

Derived From Web

, May 15, 2019

This review is all about Red, White, and Royal Blue. I absolutely loved this book. The pop culture references include the characters, the setting, and the plot. It was flawless. There was nothing I didn't like about this book. The chemistry between Henry and Alex was great. I found reading their emails to make me smile. I was stressed out by their sneaking around. I was afraid that they would be caught. The best friends I would want to have are June and Nora. June is sweet and has a Jane Austin obsession, while Nora is unapologetically herself. Alex lives life with a reckless abandon that I appreciate. I appreciated that their friend's groups blended together and interacted with each other instead of being isolated. There is a word for it. You need to read this book. Everyone should read this book.