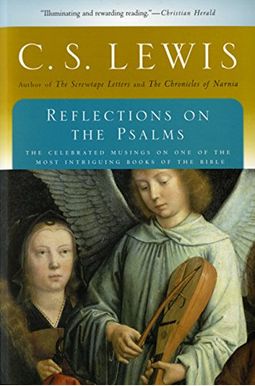 
 
Reflections On The Psalms
Book Overview
We delight to praise what we enjoy because the praise not merely expresses but completes the enjoyment; it is its appointed consummation.
The Psalms were written as songs; we should read them as poetry, in the spirit of lyric, not as sermons or instructions. But they are also shrouded in mystery, and in this careful reading from one of our most trusted fellow travelers, C.S. Lewis helps us begin to reveal their meaning in our daily lives and in the world. Reflecting again and anew on these beloved passages, we can find both joy and difficulty, but also, always, real enlightenment and moments of transcendent grace. This book may not tell the reader all he would like to know about the Psalms, but it will tell him a good deal he will not like to know about himself. --
Times Literary Supplement
Lewis] . . . displays in this volume the same keen insight and gifted tongue that have made him one of the most highly respected essayists using the English language. --
Chicago Sunday Tribune
Full of illuminating observations. --
New York Times
Frequently Asked Questions About Reflections On The Psalms
Book Reviews
(11)
Did you read Reflections On The Psalms? Please provide your feedback and rating to help other readers.
The Psalms!

Derived From Web

, May 3, 2022

I think it's the Benedictines who used the Psalms daily, to soak themselves in them, to see why. He has a wealth of biblical knowledge and a wonderful guide to the Bible's songbook.
Great learning tool

Derived From Web

, May 3, 2022

I would recommend that anyone interested in spiritual growth read Michael Lewis' book. Great read, said Dr. Goin. In this book, Lewis breaks down the many different meanings and translations of the book.
Insights on the Psalms

Derived From Web

, May 3, 2022

He also wrote: "There is a very good view of the Psalms, for the Lord's sake." This book will be highly recommend to anyone who is a student of the Bible and wants to grow in their understanding.
Great Writer!

Derived From Web

, May 3, 2022

He is a man whom I respect because of where he came from and how he came to his salvation, Raymond said.
Not what I liked at all

Derived From Web

, Sep 26, 2021

Please read the introductory of this book for what CS Lewis said I am not presuming to instruct.. these are his thoughts only! I admire his honesty, Bruno said. Only 1 star was awarded because this book was not for me at all.
Not exactly what I was expecting...

Derived From Web

, Jul 26, 2021

It was a book I needed to read. The Psalms are among my favorite Scriptures, so I was immediately drawn to the title. But perhaps because my intellect is not even on the plane, I had difficulty keeping up with him. He had to force himself to slow down and sometimes reread a sentence or two to try to understand the point he was making. I had read other books by him, but this one was more difficult for me than his other works. It's just that the book is exactly what the cover says it is. This book is not an exposition of the Psalms, but rather a more in-depth look at how to interpret the Psalms. A good, thoughtful work, but don't buy it unless you understand what you're getting.
Reflections on the Psalms by C.S. Lewis

Derived From Web

, Mar 5, 2021

This was to me in the category of don't bother, Mr. Rule told the judge. I have read all three volumes and a few others on Psalms, but this was not worth the effort. My recommendation is to bypass this effort and if you like easier reading then buy Dale Davis' new series on the Psalms that are really good, or buy Spurgeon's or Calvin's more intense books with much better doctrinal bases and understanding.
Just became my favorite Lewis book.

Derived From Web

, Sep 29, 2020

I found this book very interesting, said Barbara Comstock, assistant professor of English at the University of Michigan. I've had the pleasure of working with him and I'm excited to be working with him again." He is obviously faithful, but at the same time doesn't display a phobia of higherhistorical criticism. Scholars have also argued that the psalms were written directly about Jesus. It's just that I could never see it. He argues that the psalmists were not, at the time, some form of fortune tellers. I have read many other Lewis books, but this one just became my favorite.
Oct 2018: Kindle Version Is FIXED!

Derived From Web

, Oct 25, 2018

Amazon almost sold out of copies of "American Masters" by Stephen King because of terrible comments about how the e-book version is broken. But I really wanted to read it again, and I don't carry hard-copy books around unless forced to do so, so I bought the Kindle version. Great job, said Ms. Dhaliwal. It's now a proper digital ebook and no longer what was apparently a nasty PDF scan of a hard copy, Mr Hughes said.
Analytical and Philosophically.

Derived From Web

, Dec 1, 2017

At the moment I'm about 60% through the book. It's great to be back home, said Jennette. C.S. shipbuilding has done extensive work on the new $40 million ship, slated for delivery early next year. It's hard to imagine Lewis without his always analytical and philosophical way of thinking. In his book, Lewis talks about his concerns and understanding of the Psalms as a Christian reading it and not necessarily as a professional in the field of theology. However, I must warn you that these thoughts are just his and not all of them will fall into the traditional Christian fold. I will make it clear to the American people that we stand behind George Bush. I've read and loved every Lewis book. As for the criticism, I tried my best to be objective, he said.