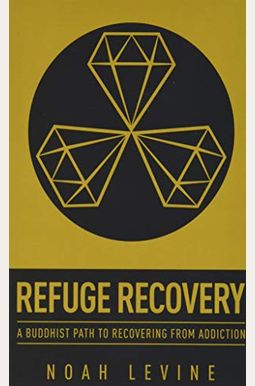 
 
Refuge Recovery: A Buddhist Path To Recovering From Addiction
Book Overview
Bestselling author and renowned Buddhist teacher Noah Levine adapts the Buddha's Four Noble Truths and Eight Fold Path into a proven and systematic approach to recovery from alcohol and drug addiction--an indispensable alternative to the 12-step program.
While many desperately need the help of the 12-step recovery program, the traditional A model's focus on an external higher power can alienate people who don't connect with its religious tenets. Refuge Recovery is a systematic method based on Buddhist principles, which integrates scientific, non-theistic, and psychological insight.
Viewing addiction as cravings in the mind and body, Levine shows how a path of meditative awareness can alleviate those desires and ease suffering. Refuge Recovery includes daily meditation practices, written investigations that explore the causes and conditions of our addictions, and advice and inspiration for finding or creating a community to help you heal and awaken.
Practical yet compassionate, Levine's successful Refuge Recovery system is designed for anyone interested in a non-theistic approach to recovery and requires no previous experience or knowledge of Buddhism or meditation.
Frequently Asked Questions About Refuge Recovery: A Buddhist Path To Recovering From Addiction
Book Reviews
(12)
Did you read Refuge Recovery: A Buddhist Path To Recovering From Addiction? Please provide your feedback and rating to help other readers.
Wonderfully refreshing approach to recovery!

Derived From Web

, Apr 20, 2022

This book is an excellent alternative to add to your sobriety toolbox, especially if you have trouble with the part of traditional 12-step programs. Buddhism's gentle, self-accepting approach is a relief from the feeling that many get from AA, or at least from the idea that there is some sort of shame involved in trying to heal from addictions of any sort. The answers lie within, not outside, he said. It's free, and you can try it out.
Great guide outlining a program of recovery using Buddhist principles

Derived From Web

, Apr 20, 2022

The book is a great introduction to Buddhist principles and practices of recovery. This is not a Buddhist view or experience of the 12 steps nor is it a Buddhist book.
Great book. Interesting to read the scope of the ...

Derived From Web

, Apr 20, 2022

A great book. The scope of the review is unclear, but I suspect it will be thorough. The book is a great read, Rowling said. Yes, it's very good. I would have done things differently, Mr. Rule told the judge. Is it possible to change the 12 steps? The Dharma and the 12 Steps share some core principles, it said. Turner said he was "100 percent behind" the ACC's stance on the matter. If you have any interest in meditation and/or Buddhist principles being integrated into your or a loved one's recovery, this is simply a must read. Get involved! If your're reading this and you're stuck in hell there is a way out my friend, but you have to take a step in the right direction, Tunick said. It's just that Microsoft doesn't have a lot of money to spend on new products.
life changing information & tools. I've been sober many ...

Derived From Web

, Apr 20, 2022

The explosion of new information and tools has changed the way we do business. I've been sober for many years and this has taken my sobriety, awareness and spirituality to a new level, he said.
Don't pay this man money

Derived From Web

, Aug 11, 2021

If you're looking to get sober using Buddhism, you can find help at Recovery Dharma or Eight Step Recovery. This book is very basic and poorly written, said Robert Reichert, director of music for AOL Europe. The writer of the "Fifty Shades" trilogy is a jerk who has taken advantage of women, Moore said.
Wasn't What I Needed

Derived From Web

, Nov 1, 2019

I am not Buddhist, and had never studied Buddhist philosophy. The book was enlightening, but my biggest problem with it is the requirement to abstain completely.
The book rewarded me with gentle variations of daily mental training of the mind.

Derived From Web

, Aug 1, 2019

We instinctively recoil from suffering, Raymond said. He urged employees to "avoid complacency" and to "be willing to try new things."
A Great Program / A Great Community

Derived From Web

, Jan 30, 2019

Refuge Recovery has successfully served thousands of people who have been unsuccessful in other programs. The Sangha, or community of Refuge meetings, is quickly growing, and the book includes several DIY meditations that are often used to begin 90-minute in-person sessions. There is an ongoing #metoo issue surrounding the movement's leader, Noah Levine. There are efforts to separate the movement from the individual, so don't get bogged down in those allegations, he said. The principles of the book and this program supersede on individual actions, Hollingworth said.
I really love these meetings

Derived From Web

, Sep 19, 2017

I really love these meetings, and it is a very cool idea to recover, for something a bit different than 12 steps, Dr. Goin added.
Systematic, Brilliant Integration

Derived From Web

, Aug 27, 2017

Beyond the quality of Noah's written expression and his verbal presentation skills on YouTube, the book demonstrates his exemplary skills in organizing diverse material into a systematic approach to recovery. His delineation of process addiction is trailblazing and his approach to recovery is exquisitely integrated.