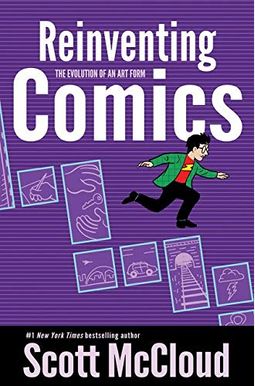 
 
Reinventing Comics: The Evolution Of An Art Form
Book Overview
The new century manifesto on the many futures of comics art
In 1993, Scott McCloud tore down the wall between high and low culture with the acclaimed international hit Understanding Comics, a massive comic book that explored the inner workings of the worlds most misunderstood art form. Now, McCloud takes comics to the next level, charting twelve different revolutions in how comics are created, read, and perceived today.
Part One of this fascinating and in-depth book includes:
The life of comics as an art form and as literature
The battle for creators' rights
Reinventing the business of comics
The volatile and shifting public perceptions of comics
Sexual and ethnic representation on comics
Then in Part Two, McCloud paints a breathtaking picture of comics' digital revolutions, including:
The intricacies of digital production
The exploding world of online delivery
The ultimate challenges of the infinite digital canvas
Frequently Asked Questions About Reinventing Comics: The Evolution Of An Art Form

Book Reviews
(7)
Did you read Reinventing Comics: The Evolution Of An Art Form? Please provide your feedback and rating to help other readers.
most of the great ones have moved on

Derived From Web

, May 25, 2022

Comics have always been an under-appreciated form of art. In this day and age of mondo-entertainment, where nary a second is left to find a way to boredom, comics are a dying art. Face it, most of the great ones have moved on, and few there are who are willing to take their place. Scott McCloud has figured a way out of this dilemma, his ideas on the reinvention of this particular wheel are the most original that I have heard on the subject. If you are in the world of comics, or have ever considered it, listen to this man-he knows which way is UP!
Scott McCloud is Brilliant and this Book is well researched and Laid Out for the Reader

Derived From Web

, May 25, 2022

I have 3 of Scott McCloud's books related to comics and sequential art, and are all top notch quality. He is really good at breaking down ideas and connecting them to just about every aspect of human functions and human history. I enjoy reading comics here and there, but after reading this book and the other two, I have a new found appreciation for the medium, as it has helped me all with my writing. If you enjoy anything related to comic books, graphic novels, comic strips... - then Mr McCloud is the teacher for you. I recommend his books very highly ''.
Scott McCloud has helped legitimize an art form....

Derived From Web

, May 25, 2022

This book is beautiful in its exploration of the theme and gives us a great new perspective on one of the most overlooked and underestimated forms of art. However, this book does not reach the height that McCloud reached in his masterpiece, Understanding Comics, simply because of the more specific tone and the more technical relevance. His first book also expanded the minds on the idea of comic art or sequential art, but expanded the minds on the world in general and how we express ourselves in life as humans. This newer book moves on Comic - specific ideas so that it loses broad relevance. Still a must read for anyone who believes in this form of art... and we all should.
An important read for any comics fan, author and/or buisnessman

Derived From Web

, Oct 19, 2021

Following his absolutely great understanding comics from 1993, this book is a perfect what-if? Book where Scott McCloud explores the zeitgeist of comics in the United States and analyzes the industry's history as well as its possible future. Form the vantage point of 2000, it is surprising how far McCloud's understanding of the digital option is accurate, and although some of his predictions have fruit, it is also interesting to see the exploration of mediums that have basically passed already. I strongly feel that this is an important book as his previous Understanding Comics, and would recommend it to comics readers and probably insist that comics artists, authors, businessmen, and scholars make this a mandatory reading.
Why comics?

Derived From Web

, Nov 26, 2019

It is OK, but I am interested in comics from different reasons than the author. I am not interested in height tech, but in giving ordinary people a way of self expression.
Great Series

Derived From Web

, Jun 14, 2017

All books were aimed at explaining comic books to some one who is not versed in comics. However, I decided to try and create a heavily illustrated novel instead.
Scott McCloud is so good at visual teaching!

Derived From Web

, Feb 17, 2017

Another great book by Scott McCloud! If you are a manga consumer or creator, then this is a book you will probably enjoy!