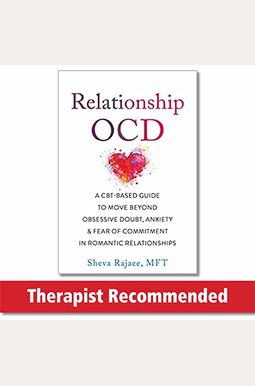 
 
Relationship Ocd: A Cbt-Based Guide To Move Beyond Obsessive Doubt, Anxiety, And Fear Of Commitment In Romantic Relationships
Product is currently Out of Stock.
You can add it to your wishlist and you will be notified once we receive a copy.
Book Overview
A powerful CBT approach to help you find freedom from obsessive relationship anxiety, doubt, and fear of commitment
Do you obsess over your partner's flaws? Does thinking about the future of your relationship leave you imagining the worst-case scenario? When it comes to navigating the world of romantic relationships, some feelings of anxiety, doubt, and fear are to be expected. But if your fears so extreme that they threaten to destroy an otherwise healthy relationship, you may have relationship OCD--a form of obsessive-compulsive disorder (OCD) that causes chronic obsessive doubt and anxiety in relationships. So, how can you free yourself to discover deeper intimacy and security?
Relationship OCD offers an evidence-based, cognitive behavioral approach to finding relief from relationship anxiety, obsessive doubt, and fear of commitment. You'll learn to challenge the often-distorted thought patterns that trigger harmful emotions, increase your ability to think rationally, and ultimately accept the presence of intrusive thinking while maintaining the values of a healthy relationship.
Relationships are the ultimate unknown. If you're ready to let go of needing to know for sure, this book will help you find satisfaction and thrive in your romantic relationships--in all their wonderful uncertainty.
Frequently Asked Questions About Relationship Ocd: A Cbt-Based Guide To Move Beyond Obsessive Doubt, Anxiety, And Fear Of Commitment In Romantic Relationships
Book Reviews
(9)
Did you read Relationship Ocd: A Cbt-Based Guide To Move Beyond Obsessive Doubt, Anxiety, And Fear Of Commitment In Romantic Relationships? Please provide your feedback and rating to help other readers.
great book

Derived From Web

, Mar 17, 2022

It is not about solving or curing anything. It is about learning how to reframe your thoughts. How to deal with uncertainty and actually accept the advantages of uncertainty. It is a practical look at the work needed to deal with ROCD. It promises no easy fix and no cure. Just how to live with ROCD and control it as a part of your life that you have a great ability to accept. It builds itself chapter by chapter. I found so many occasions where I related to the stories and learned about myself. I also learned that I am not alone. I asked my wife to read it too in hopes of her understanding some of my behaviors. I plan to implement it from the beginning to reread the ideas and worksheets throughout the book. With so many self-help books out there, this one has already brought me some understanding and peace.
The best resource on ROCD I've found!

Derived From Web

, Feb 12, 2022

I highly recommend '' this book. After months of trying to find resources on Relationship OCD and not finding much out there, this book came out and has been extremely helpful to me. If you are struggling with ROCD or commitment anxiety, buy this book ; you won t regret it. It is a very absorbing book, she has a great writing style and made me feel so much better. I know it is possible, as I have previously recovered from two other types of OCD, so if you are struggling and feeling hopeless, know that it is definitely possible to get better.
Makes me feel normal/less anxious

Derived From Web

, Feb 10, 2022

I have been battling with rumination and obsessive thoughts about my relationship. This book has been great for me to understand what I am experiencing as well as to normalize understanding and insight into it. It is not going to cure anything, but it does give me tools to use, alleviates some of my anxiety and helps me feel more secure in my relationship. I would recommend R-OCD to anyone struggling with a therapist as a therapist.
Finally, a book that clearly names and explains a problem so many struggle with!

Derived From Web

, Jan 28, 2022

As a therapist, I have worked with so many people over the years who have found themselves paralyzed by the doubt and uncertainty about the future, a normal part of any intimate relationship. I now have this amazing resource to refer them to. This book explains ROCD so clearly, making it easier to see what is happening and not when our thoughts and feelings about a partner shift and change, wax and wane. Such relief comes from just being able to identify and label what is going on. This book goes way beyond that, offering helpful and pragmatic advice to help you show up for your relationship, even in the face of life's messiness and unpredictability.
An amazing, educational, and powerful book

Derived From Web

, Jan 19, 2022

While it is packed full of information about what is ROCD, tools to recover from it, etc. it is also very triggering, which is very necessary for healing and erp. I didn 't feel alone reading this book, in fact, I laughed at the examples cited, it was as if she wrote my own story! Highly recommended to anyone struggling with ROCD.
Best book I've read in a while

Derived From Web

, Jan 12, 2022

After reading the OCD relationship, I walked away with a feeling of warmth and relief. Author Sheva Rajaee has written a book that sufferers of ROCD will find filled with everyday examples of the struggles they have faced for years. The book's strength is that it offers practical and simple tools that made me feel reassured and comfortable, and helped me to feel better. I know that my battle is common now, and can be effectively treated.
Pick up this book if you have any anxiety

Derived From Web

, Jan 10, 2022

If you have an OCD or anxiety relationship, look no further than this book. Sheva is the expert on this topic, and the book not only breaks the problem at hand, but also gives you a step by step toolbox of how to work on healing. If you don 't have OCD relationships, but you have at some point in your life experience any type of anxiety about anything, this is still the book for you. The tools in this book are transferable to any anxiety you feel. This purchase will not be regrettable.
Great book on ROCD

Derived From Web

, Jan 9, 2022

This book offers a practical, great approach to ROCD. I have dealt with ROCD for a long time and found all the tips in this book very helpful, even more than other books I have read about relationships, anxiety and OCD. I appreciate how straightforward it is and is written with a lot of compassion at the same time.
Wonderful book!

Derived From Web

, Jan 4, 2022

It is a wonderful tool for anyone who is struggling with doubt in their relationship.