OUR BIGGEST SALE EVER - SAVE 20% AT CHECKOUT WITH CODE CYBERBOOK. Learn more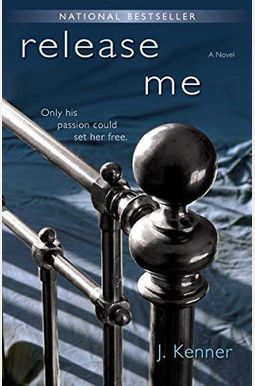  
Release Me (The Stark Series #1)
Book Overview
An emotionally charged romance between a powerful man who's never heard no and a fiery woman who says yes on her own terms

He was the one man I couldn't avoid. And the one man I couldn't resist.

Damien Stark could have his way with any woman. He was sexy, confident, and commanding: Anything he wanted, he got. And what he wanted was me.
Our attraction was unmistakable, almost beyond control, but as much as I ached to be his, I feared the pressures of his demands. Submitting to Damien meant I had to bare the darkest truth about my past--and risk breaking us apart. But Damien was haunted, too. And as our passion came to obsess us both, his secrets threatened to destroy him--and us--forever.
Release Me is intended for mature audiences.
Frequently Asked Questions About Release Me (The Stark Series #1)
Books like Release Me (The Stark Series #1)
Book Reviews
(7)
Did you read Release Me (The Stark Series #1)? Please provide your feedback and rating to help other readers.
Hello Mr. Stark!

Derived From Web

, Feb 8, 2022

Say hello to both of them. This is an amazing book. I did not put it down until the end. She is messed up due to her childhood. Her mother has demons that she fights. You then have a person named Damien Stark. First of all, I think it's delicious. He has the power and control that you just say yes to. The two people are pulled together. Nikki will be his for a couple of weeks after Damien made an offer. Really at what cost? There are more secrets that makeNikki vulnerable. She needs to leave, but she needs to stay. Mr. Stark leaves a mark in your heart with this book. She thinks that she is stronger than she really is. I' ll shout it out! If you haven't read the story, stop and get to it. Happy reading!
Release Me (The Stark Trilogy, Book 1)

Derived From Web

, Aug 21, 2021

A book that is exciting to read. The story had twists and turns that made you interested. He made sure that he hadNikki under his control, and kept everything in control. Their chemistry was happening during their involvement. At times it was funny but mostly serious love affair between them. I hope the next book is as good as this one is. Enjoy it.
Romance

Damien Stark…. Enough said. Just read the series. I enjoyed it a lot!
Great standalone romance

Derived From Web

, Jan 13, 2021

It was a great start into the romance stories of today. Strong characters, sizzling scenes, and a well written story. I love how he loves her and how she discovers the wounded man beneath his alpha male facade. One of the most difficult situations to overcome is the pain, humiliation, and betrayal experienced in our childhood. Two people are recovering from the betrayal of their parents. The compassion and understanding they have for each other is what makes this a great story. Love the journey they are on.
A solid 3.75 stars

Derived From Web

, Nov 3, 2019

I had to read this book because of the great reviews. I am sad that I didn't enjoy it as much as others did. The story feels hurried. The relationship and the sex. I didn't go through most of the sex because it seemed like it was between two college students. I was really tired of him saying " oh baby". I was not comfortable withNikki posing for a nude painting because he would see her scars and wouldn't have sex with her. Terrible.
Curious to see how it started

Derived From Web

, Jan 28, 2019

I was curious to read Release Me so I could find out how it all started. I'm glad I did because I'm not sure I would have continued if I'd started with volume 1. I didn't like the fact that she was willing to accept the task, but also that she was willing to listen to all the rumors about how bad Damien was. He was notlikable and unethical. The book has improved so I will read it all.
A brillant novel! I was afraid of triggers that 50 Shades created, (but Damien was not rigid and robotic like Christian! ) those books got gentler with each sequel!

Derived From Web

, Jan 27, 2019

I loved this series, even though I was afraid. My Trigger is Domsubmissive! Bedroom control should be open to everyone. Master bull is not okay with me. I'm for keeping the magic because it's what keeps a couple interested. trust and comfort are created by knowing your partner. Sexual adventures are based on trust and control. They share passion and arousal that is loving and exciting. I liked it. What they shared was fulfilling. Nothing they shared was weird or abnormal! They were loving, kind, and invested in each other. I enjoyed their journey and devotion. 50 Shades was less than this. The person didn't have to leave. I can't wait to see the sequel to the amazing panty melting romance between equals J. Kenner.