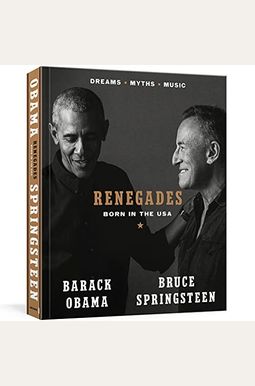 
 
Renegades: Born In The Usa
Frequently Asked Questions About Renegades: Born In The Usa
Book Reviews
(12)
Did you read Renegades: Born In The Usa? Please provide your feedback and rating to help other readers.
nightmare formatting

Derived From Web

, Mar 21, 2022

I have better than 20x20 eyesight and yet I had to stop reading this because I couldn t get through the formatting. This violated BIG-TIME all basic formatting rules. Fonts are hard to read -- often ridiculously small, the captions are placed in places that make it difficult to connect to the pictures. The contrast between type and background is often not great enough for easy reading. I enjoyed listening to all the podcasts by RENEGADES and listened to it. I thought I would enjoy the book, but I had to stop about half way through -- eye strain.
Beautiful Book

Derived From Web

, Jan 11, 2022

This is a beautiful coffee table book, detailing a series of thoughtful conversations between two friends with seemingly little in common, except their shared love of country and basic values. Indeed, their friendship and affection shines through the pages as one can sense the genuine affection and admiration that they share for each other. Their personal anecdotes, annotated speeches and texts, and photos make this unlikely pairing of the iconic rocker and the classy former president a must have for anyone who cares about where the country is headed.
Two Heads Are Better than One

Derived From Web

, Jan 6, 2022

Loved hearing heart to heart from two emotionally mature men who hold the same codes and values as those of the high road. This is remarkable considering the diversity of these two men. This conversation breeds hope and I hope that many Renegades read it.
Pure pleasure to read.

Derived From Web

, Jan 3, 2022

This book was a pure pleasure to read. I felt like I was in the room when two friends discussed growing up in America, their fathers, racism, what it means to be a man in America, marriage, fatherhood. I learned a lot and I was sad when I reached the end. This book gave me lots to think about.
True lies

Derived From Web

, Dec 11, 2021

The worst a complete waste of time, a part of my like I can 't get back the time I spent reading this crap.
Kindle version not for people with low vision

Derived From Web

, Nov 3, 2021

Much of the content of the Kindle version is difficult or impossible to read for me. I have been reading Kindlr books for a decade with the font Amazon Ember Bold '' in a medium size with no problem at all. Much of the content of this book is in a fixed font, not influenced by the Kindle - font controls. In addition, there are numerous blocks of text that are white or beige on gray. I need high contrast or it is invisible to me. Very disappointed ''. This was an expensive book and I adore the authors greatly. Pleasantly aesthetically, but I can 't read it.
This Book IS America

Derived From Web

, Oct 28, 2021

If I could give 10 stars, I would give 10 if I could. It is just a beautiful volume, filled with great pictures of both Bruce and Barack from the early days. To my mind, the American conversations between the men are the heart of the candid story, which is essentially an idea of opportunity, inclusivity and equality. Interspersing Bruce's hand-written texts with President Obama's revised-in revisions of some of his important speeches, including the entire first inaugural address of President Lincoln, gives a breadth and scope of what this country once was and can still be. I never look at information on coverbook designers, but Kudos to Christopher Brand, book and cover designer, and book designer Lizzie Allen and the others involved in bringing this book together. It is an absolutely beautiful book cover to cover.
Two of my favorite men!

Derived From Web

, Oct 27, 2021

This book is absolutely incredible. I can 't put it down. I hope it comes in a sound format only. The photographs, dialogue, intelligence, and friendship of these two men give me hope that our country can come back to being the great nation that it once was. It is inspirational and gives me hope. Mr. President and Mr. Springsteen thank you for sharing your friendship and your conversations with the rest of us.
An awesome and generous collaboration for the ages!

Derived From Web

, Oct 27, 2021

Obama and Springsteen delivered Obama and Springsteen and did not disappoint! When you experience this epic piece of literature, sit back with your favorite beverage and a box of tissues, when you discover this epic piece of literature. Bravo! Bravo!
A very special book

Derived From Web

, Oct 27, 2021

Admittedly, I have a very high regard for President Obama and Bruce Springsteen, but meanwhile, this book is very special. It has MANY wonderful photos, including some old ones of their respective childhoods, and also photos of some other special people in their lives. There are also extensive written conversations and other really interesting material. This book is a real treat!