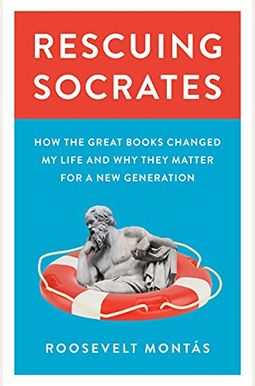  
Rescuing Socrates: How The Great Books Changed My Life And Why They Matter For A New Generation
Frequently Asked Questions About Rescuing Socrates: How The Great Books Changed My Life And Why They Matter For A New Generation
Book Reviews
(7)
Did you read Rescuing Socrates: How The Great Books Changed My Life And Why They Matter For A New Generation? Please provide your feedback and rating to help other readers.
the best arguments for liberal education that I've read

Derived From Web

, Mar 11, 2022

The book is well written, easy to read and presents a convincing argument for including liberal education for all college students. It demonstrates the need of such a foundation, no matter what professional direction is sought.
The liberal arts and the great books

Derived From Web

, Mar 5, 2022

This book is well written and both an argument for the great books by the great thinkers of the West, and a memoir of a personal journey of discovery of their worth.
an important treatise for a common undergraduate core

Derived From Web

, Feb 22, 2022

Montas takes us on a personal journey through the inner awakening wrought by four foundational thinkers, two from antiquity and two modern. In this era of great divisions in our country, we would do well to adopt his advice and heed well-structured and convincing arguments.
Studying Liberal Arts Matters to our World Today

Derived From Web

, Jan 8, 2022

Montás points out that a liberal education, studying great thinkers, is an effective tool to subvert the hierarchies of social privilege that keep those who are down. Commenting on the decline of the liberal arts, Montás sees a crisis of consensus among academic humanists about what things are most valuable. After reading this, I realize that I still have gaps in my education and want to know more about Plato, Freud, Augustine and Gandhi and how their revelations and observations can be applied to our current challenges.
in defense of liberal education

Derived From Web

, Jan 7, 2022

A very well developed, albeit repetitive, defense of the need for a liberal education loosely based on the western canon. Should be read by anyone interested in educating themselves for living well, rather than for acquiring wealth.
Required reading for all

Derived From Web

, Jan 1, 2022

We need a common education, made of the texts that set us free. Roosevelt Montas shows us what this type of liberal education looks like!
"It's all gone (or going) to HELL !"

Derived From Web

, Dec 25, 2021

Allan Bloom was all over again. Yes, we should have read most of the Harvard Classics. Blah Blah Blah Blah Blah Blah Blah Blah Blah blah blah Read Louis Menand's review in the New Yorker for every reason, you do not need to bother with a work such as this :