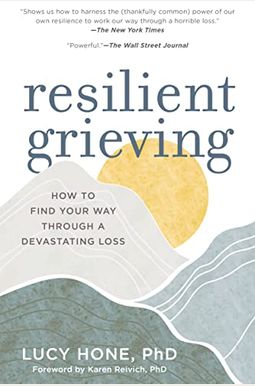 
 
Resilient Grieving: Finding Strength and Embracing Life After a Loss That Changes Everything
Product is currently Out of Stock.
You can add it to your wishlist and you will be notified once we receive a copy.
Book Overview
This book aims to help you relearn your world . . . to help you navigate the grieving process as best you can--without hiding from your feelings or denying the reality, or significance, of your loss.
--from Resilient Grieving

The death of someone we hold dear may be inevitable; being paralyzed by our grief is not. A growing body of research has revealed our capacity for resilient grieving, our innate ability to respond to traumatic loss by finding ways to grow--by becoming more engaged with our lives, and discovering new, profound meaning.

Author and resilience/well-being expert Lucy Hone, a pioneer in fusing positive psychology and bereavement research, was faced with her own inescapable sorrow when, in 2014, her 12-year-old daughter was killed in a car accident. By following the strategies of resilient grieving, she found a proactive way to move through her grief, and, over time, embrace life again.

Resilient Grieving offers an empowering alternative to the five-stage Kubler-Ross model of grief--and makes clear our inherent capacity for growth following the trauma of a loss that changes everything.
Frequently Asked Questions About Resilient Grieving: Finding Strength and Embracing Life After a Loss That Changes Everything
Book Reviews
(9)
Did you read Resilient Grieving: Finding Strength and Embracing Life After a Loss That Changes Everything? Please provide your feedback and rating to help other readers.
Wonderful Bereavement tool

Derived From Web

, May 12, 2021

Not only do we lend it out, but then our clients have ordered them for their own libraries. We are certain to always have a copy on hand and use it as a constant grief tool.
This is the one to get.

Derived From Web

, Apr 22, 2021

, I recently lost my newborn daughter, and this book helped immensely. So many of the books about infant death are filled with platitudes and stories, but lack actual substance on how to deal with crushing grief. This book offers concrete steps on moving through grief healthily. I recommend this to all the new loss moms that I now encounter. Furthermore, it is written by a mother who suffered trauma and grief when her twelve-year-old daughter died. It is applicable to all types of deaths.
living with grief

Derived From Web

, Oct 20, 2020

In March 2018, I unexpectedly lost my oldest son. By far the most useful book in navigating loss was Lucy's. There is no fixed process for grief, no timeline and no steps you have to take. Grief is grief and we go through it differently, but this book helped me put my strengths to work and keep moving forward. Life does not end with the loss of a child, regardless of age, but it feels like it. For those who persist, however, one must persevere. The sadness will always be part of me. The thing I know is that I can come out of the ups and downs of sadness and always move on the top of the wave. For writing this book, thank you Lucy. My heart goes out to you and to all who have lost a child. It is the deepest loss.
Very helpful during this hard time. I highly recommend

Derived From Web

, Jun 18, 2020

My father died recently and this book was recommended to me. It is turning out to be a real gem! I highly recommend it, it is really helping me get through this very difficult time.
Getting help from others experiences.

Derived From Web

, Jun 14, 2019

I lost my only child at the age of 55 in June. I had lost my husband 2 years earlier. I was trying to find a way of coping and identifying with how to deal. My family is all gone now. I have left only two siblings and both are in nursing homes in different states.
Wonderful book for someone mourning a loss

Derived From Web

, Aug 3, 2018

This book Resilient Grieving Finding Strength and Embracing Life after a loss that changes everything was recommended to me after my wife died last year 50 years ago. Together with the support of Hospice of Dubuque Grief, I found it very helpful, a journey I am still on, not an event.
I lost my husband four months ago. This has ...

Derived From Web

, Jun 26, 2018

This has been the only book that I have found helpful. It is uplifting instead of depressing and helped me look with hope for the future.
I would highly recommend this book for anyone who has lost a child

Derived From Web

, Oct 3, 2017

I know grief first hand, my husband committed suicide in 1995 and my incredible son Jerry committed suicide on 04 March 2016. The death of my son came very unexpected, he was in a blackout from alcohol after talking to his girlfriend about marriage, he had said no. Nothing prepares you to walk through this grief level. Having experienced grief firsthand, she gives practical points for walking through grief. She identifies 21 character traits that will help you in your grief. She asks you to identify 5 that you can use to help you on the way. Thank you Lucy for allowing your heart to heal others.
How to deal with grieving when in less than 6 ...

Derived From Web

, Aug 27, 2017

How to deal with grief when you lose 8 relatives, one after the other, in less than 6 months. This book was the suggestion of a friend who is a psychologist to help me deal with this hard situation. I haven 't yet finished it, but because I take time to internalize the text. It is not a guide, but Lucy provides suggestions and techniques that help me overcome my sadness, my fears.