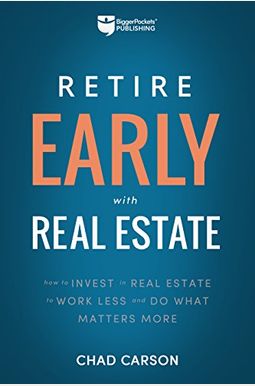  
Retire Early With Real Estate: How Smart Investing Can Help You Escape The 9-5 Grind And Do More Of What Matters
Frequently Asked Questions About Retire Early With Real Estate: How Smart Investing Can Help You Escape The 9-5 Grind And Do More Of What Matters
Book Reviews
(7)
Did you read Retire Early With Real Estate: How Smart Investing Can Help You Escape The 9-5 Grind And Do More Of What Matters? Please provide your feedback and rating to help other readers.
Retire Early With Real Estate

Derived From Web

, Aug 7, 2020

It provided a lot more information than any other real estate book she read and she has read a lot of them. She loved how the book gave other people's perspectives and ideas of how they reached their income. Other books she has read that are recommended by other top real estate gurus, require you to purchase their book and provide only general information instead of a detailed plan training of what they did. The recommended book is sometimes a sales pitch and causes you to purchase one of their seminars - conferences and attend one of their seminars. Of course, the seminar conference does not provide all the information you need, so you have to purchase their services, which then costs tons of money to get started. Book is great!
Redundant and Not Very Informative

Derived From Web

, Oct 30, 2019

Here the author makes the same points over and over again, particularly to live frugally. Here there isn't much real useful real estate advice. Various strategies are really obvious things and generally boil to save more and invest your savings in real estate. The most annoying thing about the book is that it is obvious that many of the people featured in case studies make money by doing what the author is writing about real estate investing. Most of the people featured have blogs and whatnot, where they try to sell you on their retirement ideas. The whole thing feels like a Ponzi scheme.
Redundant/ repetative

Derived From Web

, Jan 26, 2019

The author gives plenty of suggestions about what to do, but very little about how to do it. For example, in Part 7 says the author : This plan will count on you finding homes at well below market value. Ok, but how does the average Joe find homes at well below market value? The numbers used for examples were also extremely generous. In some cases, the author had homes with mortgages generating more than $500 in pure cash flow. Anyone in business knows that these numbers are almost never achievable. The examples are good but are too perfect. They are ideal world scenarios that are unlikely to achieve average people. I would just do some Google searches and skip buying this book.
A Really Fantastic Book

Derived From Web

, Nov 19, 2018

It would benefit the experienced investor to the beginner. The author is very passionate and extremely thorough. I love the personal profiles of the investors he interviewed to share their secrets of success and learn from learning. Although this is a book about real estate, it is really a book about life. Overall, it was thoroughly enjoyable and I would highly recommend it for anyone who is considering getting into the field as well as those who are expredited.
Great book!

Derived From Web

, Oct 1, 2018

I love that he gives you clear advice on how you can start investing in real estate. As someone who aspires to invest in real estate one day, I like that he provides ways to gain experience, while you work on preparing to invest. I also like that he helps you see where you are financially starting out. Love Love this book greatly and continue to use it as a resource and a reference!
Very interesting reading.

Derived From Web

, Sep 27, 2018

I did retire early with real estate and some of the material mentioned in the book, I actually had to learn the hard way. I enjoy reading and my plan for this book is to give it to the younger members.
Some of the best training I've come across in 14 years

Derived From Web

, Sep 15, 2018

In the 14 years since I began investing in real estate, I have attended everything I could get my hands on and read countless seminars and live training events. Sadly, much of it is fluff, trying to cram 2 hours of information into a 10 hour delivery. Chad's book is just the opposite, the delivered, but condensed information is the learning equivalent of drinking from a firehose - multiple readings may be required!