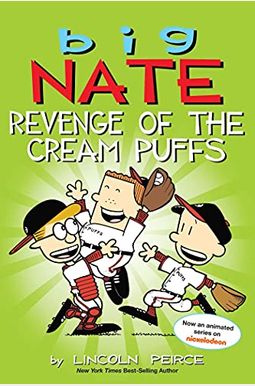 
 
Big Nate: Revenge of the Cream Puffs, 15
Book Overview
Soon to be an animated series from Nickelodeon
It's one, two, three strikes, you're out, as the Cream Puffs seek sweet revenge
Here come the Cream Puffs Nate and his baseball team, saddled with the most embarrassing moniker in Little League history, want to show the world they're not just a bunch of cupcakes. But it won't be easy. Their opponents mock them. The local sports section misprints Nate's name--THRE TIMES. And now, on the day of the big game, illness and injuries have the team facing a crushing defeat . . . unless the unlikeliest Cream Puff of all can come in from the bullpen and save the day. With a softhearted pitcher who channels his inner panda, a vengeful girlfriend who swings for the fences, and a healthy dose of Nate Wright mojo, the Cream Puffs just might have what it takes to stage an epic comeback. So grab a glove, smear on some eyeblack, and get in the game. You don't want to miss a single moment of
Revenge of the Cream Puffs
Frequently bought together
Frequently Asked Questions About Big Nate: Revenge of the Cream Puffs, 15
Books like Big Nate: Revenge of the Cream Puffs, 15
Book Reviews
(18)
Did you read Big Nate: Revenge of the Cream Puffs, 15? Please provide your feedback and rating to help other readers.
Bold and vibrant full color book!

Derived From Web

, May 21, 2022

My 10 year old still loves these big nates book series. He was so excited to receive this book today. This book is written in a comic book format. He even loves the pop-out poster included in the back of the book. ( - )
Great Series

Derived From Web

, May 21, 2022

I've always said, Nana was the best, and each time I give him one of these books. Great way to get kids reading if they have a hard time getting into reading.
Winner for Young Reader

Derived From Web

, May 21, 2022

This book is about Big Nate, a crazy kid who likes to have fun and gets into trouble a lot. I have many different parts of this book ''. One was when Yo mama and others have a smackdown because the jokes are really funny. When Nate has to obtain a coffee for his teacher, he is really funny when he pretends to be happy. When his dad mentions the school prank day, he laughs so much pretty much saying that he did something bad. When Jenny likes the boy, Artur, talks about Nate, the girl likes, Nate screams "That's sweet, Artur! " These parts made me laugh out loud. My favorite character in this book is Big Nate, because he is fast, and silly on his feet. If you don 't know the book, read it and you 'll find out. I am giving the book 5 stars as Big Nate is really funny and the drawings are also really funny. I have recommended this book to children who love funny stories with romance, although romance is made silly.
I think big nate books are great!!

Derived From Web

, May 21, 2022

I have liked big nate books from the beginning and now have 25! Big Nate comic books and novels are super good for ages 8-12 and older readers, which is nice. I have big nate blast off,big nate greatest hits, Big Nate and Friends and many more!
Surprising

Derived From Web

, May 21, 2022

Book is excellent! Made me laugh lots of times out loud. In this bok it is surprising to find out that Jenny has actually gotten over his crush on Nate and moved on. Couldn 't stop reading! Definitely worth it.
Hi

Derived From Web

, May 21, 2022

Hi chess tree an odd wired grass basketball fly win apricot monkey soap poor lower dog cheese nothing universe bad cat.
Kept my 9 year old entertained.

Derived From Web

, May 21, 2022

I heard him laughing out loud while reading it, so I could tell that he was into it.
yo mama

Derived From Web

, Oct 20, 2020

In the yo mama is so ugly, i did noot say that at your mama! ) Big Nate doesn't even have a mama, so i likes talking in a sassy voice so i can have > ( now pls! ) also.
Big Nate - Revenge of the Cream Puffs

Derived From Web

, May 7, 2020

Nate is ready for another year of the Little League. But they are not the Bobcats anymore. With an embarrassing team name and all the pastry jokes that the other team makes this year, it does not seem to be the same. If his team had not been embarrassed enough, they have to face the worst illnesses and injuries prevent some teammates from coming and probably ruined any chances of Nate's team winning the match against the endlessly teasing baseball team. Unless a cream puff comes from behind and is the only chance for them to win. This book is a must-download to find out the fate of the Cream Puffs and for more funny jokes!
this book is really good I think it is my favorie book in the big nate series

Derived From Web

, Mar 17, 2020

In addition, nate's team name is Cream Puffs, which is probably the funniest thing. I think that their team name is changing to cupcakes, which is much funnier... Read this book or else I throw cheese doodles at you.