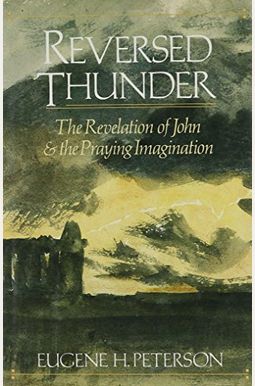  
Reversed Thunder: The Revelation Of John And The Praying Imagination
Frequently Asked Questions About Reversed Thunder: The Revelation Of John And The Praying Imagination
Book Reviews
(12)
Did you read Reversed Thunder: The Revelation Of John And The Praying Imagination? Please provide your feedback and rating to help other readers.
Revelation Now not Revelation Left Behind!

Derived From Web

, May 20, 2022

Peterson does not disappoint. If you are interested in reading a commentary on the Book of Revelation that is not filled with end of the world, doomsday fear and predictions, then pick it up and read it. It provides a practical teaching on Revelation that is wonderful to see the book as relevant for today... not the end of the world! Some simple realities that this book presents is the true interpretation of apocalypse as Revelation as Revival, contrary to the Doomsday meanings that are usually heard in interpreting and discussing the Book of Revelation. Also, the understanding of Armagedon is understood as the Valley of Megido, not world-ending destruction, but an actual location with significant history and application for Biblical understanding and life-application! If you are tired of the left behind conversation or are just looking at other options, this is a great place to start!
Christian worship

Derived From Web

, May 20, 2022

This is the best pastoral commentary on the book of Revelation that I have read. The author has a clear picture of the book and has the writing skills to express what he sees. He relegates the various confusing symbols to their rightful place, i.e.
Masterful!

Derived From Web

, May 20, 2022

Learning to read Revelation through different lenses shed so much light. It is a difficult book and has unfortunately been used by many to create fear. This book leads you on the path to understand Revelation from a position of comfort and discipleship.
Insightful and thought provoking

Derived From Web

, May 20, 2022

Eugene Peterson, as always, captures the concepts and makes them practical. Revelation needs to be held not just as a future picture, but also as a guide for living today.
Brings More Confusion

Derived From Web

, Jan 11, 2022

I bought this for a Bible study that I am doing on the revelation to help me figure out how to read this strange book. But I was so disappointed by the lack of clarity and in fact, it added only to my confusion. Peterson says that John is a poet and we should not interpret things literally, but doesn't offer any insight into how we should interpret the poem. I'm so disappointed by this book. It is frustratingly difficult to read and unfortunately I don 't recommend it.
A different (and welcome) take on Revelation

Derived From Web

, Apr 2, 2021

Finally, I finished this book from Scot X. McKnight's class on Revelation at the Northern Seminary. Reversed thunder is so good, so full and thoughtful, and beautiful. This is a different take on Revelation than the rapture-possessed takes I have been taught and the Antichrist 666 guessing games. The Revelation is about Jesus and the nearness of Heaven to Earth. It is a book that requires imagination and rails against the evil of the Empire. I didn 't want to read it and I am glad I finished it, but I plan to rush it again. Eugene Peterson's writing challenges me both and refreshes my soul.
Blessing the imagination

Derived From Web

, Mar 24, 2021

I have long feared reading Revelation, but this time in my Bible reading I found ways to come to love the book. I appreciated Eugene Peterson's treatment of the Bible in his book, The Message, and decided to see if he had written anything about Revelation. He has written two books about Revelation, but I decided to buy this book first, based on another review. I am glad to have done so ''. Before reading Peterson's book, I had already begun to see the beauty of Revelation's messages. Peterson's understandings help me to see in this book the goodness of Creator. I especially appreciate Peterson's encouragement to truly hear the word of God - to know the person-to-person way that the book is written and to let this word have an active way of engaging me.
Book Review

Derived From Web

, Feb 11, 2021

Today he read it, have not yet, but a friend recommended it to me for a subject I am studying and he knows what he is talking about when it comes to the subject matter. The price was great.
Must read to understand Revelation

Derived From Web

, Aug 23, 2020

Everyday I read my message Bible. He places Revelation in perspective. Revelation is not a Dooms Day calendar, but a final and wrap-up words on the previous Bible chapters and is all explained in this book so nicely.
A Prayerful Meditation on the Beauty of Christ

Derived From Web

, Mar 30, 2020

Peterson moves thoughtfully and graciously through the Apocalypse in a way that extols the beauty of Christ, makes the reader slow down and see their place between Creation and New Creation, and does so in a fatherly way. I wish I would have read this earlier, but am grateful that I finally did. Peterson does not shy away from theological questions and controversy, but he doesn 't make them the main thing. If you follow along with him, you finish the book feeling like you walked with Jesus, the Apostle John and Eugene Peterson on a trail of history waiting for its awaited climax... or new beginning.