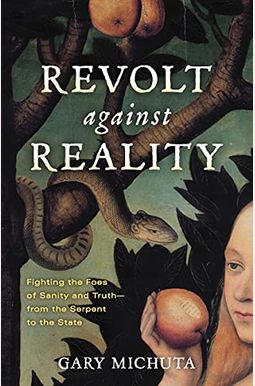  
Revolt Against Reality: Fighting the Foes of Sanity and Truth-From the Serpent to the State
Frequently Asked Questions About Revolt Against Reality: Fighting the Foes of Sanity and Truth-From the Serpent to the State
Book Reviews
(7)
Did you read Revolt Against Reality: Fighting the Foes of Sanity and Truth-From the Serpent to the State? Please provide your feedback and rating to help other readers.
great book

Derived From Web

, Mar 28, 2022

Excellent read and sure explains a lot about how we arrived in the world today. There is still hope, since the gates of Hell will not prevail.
Wonderful explanation of how we achieved the mess we are in

Derived From Web

, Feb 1, 2022

This was a wonderful book that shows how we moved from the truths of Jesus Christ to the alternate reality we live in today.
If you want to know the why behind the chaos this is your book

Derived From Web

, Jan 30, 2022

Gary Michuta gives an excellent overview of world history and the consequences and results of good and bad ideas and philosophies throughout history that lead us to where is the world today. This book is a must read and should be required reading in any high school or college, world history or philosophy class.
Wonderfully through

Derived From Web

, Jan 3, 2022

Gary does a wonderful job of tying all of history, from Adam and Eve to transgender ideology, in an orderly and easy to read fashion. This is a fantastic 30,000-foot view of how our society got to where it is. This is a breath of fresh air compared to the hyper-focusing on a single topic that ll became the Denise of Western Civilization.
REALITY matters, not our tortuous "understanding" of the "reality of the self"

Derived From Web

, Dec 5, 2021

This book is the perfect summary of everything that should be taught to our children, be it in philosophy, religion or history. In my own opinion, its author qualifies as one of the great minds of our times for his ability to express himself in such an accessible, yet spot-on precise language. I can not praise its author enough for what he has accomplished. I really need to check his other books!
An excellent book

Derived From Web

, Dec 5, 2021

Ties many concepts together and traces the development of both Western Christian triumph and anti-Western Christian heresy fully.
Must read

Derived From Web

, Nov 24, 2021

With this book, Gary hit another home run. If you want to know how we arrived as a society to where we are, then this book is for you. Gary digs deep into the current situation by diving into the past.