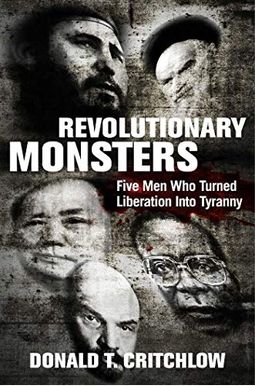 
 
Revolutionary Monsters: Five Men Who Turned Liberation Into Tyranny
Book Overview
Lenin. Mao. Castro. Mugabe. Khomeini.
All sparked movements in the name of liberating their people from their oppressors--capitalists, foreign imperialists, or dictators in their own country. These revolutionaries rallied the masses in the name of freedom, only to become more tyrannical than those they replaced. Much has been written about the anatomy of revolution from Edmund Burke to Crane Brinton Crane, Franz Fanon, and contemporary theorists of revolution found in the modern academy. Yet what is missing is a dissection of the revolutionary minds that destroyed the old for the creation of a more harmful new.
Revolutionary Monsters
presents a collective biography of five modern day revolutionaries who came into power calling for the liberation of the people only to end up killing millions of people in the name of revolution: Lenin (Russia), Mao (China), Castro (Cuba), Mugabe (Zimbabwe), and Khomeini (Iran).
Revolutionary Monsters
explores basic questions about the revolutionary personality, and examines how these revolutionaries came to envision themselves as prophets of a new age.
Frequently Asked Questions About Revolutionary Monsters: Five Men Who Turned Liberation Into Tyranny
Book Reviews
(5)
Did you read Revolutionary Monsters: Five Men Who Turned Liberation Into Tyranny? Please provide your feedback and rating to help other readers.
Mandatory history reading!!

Derived From Web

, Feb 4, 2022

One of those books that should be mandatory reading for all those American socialists who want to change this beautiful but imperfective country for the best. Just read what means best!
Truly moronic

Derived From Web

, Nov 10, 2021

I can 't even begin to state how debunked these pages have been of communism sourced pages. The only terror here is the neo-conservative belief system of the author.
Compelling portraits of revolutionary personalities

Derived From Web

, Oct 6, 2021

Through five short biographical depictions of Lenin, Mao, Castro, Mugabe, and Khomeini, Critchlow argues that radical individuals can make radical historical change. By comparing their revolutions with their French, American, and Glorious counterparts, he provides context and a conceptual basis for the book. Readers new to the theme will find this an excellent introduction to the revolution, while those familiar with these characters will still find plenty of intriguing details to keep the pages turning.
P James

Derived From Web

, Oct 5, 2021

I thought I knew a lot about the five dictators, but I really had no idea how they actually came to power. It is definitely something that should be read by the youth of today. Just to understand that the socialism they seem to think will solve all problems, but could become a nightmare at the end. I plan to encourage all eight of my great grandsons to read it. This is a book for anyone interested in how such evil men can get so far in their goal of gaining supreme power.
The chapter on Castro was worth the purchase of the book!

Derived From Web

, Oct 5, 2021

The true book reveals the Fascinating evil of the past. Very timely, given the mandates around Covid and our creep towards authoritarianism.