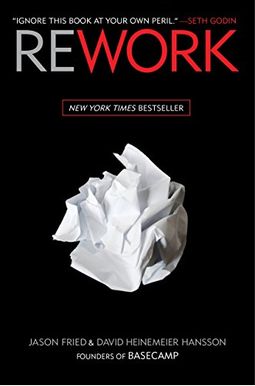  
Book Overview
Rework shows you a better, faster, easier way to succeed in business.
Most business books give you the same old advice: Write a business plan, study the competition, seek investors, yadda yadda. If you're looking for a book like that, put this one back on the shelf. Read it and you'll know why plans are actually harmful, why you don't need outside investors, and why you're better off ignoring the competition. The truth is, you need less than you think. You don't need to be a workaholic. You don't need to staff up. You don't need to waste time on paperwork or meetings. You don't even need an office. Those are all just excuses. What you really need to do is stop talking and start working. This book shows you the way. You'll learn how to be more productive, how to get exposure without breaking the bank, and tons more counterintuitive ideas that will inspire and provoke you. With its straightforward language and easy-is-better approach,
Rework
is the perfect playbook for anyone who's ever dreamed of doing it on their own. Hardcore entrepreneurs, small-business owners, people stuck in day jobs they hate, victims of downsizing, and artists who don't want to starve anymore will all find valuable guidance in these pages.
Frequently bought together
Frequently Asked Questions About Rework
Books like Rework
What should you read after Rework Book? Here is a list of books to read if you read and loved Rework
Book Reviews
(14)
Did you read Rework? Please provide your feedback and rating to help other readers.
Honest and Revealing

Derived From Web

, Apr 20, 2022

In another passage, the authors contend that meetings and detailed procedures often waste time and don't yield that much. However, you may not agree with everything in Rework and possibly find parts of it reductive or even discomforting. It's a great read, at its best, and I recommend it to anyone. It's also hard not to appreciate the authors' openness and willingness to reveal what's worked for them personally and in their business.
Perfect condition

Derived From Web

, Dec 1, 2020

came in perfect condition and am happy with my purchase, but due to the Pandemic it took a while (like a month or two to arrive), but it's okay and understandable and happy it came, said Jennette. The Harrisons did not hesitate to buy again.
Lots of paper for not much content

Derived From Web

, Dec 2, 2019

Not really inspiring, the font size is huge and the content is ok, but not worth all the fuss about it.
PERFECT for entrepreneurs

Derived From Web

, Sep 15, 2019

If your target market is large, you may not follow all of the advice. As a small business owner and entrepreneur, I find this book to be a perfect match. There are no shortage of great advice pages here. It's common sense for someone like me, but it's reassuring to read it from a 3rd party source. This book and I are so in-tune that I could have written it in a couple years, he said.
Short, simple, practical

Derived From Web

, Jun 2, 2019

Rework is a bunch of common sense, written in a simple and accessible manner from people who have built a successful business on their own terms, he said. Their advice feels just as appropriate for my spouse's small life coaching business as for a small tech company that is focused on bootstrapping. I love that their last iteration of the book before publishing cut over half the word count - a great window into how the authors think. While they are rock stars in the tech world, you wouldn't know it reading the book.
I will hire someone who read this book instead of MBA

Derived From Web

, Jun 2, 2019

It must be read by all employees, managers or anyone else who works. This book is very easy to read, even if you have no interest in religion.
Great book. Very Timely.

Derived From Web

, Feb 4, 2019

Very good book, very quick read. Many would benefit from a dose of the author's philosophy. Highly recommend.
Endless contradictions

Derived From Web

, Jan 15, 2019

There are no easy answers to this maddening conundrum of fiction and nonfiction. Only work 40 hours per week, if you work more then that, it's because you like to work, they say. Only by bringing in people to do time-consuming jobs can a business grow. The book is littered with such expletives that they basically brag about how awesome their company is throughout the book. The pitch is 744 pages long, and was written by Brian Selin, formerly of Dell'Oro.
Complete waste of time.

Derived From Web

, Oct 15, 2018

A series of opinions, each written with confidence, hoping that people will mistake the confidence for arbitrary wisdom. Snake oil was sold to get an audience when they had no real interest, he said.
Easy to read

Derived From Web

, Jul 8, 2018

It's great to read, but not in-depth as I expected.
List of All Editions of Rework