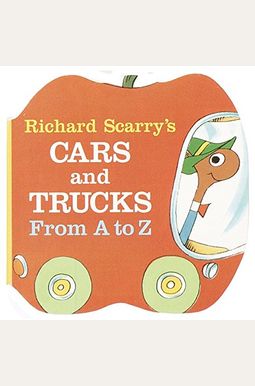  
Richard Scarry's Cars and Trucks from A to Z
Frequently bought together
Frequently Asked Questions About Richard Scarry's Cars and Trucks from A to Z
Book Reviews
(21)
Did you read Richard Scarry's Cars and Trucks from A to Z? Please provide your feedback and rating to help other readers.
Bores my car-obsessed toddler

Derived From Web

, Apr 20, 2022

I'm not sure what I was expecting for an alphabet book about cars, but I haven't had a good time reading it. The book was a great idea, but I don't think it worked as well as it could have.
The perfect gift for a toddler!

Derived From Web

, Apr 20, 2022

An elderly friend of the family gave it to us as a present. She said that when the kids came to the classroom, they were fascinated by the gold bug. Not only did my son and daughter both love this book, but it became the featured entertainment whenever we had guests! The treasure hunter must find the gold bug first! So, when a neighbor recently had a baby boy, the first thing I thought of was Cars and Trucks and Things That Go! I knew I could find it on Amazon. com. The item was delivered to my house within two days.
Love Richard Scarry!

Derived From Web

, Apr 20, 2022

There are pictures of Richard Scarry that are just too good to put down. The baby liked the feel and size of the teething toy, Melissa said. We will play with it, find the worm and send it back to Dad. I was surprised by the low price, and I guess that explains it.
Great Book

Derived From Web

, Apr 20, 2022

He's a car guy, and this is going to be a hit, I know. It's small - fits inside an adult's hands so I know it'll be very easy for him to manage, Mrs Hughes said. It's thinner than some board books, but now that he's almost 2, I'm not so worried about him biting and chewing on them.
short and sweet

Derived From Web

, Apr 20, 2022

I first read it to kids when I was working in a church nursery and I found it so effective at entertaining small children that I bought a copy for myself when I babysit. A good investment for a childrens book collection, he said.
Fun book of fantastic cartoon cars

Derived From Web

, Apr 20, 2022

Television images could not be loaded. It reminded me of a lot of tongue twisters. The book is about 150 words, and although it's a little bit of a bore, it's a really fun book to read. There are also some made-up cars, like the zippermobile and bugdozer. There are either one or two cars for each letter, so there are probably about 40-45 different cars in the book, even the hard ones like J, Q, and Z. The book is also extremely small, measuring just 1 1/2 inches by 3 1/2 inches. It's going to be the smallest book on your bookshelf. Pros: High quality board book, nice shape to the book, fun story, fun book to read, and once you get used to the story, you can read it very fast.
Wonderful, Imaginative Book

Derived From Web

, Apr 20, 2022

This book is so much fun, Judy. Not only are there the standard cars like mail truck and newspaper truck, there are also imaginative ones like car pickle, car and don't forget the pumpkin car! I don't know whether it's exactly a poem, but there is a lovely rhythm to the words that just makes it a joy to read. The shape of the book is fun, too, and it's nice and light, small enough for toddlers to hold, he said.
So Sweet

Derived From Web

, Jan 28, 2022

One year old LOVES cats and cars and was often after our five year old's Richard Scarry books, but not so gentle with the thin pages. This book is the perfect size for babies and toddlers to hold while their parents read. We love watching her read it to the baby, too!
Absolute favorite in our house!

Derived From Web

, Oct 16, 2021

This is my second copy of the book. I normally wouldn't have repurchased as we are almost done with the babytoddler stages, but we read this book at least three times a day! Both of my kids have enjoyed this book—it's cute, silly, rhymey, and concise, Melissa. I recommend this product to any family and will be including a copy of this in all future baby shower gifts!
Meh...

Derived From Web

, Aug 27, 2021

My son didn't get into it, Mrs Clinton said. It was too small for my son to even enjoy me reading to him. It's a cute little book, too, Mr. Rule told us.