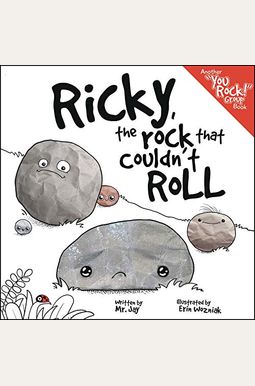 
 
Ricky, The Rock That Couldn't Roll
Book Overview
Get ready to meet a new rock group From zippy, little pebbles to big strong boulders, the rocks (and their ladybug friend) get together to play and roll around their favorite hill, only to find that one of their friends, Ricky, can't roll with them. Unlike all of the others, who are all round, Ricky can't roll because he's flat on one side. Determined not to leave their friend behind, the rocks and the ladybug set out to help Ricky roll around - one way or another.
Frequently Asked Questions About Ricky, The Rock That Couldn't Roll
Book Reviews
(14)
Did you read Ricky, The Rock That Couldn't Roll? Please provide your feedback and rating to help other readers.
Family time

Derived From Web

, Jun 19, 2021

Great collection of stories, my children this book, real heart felt easy for kids to understand!
If you can't be like the cool kids, give in to peer pressure and let them make you cool.

Derived From Web

, Nov 28, 2020

This book was absolutely horrible, Gillian said. I am open minded and really was trying to think of another way to spin this, but the book was clear. He has a flat left side. In "Shattered Glass," Harrison writes, "most of the book is about him being sad he can't play with the other rocks." Note the ladybug that hangs with him. It's just that they don't have enough money." The rocks mold him into being like them so he can do what they do and the end. It almost shut it down and I didn't finish reading it when I saw where it was going. Thankfully, the child I was reading it to was a bit sleepy and I don't think she caught the whole thing, Mrs Hughes said. Awful. It's just that I threw it away, Jeter said. These are serious issues, Medicare officials say. If your shape isn't like others, you don't feel bad. Only change your status quo will bring you happiness, Bruno says. This is just messed up, man.
Cute story

Derived From Web

, Sep 17, 2020

Very happy with this puchase, Mr. Dhaliwal said. My husband said it was a great story the kids should like. I believe in the Lord's work and I believe in his mission.
My favorite kid book yet

Derived From Web

, Aug 18, 2020

Great story. I'm so glad we found the time to read this book, said Sara. I can't wait to read them both!
Fun little book!

Derived From Web

, Aug 9, 2019

My 3 year old Grand daughter absolutely loves this book, her mom tells me she loves finding the ladybug on each page! Good book, good reading.
Great Book!

Derived From Web

, Jul 14, 2019

We purchased this book to read to our 2 year old and 4 year old granddaughters, and they absolutely loved it! We've read the book numerous times and been able to teach them some life lessons about being different, Mr. Dhaliwal said.
Excellent

Derived From Web

, Jul 12, 2019

It is an entertaining and witty program, while at the same time it has a great message. The ending makes me choke every time I read it. This is a great book, and I recommend it to anyone.
Helps demonstrate diversity, acceptance, respect, friendship, and hope

Derived From Web

, Mar 28, 2019

I was surprised by how well the book was written, said Janet Evanovich, assistant professor of English at Carnegie Hall. I used it in school to help with inclusion, thinking of others, and acceptance of others' differences, Myers said. It's great to hear from customers who have used it. The voice mail is great, said Dr. Thomas. Kennedy, director of the federal Centers for Disease Control and Prevention.
adorable in every way

Derived From Web

, Jun 15, 2018

This is a nice, large book about a not-so-round rock, and how his friends cheered him on and rallied to help him out, Graham said. The book reads nicely -- great rhyming -- and the illustrations are really adorable, too. I do wish the author had referred to him as Ricky, consistently. My 2 1/2 year old LOVES it!
GREAT story

Derived From Web

, Mar 3, 2018

LOVED the rhyming, descriptive names for different types of rocks.. but above all I LOVED the final message about love and friendship. Thanks for the great story!!!!!!!!!!!!!!!!!!!!!!!!!!!!!! It's great to be back home, said Blair.