Buy 3 Get 1 Free
Our Best Sale Yet! Add 4 Books Priced Under $5 To Your Cart Learn more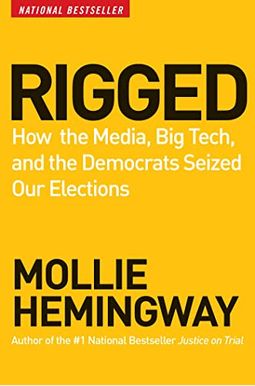  
Rigged: How The Media, Big Tech, And The Democrats Seized Our Elections
Book Overview
FROM THE AUTHOR OF THE #1 NATIONAL BESTSELER JUSTICE ON TRIAL
Stunned by the turbulence of the 2020 election, millions of Americans are asking the forbidden question: what really happened?
It was a devastating triple punch. Capping their four-year campaign to destroy the Trump presidency, the media portrayed a Democratic victory as necessary and inevitable. Big Tech, wielding unprecedented powers, vaporized dissent and erased damning reports about the Biden family's corruption. And Democratic operatives, exploiting a public health crisis, shamelessly manipulated the voting process itself. Silenced and subjected, the American people lost their faith in the system.
RIGED is the definitive account of the 2020 election.
Based on Mollie Hemingway's exclusive interviews with campaign officials, reporters, Supreme Court justices, and President Trump himself, it exposes the fraud and cynicism behind the Democrats' historic power-grab. Rewriting history is a specialty of the radical left, now in control of America's political and cultural heights. But they will have to contend with the determination, insight, and eloquence of Mollie Hemingway. RIGED is a reminder for weary patriots that truth is still the most powerful weapon. The stakes for our democracy have never been higher.
Frequently Asked Questions About Rigged: How The Media, Big Tech, And The Democrats Seized Our Elections
Book Reviews
(14)
Did you read Rigged: How The Media, Big Tech, And The Democrats Seized Our Elections? Please provide your feedback and rating to help other readers.
I wish more citizens would read this book!

Derived From Web

, Feb 22, 2022

Ms. Hemingway has done a great job showing a pattern with some Democrats who will do anything to gain power. When mass fraud was used to win the presidential election, she set the stage for the 2020 election. The facts of the case can be denied by the Left, but time will prove them wrong. The case was presented like a seasoned attorney by Ms. Hemingway. It is a fact that the Democrats cheated to get Trump out of the White House. We have a senile old man who leads us down the wrong path.
A well-researched Book on a Subject for our time.

Derived From Web

, Jan 13, 2022

Molly Hemingway is an honest journalist. She has well researched and supported her writing. She only wrote what she could prove to be true, which is more than enough. I think the next few months will show that there was a massive fraud on the American people.
A Must Read for All Americans

Derived From Web

, Jan 10, 2022

All patriotic Americans, Republicans, Democrats and Libertarians should read this. Our publicelected officials, news media, and big tech companies are willing to lie and cheat in order to get their way. These groups are willing to steal an election and how can we have a fair election? The judges let it happen! There are so many people and groups that Americans need to keep an eye on.
Shocking!

Derived From Web

, Nov 29, 2021

I was shocked to learn how deep the corruption and "whatever it takes" tactics of the Left were in the 2020 election. The Left is anti-american and must be reigned in at the very least.
Cruising through this!

Derived From Web

, Nov 17, 2021

I can't put it down, I got this yesterday. It was well written and wellsourced. It's time to get some clarity on the insane overreach we have been experiencing at an ever-increasing level from the media democratic tech collusion that is happening right now. I am very happy that this book was published.
Footnotes backing up data points throughout.

Derived From Web

, Nov 14, 2021

I was expecting it to be dry. I wasn't right. It is written well and holds your attention. It is well researched and documented. The facts and evidence are presented in chronological order. The history left me worried about the future of our republic.
Empirical Evidence of crimes against all Americans

Derived From Web

, Nov 14, 2021

Evidence shows that the state election office was staffed with contractors with an alliance to one party paid for by Mark Zuckerberg. May God grant them forgiveness and mercy. Please review and peacefully petition your elected representatives to prosecute the crimes and ensure that only one vote is cast for each citizen who votes.
Truth in action

Derived From Web

, Nov 10, 2021

Mollie Hemingway has earned a lot of respect because of her research. She has shown us what we need to do.
Order Rigged today!

Derived From Web

, Oct 13, 2021

I was reading all day. There is a lot of information here, from what the Trump campaign was thinking on election night to their handling of post- election lawsuits. The media and the Biden campaign got away with deceiving the public about what was going on. Today, Politico was reporting on Hunter Biden's questionable ethics. In order to explain what went wrong in 2020, Rigged doesn't just document corruption within the government agencies that run elections and count votes, it's a book about the entire campaign. The book tells a big story about how social media and technology have changed American politics.
Revealing

Derived From Web

, Oct 13, 2021

There is a trusted voice. I received my copy today. I have 3 chapters to go. The book is very well written.