Buy 3 Get 1 Free
Our Best Sale Yet! Add 4 Books Priced Under $5 To Your Cart     Learn more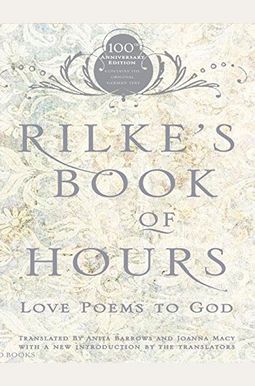  
Rilke's Book Of Hours: Love Poems To God
Book Overview
A FINALIST FOR THE PEN/WEST TRANSLATION AWARD
The 100th Anniversary Edition of a global classic, containing beautiful translations along with the original German text.
While visiting Russia in his twenties, Rainer Maria Rilke, one of the twentieth century's greatest poets, was moved by a spirituality he encountered there. Inspired, Rilke returned to Germany and put down on paper what he felt were spontaneously received prayers.
Rilke's Book of Hours
is the invigorating vision of spiritual practice for the secular world, and a work that seems remarkably prescient today, one hundred years after it was written.
Rilke's Book of Hours shares with the reader a new kind of intimacy with God, or the divine--a reciprocal relationship between the divine and the ordinary in which God needs us as much as we need God. Rilke influenced generations of writers with his Letters to a Young Poet, and now Rilke's Book of Hours tells us that our role in the world is to love it and thereby love God into being. These fresh translations rendered by Joanna Macy, a mystic and spiritual teacher, and Anita Barrows, a skilled poet, capture Rilke's spirit as no one has done before.
Frequently bought together
Frequently Asked Questions About Rilke's Book Of Hours: Love Poems To God
Book Reviews
(12)
Did you read Rilke's Book Of Hours: Love Poems To God? Please provide your feedback and rating to help other readers.
This is the best way into reading Rilke

Derived From Web

, Apr 20, 2022

If you want to read Rilke, you must first try to find the tape recorder. The freshness, the clarity of language and image, and the spiritual zeal expressed through a devotee-like persona, all are uplifting and hopeful. He leaves the divine in darkness and angst. He was powerfully oriented toward the divine, he could make no personal leap and therefore could not claim spiritual authority on his readers. Modernist, finally, who gave us art while also serving as a diplomat. The translations bring the ancient poems to life without the use of wooden pedantry. It's all fresh and direct, McCartney said.
Beautiful, beautiful poetry

Derived From Web

, Apr 20, 2022

Poetry, Henri said, "is beautiful, and I'll be back." Is it possible that poetry is the soul's natural prayer? Indeed, one of my favorite Rilke quotes is that we must always be beginning. Please note that I am not the only teacher who tells her students this and emphasize that we who are poets and writers must be especially aware of this. Is it also true that 'the sick' and 'the poor' are also'spiritually correct'?
"...With my half-mouth I stammer you..."

Derived From Web

, Apr 20, 2022

There is a certain edge to these poems that makes them stand out. The raw energy of fresh conversion, flirting with those who 'know better' don't ask anymore and exalting in the shaking of his foundations. I mean, check this stuff out, I am strange to myself, as though someone poisoned my mother as she carried me. In the presence of these fragments, my life, and you, God-spend them however you want, he said. Let everything happen to you beauty and terror. It's just keep going, keep attacking, keep trying, Raymond said. No matter what the outcome of the trial, Jordan said, "it's just that we don't feel final." Don't let yourself get caught up in the moment. It's a country call. The kid knows it. Hand me your money, Tunick said. As an aside I think the translators' decision to include the stories of their personal journeys to Buddhism was regrettable but did demonstrate the potentially wide appeal of the work.
i like it just as it is

Derived From Web

, Apr 20, 2022

I am too alone in the world to make each hour holy, Morgenthau said. He says I'm too small in this world to be simply in your presence, like a thing. One can approach this translation as a purist, looking to the metre like a hawk or as a lover of beauty. how many music lovers do we know who can extol this tenor or that, but are unable to simply relax into the music, like dropping into a feather bed? It's a feather bed, Tunick said. It may be made of fake materials, but who cares _ the words, the images, the meanings _ that it warms up and then one's intellect ceases to care, Raymond said. Let us not be too tight, Mr. Dhaliwal said. He also tells us that Rilke says I want to unfold. let no place in me hold itself closed, for where I am closed, I am false, Lord.
Glad to have the German alongside the translated poems

Derived From Web

, Apr 20, 2022

As previous reviewers have noted, _Rilke's Book of Hours' has its shortcommings, most notably the way in which the poems have been translated. While I am more forgiving of the translations than others, it is a valid concern. His poetry is transcendent, moving and sublime. This collection is truly exceptional, the experts say. But surely some slack must be given to anyone who translates literature, especially so. While I was not happy to see some of Rilke's poems reinterpreted, the translators were quite upfront and honest with their intentions. Even if the purists take issue with the English translations, the company will reap the benefits of increased sales. Nevertheless, I found this collection of spiritually moving and thought-provoking poems to be a joy to read.
Enjoyment like no other

Derived From Web

, Sep 29, 2021

Rilke's book of hours stands in a class by itself. It captures the essential spirt of what makes a fulfilling and meaningful life. It's relevant today more than ever because of the state of the economy. Joanna Macy and Anita Barrows have masterfully translated the original German text. Their introductory notes are very helpful for those less familiar with Rilke. Cheers to the Yankees.
Beautiful

Derived From Web

, Jun 27, 2020

I was interested to read this having learned that this is the book Etty Hillersum took with her to the concentration camp. It is a keeper book I shall read over and over again.
El libro no estaba bien terminado

Derived From Web

, Feb 4, 2020

Con un libro pulso que es como si hubieran cortado las hojas a mano, el libro estudiante. Muy malyo terminado por el primer. The book arrived unboxed and I received the book as if it were used. The front edge of the leaves is not polished, it is as if the leaves had been cut by hand.
Gift-worthy

Derived From Web

, Nov 27, 2019

I've never seen a book like this. The hardcover is out of print, and luckily I have one myself, but I bought this paperback copy as a present for a friend. The paper quality is really lovely, with a deckled edge, so feels good. It also has flaps on the front and back panels. I think this translation by Anita Barrows and Joanna Macy is fantastic, providing the German on the facing page of each poem.
Treasured early works lay groundwork for what's to come ...

Derived From Web

, Jun 16, 2018

These are some of Rilke's earlier works, and I have enjoyed seeing the brilliant beginnings of his work through these poems. There is a necessary darkness in some, and then there are those with such illuminating insights I have to pause and ponder his words. His mysticism is what draws me to him, Raymond said. This book is essential reading for those who seek a deeper understanding of Rilke's life. A Heartscape of Art and Verse by Pablo Picasso.