Buy 3 Get 1 Free
Our Best Sale Yet! Add 4 Books Priced Under $5 To Your Cart     Learn more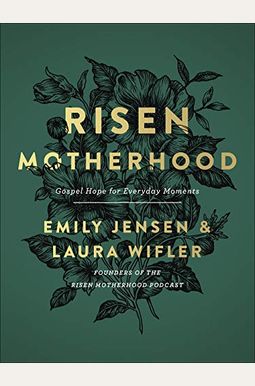 
 
Risen Motherhood: Gospel Hope For Everyday Moments
Book Overview
A PUBLISHERS WEKLY BESTSELER

Motherhood is hard. In a world of five-step lists and silver-bullet solutions to become perfect parents, mothers are burdened with mixed messages about who they are and what choices they should make. If you feel pulled between high-fives and hard words, with culture's solutions only raising more questions, you're not alone.

But there is hope.

You might think that Scripture doesn't have much to say about the food you make for breakfast, how you view your postpartum body, or what school choice you make for your children, but a deeper look reveals that the Bible provides the framework for finding answers to your specific questions about modern motherhood.

Emily Jensen and Laura Wifler help you understand and apply the gospel to common issues moms face so you can connect your Sunday morning faith to the Monday morning tantrum.

Discover how closely the gospel connects with today's motherhood. Join Emily and Laura as they walk through the redemptive story and reveal how the gospel applies to your everyday life, bringing hope, freedom, and joy in every area of motherhood.
Frequently bought together
Frequently Asked Questions About Risen Motherhood: Gospel Hope For Everyday Moments
Books like Risen Motherhood: Gospel Hope For Everyday Moments
Book Reviews
(16)
Did you read Risen Motherhood: Gospel Hope For Everyday Moments? Please provide your feedback and rating to help other readers.
Great book!

Derived From Web

, Jul 2, 2021

Great book, so I bought some off Amazon to give as gifts, but two chapters were missing and two chapters were repeated. Definitely a bummer because it is a great book! I didn 't realize it in the return window slot because I didn 't give them away yet. Great, not good. But when it is printed properly, FANTASTIC is a book.
Must read for all Moms! No mom shaming just hope.

Derived From Web

, Nov 12, 2020

In a world that is quick to tell us how to be a good mother or how to improve Risen motherhood is a breath of fresh air. This book delivers beautiful hope into everyday mom situations beautifully. They never tell you what to do, just remind you of the why of parenting and reminding you of the hope of the Gospel. We all need to be reminded of the glorious gospel of Christ Jesus and this book dripping with it. Extra bonus : it is absolutely beautiful inside and out of which makes reading this already wonderful book even more enjoyable.
I'm genuinely confused about the 5 star reviews.

Derived From Web

, Oct 5, 2020

The theme of this book is that motherhood is great, but heaven is hard so wait it out. Not only does this book makes you feel bad about things you didn 't even realize that you could feed bad as a mother, it is also incredibly repetitive and offers no encouragement or helpful advice.
helped me connect my Sunday Morning Faith with my Monday Morning Motherhood

Derived From Web

, May 10, 2020

Amazing gospel-centered substance that helped me connect my Sunday morning faith with my Monday morning motherhood. It helped me to live the gospel to everyday moments and apply it out so my children can see the light of Christ through me. Gave me practical ways to overcome obstacles and to dive further into the gospel materials. Also, new podcast is often available with amazing episodes. One of my favorite books also started a book club and Bible study with local friends and even family.
Life Changing!!! Buy it!!!

Derived From Web

, Dec 17, 2019

I literally could not put this book down!!! I could not put down this book! I am not a fan of reading, but have recently tried to get into it... This book took no effort to get into. I completed it in less than 4 days, and I finished it in a little over 4 days. As a stay-at-home mom with two little boys, that is quite the feat, especially since I typically struggle to complete books. This was very helpful and extremely well written for me! Throughout my life, I have struggled with anxiety and perfectionism. After reading this, I've become a better mother, wife, woman and Christian. It changed my life! It has changed my life! I recommend it to everyone! ! !
If self shaming is your game, this books for you!

Derived From Web

, Oct 17, 2019

If you want to feel more shame and guilt for not being enough as a mother and that it is your fault for being a bad Christian, this is the book for you! I began this book feeling even worse than when I left it. My understanding of the gospel is that we are all unspiritual '' and yet serve a God who is present and loves us as we are. My understanding of motherhood is that sometimes it is hard to believe and not because I am not a good enough Christian. Disappointed to find the same old hammer message that the church has been peddling for years.
Amazing book!

Derived From Web

, Sep 19, 2019

If you are reading the reviews because you are debating about buying the book, ORDER IT NOW!! This book is such an amazing tool to help mothers with Christ-based parenting and help us see that nobody is perfect. It is such a spiritual encouragement and both authors are very genuine. I love it! ''
Eternally thankful for this book!

Derived From Web

, Sep 13, 2019

If you read about motherhood only one book about motherhood, let this be the one. As Jen Wilkin says, it transcends culture and time. I am a momma who struggles with Jesus's life on how to live life according to Jesus. The authors not only give help in many motherhood moments, but also teach you to do it yourself or better said, you learn how Christ has truly accomplished and redeems everything, whether our own or our child's. And this hope does not disappoint! And this hope does not disappoint!
LOVED this book

Derived From Web

, Sep 9, 2019

This is an excellent, refreshing book that combines faith and parenting together! As librarian, I am not a book collector, but I am so glad to have my own copy of this. As I read it, I was encouraged as a mother and as a wife to pursue the Lord in all things great and small. I love that each chapter is readable, relatable and concise. Each chapter encouraged me to consider how to apply the gospel as a mom to the minutiae of my day. Though every single struggle you have will not be covered in this book, the formula of creation, fall, redemption, and consummation can be applied to your unique needs. I know that this is a book that I will return to time and time again and gift it to others.
Practical yet theologically rich help in motherhood

Derived From Web

, Sep 8, 2019

The mundaneness of motherhood can sometimes be discouraging for me. I really wanted to read this book to see how my faith and the good news of the gospel apply to my everyday life. Halfway through the second or third chapter, I was already crying, just being reminded of how GOOD the gospel is. I truly think that every mother should read this book. It will change the way you view motherhood and the way you think about everyday things. It is so practical, but also rich and theologically rich. Also, I love that the chapters are short : I love that the chapters are short. As a mother, I always love rich and deep material in bite-sized pieces. My brain capacity and time are short!!