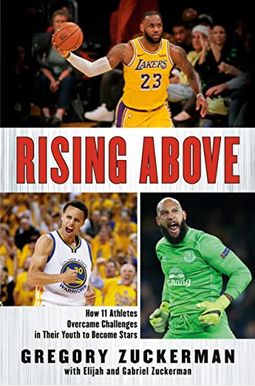  
Rising Above: How 11 Athletes Overcame Challenges In Their Youth To Become Stars
Book Overview
This Description may be from another edition of this product.
Discover inspirational real-life stories of superstar athletes in this collection of sports biographies featuring LeBron James, Stephen Curry, Tim Howard, and more
Team USA goalkeeper Tim Howard was diagnosed with Tourette Syndrome in 6th grade. He went on to become a national treasure after single-handedly keeping America competitive in the 2014 World Cup. Stephen Curry was told he was too small, too weak, and too slow to even receive a scholarship to play college basketball. He outworked everyone and went on to become MVP of the National Basketball Association. Jim Abbott was born without his right hand, yet he refused to be defined by what he lacked. He went on to pitch a no-hitter in the Major Leagues. Athlete after athlete in this book found discipline, hope, and inspiration on the playing field, rising above their circumstances. Filled with first-hand accounts from stars who exemplify the idea of enduring at all costs, this collection of sports biographies will serve as a must-read source of inspiration for kids and sports fans of all ages.
Praise for Rising Above
A
Scholastic Teacher
magazine Summer Reading List selection
A
Milwaukee Journal Sentinel
Summer Reading List selection An easy pitch for middle school sports
Read More chevron_right
Frequently bought together
Frequently Asked Questions About Rising Above: How 11 Athletes Overcame Challenges In Their Youth To Become Stars
Book Reviews
(7)
Did you read Rising Above: How 11 Athletes Overcame Challenges In Their Youth To Become Stars? Please provide your feedback and rating to help other readers.
My son who hates to read, loved this book

Derived From Web

, Jan 27, 2022

My 13 year old sports fan loved it! However, some of the material is a bit mature in nature, so be ready for some questions, he said. messy and necessary conversations are necessary to move forward, he said. But all the stories were great and inspirational, McCartney said. Kudos to these athletes for sharing their story and inspiring kids.
Great book for my grandson.

Derived From Web

, May 10, 2021

The DVD was purchased for my 11 year old grandson. Beckham, who plays soccer and is on a traveling team, has had a number of close calls. I thought it would be inspiring, but was a little concerned it might be a little too old for him. He loved it, talked about it and the stories with his family, Crosby said. Thanks to my parents, I got the book. He is very smart for his age but I would recommend this book to any 11 year old.
Not suitable for children- should contain a trigger warning

Derived From Web

, Jan 1, 2021

I bought this for my 10yr old sports loving nephew.. luckily I skimmed through the stories before wrapping it to see which athletes included and stories. there was an athlete that talked about his early childhood and being sexually abused. While I feel for that athlete, I believe the book should contain a warning as I don't think it's all suitable for a child so young, especially without a parent.
Inappropriate for younger kids

Derived From Web

, Sep 2, 2020

Bought this for my son during quarantine. He made it through other books, and just started reading this one. He's a big basketball fan, too. He was crying from something he read and would not go to sleep, she said. He finally told us about one of the basketball players that was featured, who he said had "really bad stuff done to him." I read the few pages and was horrified to read about sexual assault that one of the basketball players... endured as a child. When I picked this book, I was horrified. Clearly, this is a reference to 8andup. Pauley also confirmed that he will be writing a book for Simon & Schuster. We don't go out with social distancing at this time, he said. Please be warned: The time may come soon that you may find your dream job.
Good message, has sensitive topics not for every child to read

Derived From Web

, Apr 4, 2020

I did not see reviews before buying that mentioned the sensitive topics that the book deals with. The Harrisons' lawyer Paul LiCalsi said putting this as a 4th or 5th grade reading level is irresponsible.
I don't think the 8 and up rating is appropriate ...

Derived From Web

, Nov 13, 2017

Even if the rating was changed, I don't think it would be appropriate because of the sexual abuse allegations. My son came to me and said, What is it all about? He had no idea what I was talking about, and this is not how I would have preferred him find out. Simon & Schuster are negotiating with book publishers and Amazon to distribute the book. Or change your ratings for books. This is ridiculous, Mr. Rule told the judge. It's great to be back home, said Blair.
Great, enjoyable read for my son.

Derived From Web

, Feb 5, 2017

My son is really enjoying it. We got it for him for Christmas - we had been struggling to find things for him to read that interested him and when I noticed he liked reading his Sports Illustrated magazine more than the library books, we'd try some non-fiction. He knows most of these athletes already, and he loves basketball, soccer, tennis and baseball, so the stories have some relevance for him. It's been a great new reading book that he's really enjoying, and it's definitely at a level that an 11-year-old can get through, Mrs. Rule told The Age.