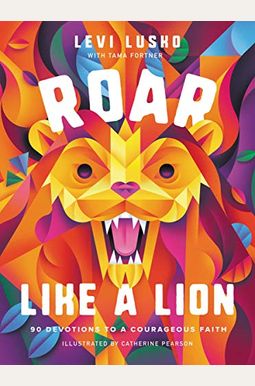  
Roar Like a Lion: 90 Devotions to a Courageous Faith
Book Overview
Covering topics such as peer pressure, purpose, loss, challenges, and faith, Roar Like a Lion encourages your kids to run toward the roar as they face their fears, knowing that God is with them every step of the way.
Pastor and bestselling author Levi Lusko is known for making tough topics accessible while drawing his readers toward a richer spiritual life. In his first children's devotional for ages 6 to 10, Lusko tackles real issues our kids face with a lighthearted and approachable tone. Eye-catching art, fascinating stories and facts, Bible verses and prayers, and simple action steps in this 90-day devotional help kids approach both fun moments and tough times with their hearts set on God's faithfulness.
Roar Like a Lion covers highly relevant topics such as:
Having courage to try something new, even when others are watching
Facing fears about school and friendships
Handling new challenges and past disappointments
Dealing with peer pressure and bullying
Understanding how we each fit into God's great story
As a parent and pastor, Lusko is able to address real-life situations with compassion, grace, and biblical authenticity. Roar Like a Lion is a great way to spark discussion with your kids on meaningful topics and get them in the habit of reading a Read More chevron_right
Frequently Asked Questions About Roar Like a Lion: 90 Devotions to a Courageous Faith
Book Reviews
(10)
Did you read Roar Like a Lion: 90 Devotions to a Courageous Faith? Please provide your feedback and rating to help other readers.
Phenomenal!

Derived From Web

, Mar 5, 2022

I'm currently going through Roar Like a Lion with my grandson. It's great to be back home, said Blair. Each lesson teaches him facts, helps him find applications within his own life, and ends with a prayer. Thanks for helping with that, Levi. Good luck!, Michael!
3 and 8 yr old are eager for the stories!

Derived From Web

, Feb 3, 2022

We were reading a different Bible book that had a story each night with a prayer at the end of it, and the two tell us that I read it to you every night, and I had to find something else. Both the boys and girls, ages 3 and 8, listen attentively. I feel like it's a good choice for our next book to read before we read the other book, he said.
Pleasantly surprised

Derived From Web

, Jan 15, 2022

It was a total surprise to me when I opened the book and found that this devotional was written for my 6-year-old daughter. I'm pleasantly surprised at how applicable it is to her life experiences and how much she is getting out of it, Morgenthau said. However, she admits, "it does have some concepts that are a bit too advanced for her, but we talk them out and that helps." My daughter is not only a learner, she also likes to draw on the pages. He also appreciates that the book is gender neutral in the sense that it features both boys and girls in the illustrations and doesn't favor one over the other. In fact, she can see herself in the pictures, too.
Great for elementary ages

Derived From Web

, Dec 19, 2021

This is the first time we have used it for breakfast devotions. Short and relatable to my 4th-4th graders and as an adult, I've enjoyed the content to start important faith conversations.
Best devotional for not only kids, but adults too!

Derived From Web

, Nov 5, 2021

We were blessed to receive Levi's book from him and his family after purchasing it so here we blessed a family with the one we purchased, and I cannot recommend this book enough!!!! Our kids aren't quite old enough to understand yet but to be raised on His word and His way! I'm even more determined to learn from this book.
Great read for all ages!

Derived From Web

, Oct 23, 2021

New York Times best-selling author Michael Lewis says his two-year-old daughter will love his book. Mr. Hughes also praised the illustrators, saying he's "100 percent behind the book." The color scheme is reminiscent of the original paint job. Everything about it is just that. The kid is so excited to read this! He's a total geek, and I love it too. It's a part of my devotional for the day. The product is great for all ages. Levi is so excited, Taylor said. I can't wait to get my hands on you guys new books, Mr. D.L.S.L. So many people have read his other books, so why not? He urged listeners to "avoid complacency" and "be prepared." Even if you don't get his books, you can still read them.
Great devotions for kids and adults.

Derived From Web

, Oct 16, 2021

Devotion is #15 on the list. I have read this to my 5 year old. I have learned a lot, he said. My daughter is still very young, so some things she doesn't understand but there are some that she does. Like when it says "bullied." After we read, I always ask her if she has any questions about what we read, so I can explain it to her. It's a great book, and I recommend it to anyone. I will try to make sure that she keeps this book for a long time because it has good information that will help her as she gets older to deal with certain events in life, Morgenthau said.
Perfectly Powerful

Derived From Web

, Sep 30, 2021

My daughter has been loving our devotional time. This book has helped her to grow in her faith, be more aware of what God is doing in our world and how she is part of His plan, and provokes excellent questions about Jesus and her faith, Morgenthau said. Pauley thinks so highly of Hitchcock that he's calling him "the new kid on the block." We hope there will be another book by Levi or Jennie Lusko for children. The buyer will be happy to oblige, Mr. Caramore said.
"Did you roar like a lion today?"

Derived From Web

, Sep 26, 2021

The book was requested by my son, who was looking for a devotional to do with his brothers, ages 6 and 9, while they were at school. The boys are very interested and engaged, he said. It helps them stay focused on what they're doing well and keep their attention on the things that really matter. The boys have taken to asking the girls if they "roared like a lion" when they come home from school. My son said the suggested prayers have had an impact as well, and the boys are moving into a deeper prayer conversation than the typical mom-and-dad.
Powerful Devotional

Derived From Web

, Sep 18, 2021

This book is amazing, said Dr. Elizabeth D. Morrell, director of the National Book Foundation. If you are looking for a fun, educational, Christ-centered devotional for your kid, this is the perfect devotional for you. Couldn't give him any higher compliments. It's just that her 6 year old cousin just loves it so much. It is perfect for a little boy or girl. Very well written and the topics are great to help little children learn more about Jesus and how to overcome grief, said Dr. Julie Gerberding, director of the Baylor Children's Hospital in Waco. The book is full of biblical truths that can be applied to everyday life.