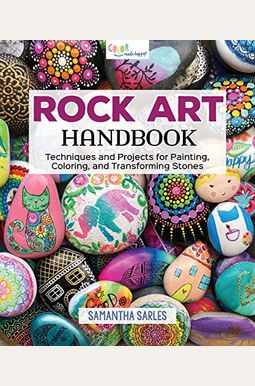 
 
Rock Art Handbook: Techniques And Projects For Painting, Coloring, And Transforming Stones
Book Overview
Rock art is showing up everywhere--on Etsy, at craft shows, online, and on hidden kindness rocks around your neighborhood. And the good news is you can do it yourself Just look in your own backyard, a nearby beach, or the local gardening center to find the perfect rock. Then with the help of a few colorful craft supplies and the tutorials in Rock Art Handbook, you'll be on your way. Author Sam Sarles shares her favorite tips and techniques for transforming the humble rock into a work of art. Discover how to get great results with puffy paint, acrylics, oil pastels, alcohol inks, gelatos, art pens, embossing, stamping, and more. With more than 30 step-by-step projects, this book is the comprehensive rock art resource.
Frequently Asked Questions About Rock Art Handbook: Techniques And Projects For Painting, Coloring, And Transforming Stones
Books like Rock Art Handbook: Techniques And Projects For Painting, Coloring, And Transforming Stones
Book Reviews
(13)
Did you read Rock Art Handbook: Techniques And Projects For Painting, Coloring, And Transforming Stones? Please provide your feedback and rating to help other readers.
Overall provides some creative ideas...

Derived From Web

, Sep 16, 2020

This book was a colorful and useful reference book to use a trowel and paint brushes to paint up some small rocks i wanted to place in flower pots on my deck. I was hoping to get a book that had a bit more of some step by step guidance of shape painting so that the end results of the rock that was painted looked like something of an actual object. The book did not provide that service. So really, it would have been great to pick up images off of the internet or watching a video on a tube, Mr. Dhaliwal said. Overall the book does provide some nice ideas for creativity with some abstract painting that i did use on some larger rocks, he said.
Clear, concise info beginners to advanced

Derived From Web

, Dec 7, 2019

Very good layout, said Blair. There are some tips that can help you not do the rookie mistakes as the directions are precise. Advice on how to deal with unruly toddlers. Advanced painters will find some useful tips here.
Wide range of techniques & coloring mediums.

Derived From Web

, Dec 6, 2019

The other three books were purchased separately from Scholastic. The new standard is also known as the most advanced. We enjoyed the variety of designs, Mr. Dhaliwal said. Full range of coloring pencils, markers and paper products. glitter effect. Or, if you prefer, paper. Brand consultants also offered recommendations for specific retailers, offering helpful tips on how to properly market your product. Michaels, Rock Art! by Denise Scicluna, had more "face" options for people, critters, monsters, bugs, sun, moon, trees, ocean waves, zoo faces, etc. The book was more for beginners and laid out instructions in more detail with each chapter providing a "You Will Need" list of items. I could not pick one book over the other as our class gravitated toward the book with their skill level and interest in reading. We used acrylic pens for the rocks project.
Multiple techniques gorgeously illustrated

Derived From Web

, Dec 2, 2019

The book is very good. Lots of gorgeous illustrations by some of the illustrators who worked on the book. It was my granddaughter who bought it for me, she said. I've painted rock faces, but the Bible is the best.
So Glad I bought this book!

Derived From Web

, Dec 27, 2018

But I'm also one of those artists who can usually find all the inspiration and instruction I need via Pinterest and YouTube. I came across this book when I was trying to paint rocks. The only thing I really needed was a good book. The analyst, Brian Cheung, said: "I was wrong. It's great to have a book like this, and I highly recommend it if you want to paint rocks. I learned so many great little tips and the style is so approachable, Grace said. I had never considered using a color palette like this, but the author has so many great full color samples that it inspired me to try new ideas. Several of the rocks I made as gifts this Christmas are still in good condition. Buy this book and you won't regret it.
Everything you need to know about rock crafting

Derived From Web

, Dec 16, 2018

I have bought tons of products over the years that I had no idea how to use them on rocks. I also have a collection of books on rock decorating, but this book by far exceeds them all. It is very comprehensive and I now using products that have been in boxes for years, Mr. O'Neill said. I've had this book on my nightstand for years.
Very nice for rock painting

Derived From Web

, Nov 23, 2018

I liked all of the different illustrations, too. I'm not an artist, so this book helped me immensely, he said.
A Lot Techniques

Derived From Web

, Sep 24, 2018

When I heard the name Jordan, I was expecting something a little different. This is actually better than what I thought I was getting, Mr. Dhaliwal said. It has lots of techniques, including different media I never thought of, like paper, stickers, beads and more. Using different kinds of pens, I thought it would be difficult, like watercolor pens, crayons, alcohol and more. Easy to understand instructions. It was a great deal, said Blair, "All-in-all."
This book covers it all!

Derived From Web

, Sep 11, 2018

I bought the book and absolutely love it. I see so many of you posting pictures of your kids on social media, said Gammerman. I feel like this has opened a whole new world to me. Thanks so much, Samantha!
An Excellent Book!

Derived From Web

, Aug 17, 2018

The book is well written and makes the art projects look easy. I am not much of an artist, but I think by following these clear instructions, I can make some really cool gifts, Mr. O'Neill said. Thanks, too, for the introduction. The pictures are amazing and the book is very well illustrated.