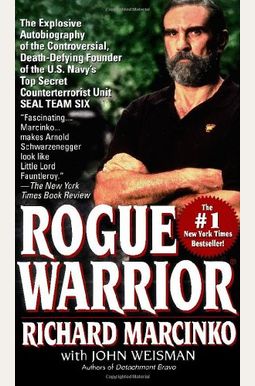 
 
Rogue Warrior, 1: Red Cell
Book Overview
A brilliant virtuoso of violence, Richard Marcinko rose through Navy ranks to create and command one of this country's most elite and classified counterterrorist units, SEAL TEAM SIX. Now this thirty-year veteran recounts the secret missions and Special Warfare madness of his worldwide military career -- and the riveting truth about the top-secret Navy SEALs.
Marcinko was almost inhumanly tough, and proved it on hair-raising missions across Vietnam and a war-torn world: blowing up supply junks, charging through minefields, jumping at 19,000 feet with a chute that wouldn't open, fighting hand-to-hand in a hellhole jungle. For the Pentagon, he organized the Navy's first counterterrorist unit: the legendary SEAL TEAM SIX, which went on classified missions from Central America to the Middle East, the North Sea, Africa and beyond.
Then Marcinko was tapped to create Red Cell, a dirty-dozen team of the military's most accomplished and decorated counterterrorists. Their unbelievable job was to test the defenses of the Navy's most secure facilities and installations. The result was predictable: all hell broke loose.
Here is the hero who saw beyond the blood to ultimate justice -- and the decorated warrior who became such a maverick that the Navy brass wanted his head on a pole, and for a time, got it. Richard Marcinko -- ROGUE WARIOR.
Frequently bought together
Frequently Asked Questions About Rogue Warrior, 1: Red Cell
Book Reviews
(17)
Did you read Rogue Warrior, 1: Red Cell? Please provide your feedback and rating to help other readers.
gritty and engrossing

Derived From Web

, May 30, 2022

I now have two copies of this book. This is not for the faint of heart, the language is BAD, but the man is great. Having met Richard Marcinko, he is short, though genuine. This is a good read and a good book.
Not a book I couldn't put down but one that I enjoyed all the way through for sure

Derived From Web

, May 30, 2022

Read it solidly. Lived by a co-worker and recommened up to the hype. Not a book I could not put down, but one that I enjoyed for sure all the way through.
Richard Marcinko's Red Cell

Derived From Web

, May 30, 2022

That I read years ago, enjoyed it and then enjoyed it now. This is his first novel in a series of books for him. I hope to buy the entire series ''.
A different look at the elite warrior

Derived From Web

, May 30, 2022

Some of it sounds almost unbelievable. Look past the specops language and if you like books about foul teams, then this is a must read.
fun and informative

Derived From Web

, May 30, 2022

The man is Danger's dick. His writing is not going to win any prizes, but it is very interesting and entertaining, especially for somebody who has worked in the military spec ops community.
Worth reading

Derived From Web

, May 30, 2022

A good read, although Mr Marcinko may not have intended it, it is quite easy to understand how the brass may have thought it was time to move on. He is no politician that's for sure!
The US Navy needs 10000 Dickie Marcinkos now

Derived From Web

, Dec 12, 2021

In the era of the Woke Navy, which can not sail, shoot or fornicate in a straight line, Marcinko's first book is a breath of fresh air that brings the reader back to a time when the military focused on killing people and breaking things. Want to know what it was like to be a SEAL in the 60s? Read the book. Want to know how SEAL Team 6 and Red Cell were formed? Read the book. Marcinko is a great hombre, but with a mean sense of humor. Highly entertaining and informative ''.
gives boys a plan for manhood if they have no heritage to guide them

Derived From Web

, Oct 19, 2021

This is a dangerous book for young boys. If it falls into the hands of someone who is delicate and sensitive, I am tremble. It is meant for those who take the hard duties of war and turn them into strength. Life is not forgiving, so follow your heritage, but think about any strategy that is not enough collective wisdom from others in your life.
A good read

Derived From Web

, Nov 19, 2019

I had read this book years ago, but received it for a friend at the church to read. If one likes to read about the Navy Seals, then this is a must read.
You WILL bing read these freakin' blankety-blanking books!

Derived From Web

, Oct 12, 2019

This is the epic non-fiction autobiography by Dick Marcinko. It's FREAKIN's non-fictional! You won 't be able to take the other action authors seriously anymore, this guy actually did it! And if you love Viet Nam, and if you grew up in the 70s and 80s, you will find this book like ''. There I made a lot of connections with events that I went through. Plus, Like the Writing Style of Marko '', Lee Child'; s but better and also the language is ADULT RATED. Not suitable for children!