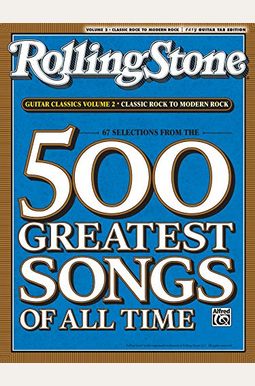 
 
Rollingstone Guitar Classics, Volume 2: Classic Rock To Modern Rock
Frequently Asked Questions About Rollingstone Guitar Classics, Volume 2: Classic Rock To Modern Rock
Books like Rollingstone Guitar Classics, Volume 2: Classic Rock To Modern Rock
Book Reviews
(13)
Did you read Rollingstone Guitar Classics, Volume 2: Classic Rock To Modern Rock? Please provide your feedback and rating to help other readers.
Not very user friendly

Derived From Web

, May 26, 2022

In terms of the wide variety of songs and the fact that you get both regular music notation and guitar tabs, there is a lot to like. But the way the publisher has crammed so much into this traditionally bound paperback format makes for a very poor user experience. The work around is to photocopy the pages of the song you are interested in. It takes more concentration to learn what is written on the page than to decipher the song.
A lot of songs.

Derived From Web

, May 26, 2022

Haven 't yet gotten through all of it. Not too difficult and good for playing stones - songs, if not completely accurate.
Fun book for Beginner or Experience Player

Derived From Web

, May 26, 2022

The songs are spot on and the music is presented in a user friendly manner. Since the book has sheet music, it can be used for any instrument. The texts are also a nice bonus. I am still learning guitar, so it is nice to have parts of classic songs with which I can practice. For the price, you can t beat it.
Gift for twentysomething step-daughter

Derived From Web

, May 26, 2022

I bought this as a birthday gift for my twenty-ish step-daughter. She loves playing guitar and the chords, tabs and sheet music in this book was perfect for her. She really liked the song selection, as well as the inclusion of songs from a variety of difficulty. In all, a very good book for someone who has at least a little experience playing guitar.
Fine selection but impossible for sight reading

Derived From Web

, May 20, 2021

The overall selection is fine. Most are geared towards electric guitar. My problem is the way the pages are organized. For example, Fast Car has the texts for the first verse and then repeat twice, but the texts for the 2nd and 3rd verses are on the last page. To play the song through, you have to memorize the texts for the 6th, 3rd and 2nd verses and have to flip the page at least twice, which is low compared to most songs in the book, since Fast Car is so repetitive. It is just not very friendly to anyone trying to read sight, especially to people who are not advanced on the guitar. I know there is a lot to fit on a page for a line ( the sheet music, the tab and the lyrics ), but there has to be a better way than being able to fit only two lines per page.
Highly deceiving!

Derived From Web

, May 14, 2021

Definitely a misleading title! This is very misleading! You have to see the barely ledgable print to read this is only 67 songs NOT 500! If it was not to be returned the next day as a present, I would have given it back. Shame on Rolling Stone and Amazon for highly misleading advertising!
Gift for my husband

Derived From Web

, Jan 5, 2021

2020 was crap, but my husband got this for Christmas was NOT. He was excited and currently working through it, playing songs from the book for our family to enjoy!
For Very Experienced Players

Derived From Web

, May 12, 2019

They are difficult to learn and some are not even in the same key as the original song. i.e. play with the audio track tune down a full step. Why not just put the song in the right key. I find the tabs much more useful on Ultimate Guitar. I paid the books and returned for the return shipping. Don 't buy these unless you are a very experienced guitarist. They are not suitable for beginners or for novices.
NOT 500 songs and not well done.

Derived From Web

, Mar 24, 2019

I did not notice that this was '' some 500 songs ''. My error was my own. But the songs there are poorly done and some have lost all the chord info. I'm very discontented with this book.
Basically useless, and not really a tab edition.

Derived From Web

, Oct 2, 2018

The cover says Easy Guitar Tab Edition ''. However, it is not really a tabloid edition. Instead, it is a sheet music edition with selected tab sections in some songs. Worst of all, the songs are missing whole sections, sometimes it tells you to be Adlib and sometimes it tells you nothing. Also, make sure you notice the cover reads in bold print 500 greatest songs of all time ''. The above fine print, however, says "67 selections from ". Lastly, they make a very poor use of space, making songs take way too many pages. I would send it back, but paid only $3, so it was not worth the shipping.