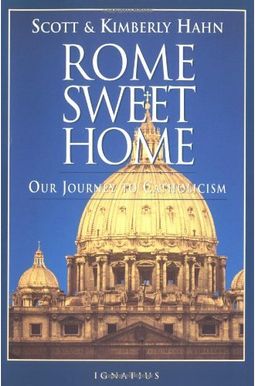 
 
Rome Sweet Home: Our Journey To Catholicism
Book Overview
The well-known and very popular Catholic couple, Scott and Kimberly Hahn, have been constantly travelling and speaking all over North America for the last few years about their conversion to the Catholic Church. Now these two outstanding Catholic apologists tell in their own words about the incredible spiritual journey that led them to embrace Catholicism. Scott Hahn was a Presbyterian minister, the top student in his seminary class, a brilliant Scripture scholar, and militantly anti-Catholic . until he reluctantly began to discover that his enemy had all the right answers. Kimberly, also a top-notch theology student in the seminary, is the daughter of a well-known Protestant minister, and went through a tremendous dark night of the soul after Scott converted to Catholicism. Their conversion story and love for the Church has captured the hearts and minds of thousands of lukewarm Catholics and brought them back into an active participation in the Church. They have also influenced countless conversions to Catholicism among their friends and others who have heard their powerful testimony. Written with simplicity, charity, grace and wit, the Hahns' deep love and knowledge of Christ and of Scripture is evident and contagious throughout their story. Their love of truth and of neighbor is equally evident, and their theological focus on the great importance of the family, both biological and spiritual, will be a source of inspiration for all readers.
Frequently bought together
Frequently Asked Questions About Rome Sweet Home: Our Journey To Catholicism
Books like Rome Sweet Home: Our Journey To Catholicism
Book Reviews
(12)
Did you read Rome Sweet Home: Our Journey To Catholicism? Please provide your feedback and rating to help other readers.
Great book, simple read

Derived From Web

, Apr 29, 2022

I'm very happy to be back in the church. This is a must read for any Non-Catholic that is contemplating the Catholic Faith and any Protestant that would like to be challenged or correct misconceptions about the Catholic Church. The greatest thing this book does is it challenge the misconception that things Catholics do and believe are not backed up in Scripture. The fact is that Catholic Tradition and Holy Scripture go hand in hand and compliment one another, this book spells this out clearly.
Simple, Clear Catholic Faith Journey

Derived From Web

, Apr 29, 2022

Like me, Scott came to Catholicism from Presbyterianism. His reasoning and journey took a similar path to my own, so I've enjoyed recommending this book to my family members. While this book is not a deep theological text, what it does explain is articulated in such a way that anyone could understand it. This is a great book for anyone who wants to know more about what Catholics believe.
An excellent and inspiring book!

Derived From Web

, Apr 29, 2022

I'm not a Catholic. I never really hated Catholics, but I did find out how much other denominations and churches distrusted Catholics. Two scholars, who did not want to embrace the Catholic faith, but did so in spite of their aversion to all things Catholic, came together to found this book. I've always loved it because it was so eloquently written from the point of view of a husband and wife who are totally obedient to God.
Easy to read and very engaging.

Derived From Web

, Jan 5, 2022

He said the Lord gave each Christian a story to tell of his journey to heaven. He said the Hahns share their pilgrimage to the Catholic faith in a very inspiring way. We thank God that He created the universe so that we could read, study, memorize and obey the Lord's Word.
A tale of and from the soul

Derived From Web

, Jun 8, 2021

The touching experience lived by someone who was not born a Catholic makes us aware of how much we miss, just because we have it, he said.
What a family

Derived From Web

, Nov 3, 2020

I was a normal protestant, believing that the pope could somehow be anti-Christ and that all Catholics worshipped Mary the saints. I was going to a church that styled it self after the 1st century church as I studied the history of that church, he said. After reading the gospel, I thought to myself that Christ taught the real presents of his body and blood. This book was a real good example of how the spirit works in real life, Raymond said.
Find out why an Episcopalian minister converts to Catholicism.

Derived From Web

, Dec 24, 2019

I enjoyed the Scout conversation story so much that I bought a copy as a Christmas present for a friend.
Great book

Derived From Web

, Dec 20, 2019

I'm a huge fan of the Harry Potter series, and this book is by far the best. I feel like I know Scott and Kimberly Hahn personally because of the book. Feeling like I could walk up to them in the grocery store and say, 'Hi, great to see you, how are the kids? I just can't help but smile at Scott Hahn's story. Kimberly said her story was "kind of painful" to hear. I am so happy things worked out for them, says Graham, "because you see both sides of conversion: acceptance of the truth and a serious struggle to hang onto long held beliefs." This is a great book, one of the greats.
A documented testimony that Catholicism in the one true faith

Derived From Web

, Oct 5, 2019

A Protestant theologian that through years of study discovered and fully acknowledged that there was no such thing as a "black church." The Rev. John Paul II proved every Catholic belief wrong. He awoke his very soul in awe before Christ's presence in the Eucharist, to which he called "My Lord and My God."
Awesome Book

Derived From Web

, Apr 10, 2018

Turner said he couldn't put this down. As a Catholic, I cannot explain my faith as well as Scott and Kimberly Hahn. He said: "They are an amazing couple and a testament to one, holy, catholic and apostolic faith. To have done the research that Scott did and affirm that we are the true Church is a testament to his integrity. This book will be highly recommended to anyone who wants to know more about Catholicism.