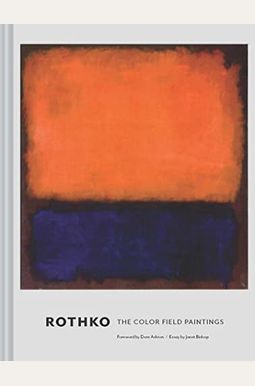  
Rothko: The Color Field Paintings (Book For Art Lovers, Books Of Paintings, Museum Books)
Book Overview
Mark Rothko's iconic paintings are some of the most profound works of twentieth-century Abstract Expressionism. This collection presents fifty large-scale artworks from the American master's color field period (1949-1970) alongside essays by Rothko's son, Christopher Rothko, and San Francisco Museum of Modern Art curator of painting and sculpture Janet Bishop. Featuring illuminating details about Rothko's life, influences, and legacy, and brimming with the emotional power and expressive color of his groundbreaking canvases, this essential volume brings the renowned artist's luminous work to light for both longtime Rothko fans and those discovering his work for the very first time. A textured case and large-scale tip-on on the front cover round out this sumptious package.
Frequently Asked Questions About Rothko: The Color Field Paintings (Book For Art Lovers, Books Of Paintings, Museum Books)
Books like Rothko: The Color Field Paintings (Book For Art Lovers, Books Of Paintings, Museum Books)
Book Reviews
(7)
Did you read Rothko: The Color Field Paintings (Book For Art Lovers, Books Of Paintings, Museum Books)? Please provide your feedback and rating to help other readers.
A lovely book

Derived From Web

, Mar 9, 2021

Here are the paintings that are absolutely gorgeous! The text is often referenced and footnotes, etc., because this book was put together by his son. But the pictures are wonderful, even in e-reproduction, which makes all of it worthwhile.
Paintings look great on iPad

Derived From Web

, Aug 6, 2020

This book is mainly 50 or so Rothko paintings, which was the main reason I bought it. The two essays are short but good. The paintings look wonderful when Kindle is set to black background mode and enlarged to fill the screen.
Gorgeous book

Derived From Web

, Feb 16, 2019

I first checked this library out '', along with several others. The best was this : It is filled with color plates of Rothko's work and some of his history.
The painting on the cover is not consistent with the same painting inside the book.

Derived From Web

, Jun 22, 2018

But some of the colors were not consistent and of course, colors are a big deal.
It's OK, but it's limited

Derived From Web

, Jan 15, 2018

The illustrations are very big-crisp, clear and some have not been repeated before, except in the good-natured Rothko catalog that Yale UP published several years ago. But this is only a beautiful picture book, the foreword by C Rothko is only a page in length and is adapted from his recent book on his father's work. The essay by Curator J Bishop is short and thin. No Chronology, No Bibliography Also, the info about where each painting is placed is not provided with the illustration, but is in a list at the back - it is annoying to have to do so much slapping back and forth.
A Must Have for Any Lover of Mark Rothko's Work

Derived From Web

, Jan 2, 2018

This book comes as close as one can to providing a quiet place to meditate regularly with Mark Rothko's work. Unlike many art books, Christopher Rothko's son Mark Rothko has wisely chosen to let art speak for itself without volumes and volumes of text. The paper has a slight sheen to it, but disappears when held at the right angle and the art work feels supple and luscious. This book is priced at only $25 and is not intended to make a fortune, but to promote the art work itself. And it succeeds generously.
Gorgeous Book, Sparse Text

Derived From Web

, Nov 30, 2017

It is definitely a different experience to look at Rothko on a computer. That is sad, I was surprised at how little the text contains in this volume. The introductory material is short and spread rather sparsely over the first few pages. The copy I received also had dents in it. It appears to me that the cover of the book isn 't very durable.