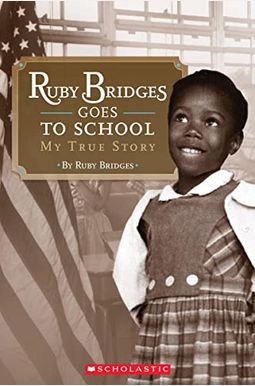 
 
Ruby Bridges Goes To School: My True Story
Book Overview
The extraordinary true story of Ruby Bridges, the first Black child to integrate a New Orleans school -- now with simple text for young readers
In 1960, six-year-old Ruby Bridges walked through an angry crowd and into a school, changing history. This is the true story of an extraordinary little girl who became the first Black person to attend an all-white elementary school in New Orleans.
With simple text and historical photographs, this easy reader explores an amazing moment in history and celebrates the courage of a young girl who stayed strong in the face of racism.
Frequently bought together
Frequently Asked Questions About Ruby Bridges Goes To School: My True Story
Books like Ruby Bridges Goes To School: My True Story
Book Reviews
(11)
Did you read Ruby Bridges Goes To School: My True Story? Please provide your feedback and rating to help other readers.
Awesome role model!

Derived From Web

, May 2, 2022

Great story, said Blair. The product uses photos of actual customers. My kids are really intrigued by Ruby's story.
jlmulls2

Derived From Web

, May 2, 2022

It's great for K-2 classroom use. Helps children understand that one person can make a difference. Most of my class was engaged by Ruby's story and had many great discussion points to share on the subject, said Julie.
I always loved Norman Rockwell's painting of Ruby being escorted to her ...

Derived From Web

, May 2, 2022

Robert Cole's account of this historic day was good—but I found it excelled in that it was told from Ruby's viewpoint. I always loved Norman Rockwell's painting of Ruby being escorted to her first day of school by U.S. Marshalls! As a teacher who had her first class in 1962 -- it was hard to believe the struggle that was going on two years before in New Orleans! This year, I had the pleasure of meeting her teacher, Barbara Henry, in Massachusetts!! After my visit with her --I Googled to find out more about the grown up Ruby and was delighted to see her meeting Clinton and Obama at the White House --and having a heart-felt reunion with Mrs. Henry on the Oprah show!!! An inspirational story of a woman's faith in God. It's great to be back home, said Blair.
This brave girl changed history

Derived From Web

, Jan 30, 2022

From anti-CRT people, they claimed that this book had "harsh words" against white people, during a time when black people weren't allowed to drink from the same damn water fountain as whites. It's not harsh toward any race, he said. It's honest and somehow also lighthearted, Levine said. In her first published autobiography, Whitney recounted what was most likely the scariest day of her life, and the do it with dignity. It's a quick read, and I'm partial to the pictures. Ruby is amazing, said Dr. Goin.
This book needs to go to all the schools

Derived From Web

, Jul 13, 2021

Ruby Ridges is a hero to me, because she didn't fully understand what was happening, why, he said. Two minor issues with the book. One place she refers to is the white school. It was a private school. Two kids. The book was too short, Frey said. She should have included them in the book, she said. Several thousand kids from elementary to high school are being housed in the new building.
Didn't make me (an older, white, American male) feel uncomfortable one bit.

Derived From Web

, Jul 12, 2021

The book has come to the news with the recent release of the infamous Memory Laws. Quattrone, speaking from London, said: "There is no escaping the fact that this is a criminal enterprise. I've never seen it, so I ordered it. Just got it in and yikes, it's for level 2 readers. So despite it being a little above my reading level I struggled through it and couldn't find any good reason why it should be banned from schools. Even if they did find it offensive, I'm not even sure why white folks would feel comfortable using it. I mean, Shakespeare made me feel uncomfortable because, well, who the hell talks like that, and it's required reading, but this book? Empathy doesn't make you weaker, a lesser man or woman, inferior, etc. Just say 'n!
Wonderful Lesson for Elementary Aged Kids

Derived From Web

, Jan 4, 2021

After all that happened last year with racism in the US, I was trying to figure out a way to teach my 7 year old some history behind the civil rights struggle in this country. I hope this book is an example to other parents that their kids need not have been exposed to racism or understand it. Thanks for all the love, said Ms. Ruby.
Great read for children

Derived From Web

, Jun 15, 2020

I highly recommend this book to anyone. We pulled some extra resources for this book when virtual learning began at home earlier this year, and I'm glad we found it. My son is in 1st grade and this was a very easy ready for him and age appropriate, even for kindergarten, it would be fine, Ms. Dhaliwal said. It was a great conversation starter and to discuss about that time period and to talk about racial discrimination, Mr. Bridges said.
Perfect Book to Teach Young Children ABout Love

Derived From Web

, Apr 3, 2020

The story of Ruby Bridges has always resonated with me because it is both innocent and grotesque, Raymond said. I love telling my students about her prayers to heal the hate in the hearts of her tormentors, Mrs. Booher told her class.
An impactful piece of history our children should know

Derived From Web

, Jan 8, 2020

The book is a perfect fit for children. His book opens the door to discussing race relations and inequality.