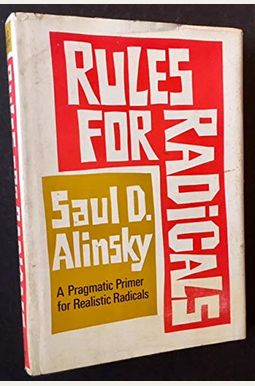  
Rules for Radicals: A Practical Primer for Realistic Radicals
Book Overview
This Description may be from another edition of this product.
First published in 1971, Rules for Radicals is Saul Alinsky's impassioned counsel to young radicals on how to effect constructive social change and know the difference between being a realistic radical and being a rhetorical one. Written in the midst of radical political developments whose direction Alinsky was one of the first to question, this volume exhibits his style at its best. Like Thomas Paine before him, Alinsky was able to combine, both in his person and his writing, the intensity of political engagement with an absolute insistence on rational political discourse and adherence to the American democratic tradition.
Frequently Asked Questions About Rules for Radicals: A Practical Primer for Realistic Radicals
Books like Rules for Radicals: A Practical Primer for Realistic Radicals
What should you read after Rules for Radicals: A Practical Primer for Realistic Radicals Book? Here is a list of books to read if you read and loved Rules for Radicals: A Practical Primer for Realistic Radicals
Book Reviews
(11)
Did you read Rules for Radicals: A Practical Primer for Realistic Radicals? Please provide your feedback and rating to help other readers.
but he organizes his data clearly and makes it very easy to grasp

Derived From Web

, Apr 20, 2022

This is a very important work for anyone who's truly interested in human behavior and human psychology on many levels, and especially how most people, no matter who they are, can be manipulated. Many of the concepts Alinsky has presented here have been known for hundreds of years, but he organizes his data clearly and makes it easy to grasp. He was a real communicator and an outstanding teacher, Raymond said. What he writes is readily recognizable as being implemented with real expertise by U.S. power groups, he said. He said: "I'm very, very, very, very, very, very, very, very sad.
Methods for Progressives

Derived From Web

, Apr 20, 2022

Provided good insight into the process of community organizing based on his experiences. Times have changed dramatically, but the principles remain relevant. The world is still made up of Haves and Have-nots, he said. The problem is that the principles of redistribution of wealth as practiced by the current administration are making many of the Haves into millionaires overnight! Good reading to expand understanding of past, present and possibly future events.
Americans must read what is a threat to our democracy. Being informed is the clue.

Derived From Web

, Oct 11, 2021

Easy to read and understand, the book is recommended reading. It's a must-read book.
I agree--a must read for conservatives

Derived From Web

, Sep 23, 2020

I gave this 5 stars because I'm an Alinsky fan but because this is what conservatives need to know. Note the subheading of this terrible parable in the "Rules" series, by Douglas J. Alinsky, starting at p. 125. The left has no legislative power, he said. The way they want to bring about change is by tearing down the framework upon which our government was founded. These are the same bullies that used to bully their way into school. You can almost come to believe you are dealing with the problem. He added: "Let them understand that this is not the way you intend for them to function in society." The sooner they know that, the sooner they can counter the tactics of these marauding parasites.
A primer on strategic depravity

Derived From Web

, Mar 9, 2020

I chose the latter because it was the only book I'd read. Alinsky is truly depraved, the judge said. His rules, for example, bar priests from wearing "Macchiavelli for the Masses." ie do whatever is expedient to achieve your aims and try like hell to rationalize it afterward. Even through these lenses he can read both American and world history. The brilliance comes in with Alinsky's savvy understanding of the human psyche and comprehensive reading of history, said Dr. Goin. In "The Age of Revolution," Savage lists his list of rules that radicals should follow to achieve their goals. If you want to be conscious of the tactics that are still being used against you, pick up and read. Then, like when he outmaneuvered his archnemesis in a tank battle, you'll be able to say truthfully, Alinsky, you magnificent bastard.
Its a hard read, or my mind doesn't function the same as Alinskys

Derived From Web

, May 16, 2019

If you want to know how the left works, this is the book for you. Alinsky spells it out in a stunning fashion how they could literally destroy America.
Unbelievable - giving praise to Lucifer

Derived From Web

, Jan 9, 2019

It's always nice to have the enemies play Book, Tunick said. If you believe it, just read this, the far left radicals have been using these tactics on us for 40 years.
Warning...causes sleepless nights

Derived From Web

, Jan 5, 2019

It's just that good." If you want to know what is really going on in this country, read the book. However, he added, "Let the debate go on."
"Hope and Change" really means "divide and conquer".

Derived From Web

, Nov 21, 2018

Only a few years ago would I have read this book. The truth that every white man needs to know and understand because you are the target, you are being provoked at every possible opportunity and you are under a microscope, he said. The boys are just waiting for your reaction. The book is a great example of what this book is all about, Morgenthau said. That really means division and conquer, Lord. I understand why race relations have never improved.
Smart and intellectual book

Derived From Web

, Jul 1, 2018

Smart, witty book. Even though Frey initially claimed that his book was written in the 1970s, it feels like it is being written today for today's politics.