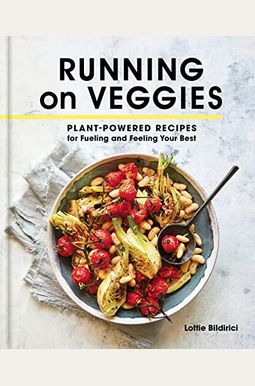 
 
Running on Veggies: Plant-Powered Recipes for Fueling and Feeling Your Best
Frequently Asked Questions About Running on Veggies: Plant-Powered Recipes for Fueling and Feeling Your Best
Book Reviews
(11)
Did you read Running on Veggies: Plant-Powered Recipes for Fueling and Feeling Your Best? Please provide your feedback and rating to help other readers.
No nutritional information per serving provided.

Derived From Web

, Jan 30, 2022

Nice recipes : Tried a few and worked out well. My issue is that there is no portion calorie count. If you are on a strict diet regimen, more work. It would have been better if all this information was included.
Each recipe is better then the next

Derived From Web

, Jan 20, 2022

I follow Lottie on social media and I am always inspired by the different recipes and foods she makes. When I saw that she was putting together a cookbook, I pre-ordered it right away. I waited for it to come and I am so happy!!! Right away, I made the peanut butter and banana pancakes... sooo good! The next dish was spicy peanut tofu pad thai... prefect dinner! Can 't wait to keep making all these delicious recipes! Thank you Lottie for sharing with us all these amazing recipes.
Yummy healthy recipes

Derived From Web

, Jan 19, 2022

So I started trying a few recipes this past week, my family loved salmon burger, what made me tempted to try this was I had cooked brown rice already in the fridge, left over pineapple, and also delicious, I made the date protein bars from her Instagram account great for my summer long rides.
Love this book!!

Derived From Web

, Jan 19, 2022

Can 't wait to try these recipes. She is an amazing young woman. Also love the photos. Didn 't think I needed another cookbook, but this is SPECTACULAR!! Definitely should be part of everyone's collection.
Great recipes everyone should have!

Derived From Web

, Jan 16, 2022

This cookbook is a must-have for runners as well as a cookbook. I am not a very good cook myself, but these recipes are easy to follow and make healthy eating feel enjoyable and not restrictive. I love the variety of recipes - no matter what I am craving, this cookbook has something for every type of meal or snack. I also love the recipes of the pro athletes. It is really cool to see how people at the top of their sport can fuel their bodies and how recreational athletes like myself can emulate their habits so that I can feel my best while enjoying my food too! I highly recommend this cookbook and can not wait to buy more copies to gift to friends.
Simple, healthy, yet delicious

Derived From Web

, Jan 14, 2022

I have had this cookbook for a few days now, but could not wait to dive right in as soon as it arrived, with its beautiful photos and helpful tips for cooking nutritious meals. I have already tried a number of recipes, including the chocolate chip cookies, carrot-kabocha squash soup and blueberry lemon muffins, all loved by everyone - even the kids. The incorporation of healthy ingredients and well laid steps made cooking simple and natural meals a breeze - something I have been looking for for a while! Finally a cookbook filled with plant-based recipes that are not only delicious, but also good for you! SO happy to have this included in my cookbook collection. From here I know that it will be a kitchen staple.
The BEST Cookbook

Derived From Web

, Jan 14, 2022

I have had this book for two days and I already made five recipes and told all my friends about it! As a very unprofessional athlete, I struggled to find cookbooks and recipes that keep me fueled for my long days in the mountains and entertained during the weeknights after similarly long days at my desk. The biggest thing I've been craving is more breakfast and snack ideas - I often don 't want bars or trail mix - and I am SO excited to try more of Lottie's adventure snacks. Highly recommended this cookbook if you are looking for more creative and accessible ways to fuel your body, or just more strategic ways to make plant-based meals in the kitchen.
Easy tantalizing recipes!!

Derived From Web

, Jan 13, 2022

I was surprised at how user-friendly this cookbook was when I received it! Delicious recipes and nothing too advanced for a mother of six like me to make! I found it, cozied up on my couch to look through and immediately got that night's dinner. I pretty much have all these ingredients in my house and was able to whip up the southwestern chili 25 minutes before my children walked through the door... also love Lotties intro-felt like a family cookbook! Over and over again, you will refer to this cookbook!
Best flexible cookbook for many diets and such an inspirational story!

Derived From Web

, Jan 13, 2022

I can make these healthy snacks like the peanut butter - compost - cookies and eat them before I work out. All the guides show me Alt ingredients so that I can work with what I have in my house. i can add chicken or steak to these recipes, like pesto. The spicy tahini soba will make ur friends think that u are a world-class chef. Kale Salad is so easy to prepare, especially if you are not used to cooking for yourself. I had no experience baking and now I can make a cinnamon coffee crumb cake with my morning matcha and not feel like a pig for eating dessert first.
My favorite cookbook!

Derived From Web

, Jan 13, 2022

I have been waiting hesitantly for this cook book to arrive. I love healthy eating for the whole family and struggle to find a cookbook that satisfies the whole family. After receiving the book, it definitely did not let me down. I went through every page and can honestly say that each recipe looks absolutely delicious. The quality of the print is also superb. I'm so glad I finally received this and look forward to working with it in the kitchen!