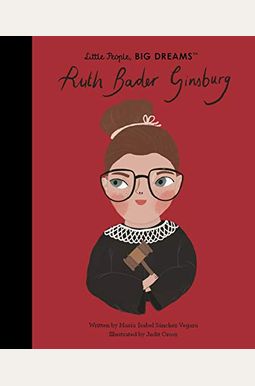 
 
Frequently Asked Questions About Ruth Bader Ginsburg
Books like Ruth Bader Ginsburg
Book Reviews
(8)
Did you read Ruth Bader Ginsburg? Please provide your feedback and rating to help other readers.
You really can't go wrong with any book in this great series.

Derived From Web

, Mar 6, 2022

Ruth Bader Ginsburg '' by Judit Orosz with illustrations by Maria Isabel Sanchez Vegara is volume 66 in the series '' Little People, Big Dreams '' for young readers. Her mother taught her to be independent and she excelled as a student and law professor, but it is her role as a Supreme Court justice that she will be most remembered for. As always, included in the back is a series of facts and real pictures that are always interesting just as the people in this series. I received a review copy of this ebook from the Quarto Publishing Group -- Frances Lincoln Children's Books and NetGalley. Thank you for allowing me to review this book.
Another great Little People, Big Dreams book. Informative and entertaining

Derived From Web

, Jan 16, 2022

They all have the same basic structure : a remarkable biography of a child, explaining how they became interested in, what challenges they face and their success as adults. They are generally written and accessible well. We found them remarkable books to introduce our 6 year to great figures in sports, art, politics, science, etc. He loves her. It is a great introduction to RBG and her life. It is more basic than some other children's book on RBG, but that is okay. It is shorter and my son stays engaged throughout the day. The illustrations are really nice and sparked a great discussion about women's rights and why RBG had to do the work she did to help women fight discrimination. I am a big RBG Stan and I'm happy to have a book about her to share with my son.
So Cute

Derived From Web

, Jan 15, 2022

This was on my sister's wish list for my nephew, and I love that she wants him to grow up learning RBG. Got it as one of his first Christmas gifts and can 't wait to read it to him when he is old enough for story time!
Great Book

Derived From Web

, Jan 3, 2022

I am looking forward to reading it to my granddaughter.
Nice Biography of RBG

Derived From Web

, Jan 3, 2022

I am a big fan of RBG, so when I saw Ruth Bader Ginsburg, I wanted to get it for my four-year-old son. The book follows the major events in her life and is written in a kid-friendly way. I am a second teacher and librarian and would say that his is appropriate for a reading aloud for the elementary grade and up. There was, however, a problem that I noticed. On one page it discusses how RBG was the second woman on the Supreme Court, yet the image showed two other women as judges on the same day. Overall, this is a nice book, but some of the pictures were a little off.
Great content, binding issue

Derived From Web

, Dec 19, 2021

This book gives a high introduction to a child who was RBG at a level appropriate for small children. The illustrations are cute and simple, the print quality is good and the content is great, but mine had a binding issue. The front page was tucked behind the binding and glued there. This not only has made the front page too short, but may also affect the structure and durability.
Empowering Young Women

Derived From Web

, Dec 19, 2021

As a parent of a young girl, I am always looking for books to show strong women who break the traditional mold and inspire my child to be anything she wants. The story starts out about Ruth going to school and receiving top notch education, something that women in her family had to give up in previous generations. She goes on to be a top student at the law school, study in Sweden and learn about the continuing family responsibilities that women face. The illustrations were beautifully done and the overall story followed the theme of Little People, Big Dreams, of describing childhood, teenage years and adult years while including a timeline with real-life photographs at the end. This was an excellent read and would be a perfect book for a classroom or a home library.
The supreme RBG

Derived From Web

, Dec 9, 2021

I've received quite a few of these big dreams books by little people and are pretty hit or miss for me. There have been some that I really enjoyed and a couple that didn 't hit the mark. This is one of the good ones! I wish it had just a little more because RBG's history and achievements were so extensive and most were not mentioned in the book. I think the book was at a good reading comprehension level and still gave out a lot of simple and clear information about her personal life. If you want to teach your children about one of our major historians, this is a good start, and you can always add more to the story and tell them when you are finished with the book. The illustrations were really good in this one as well and there were a lot of small details in the pictures that would only understand those knowledgeable about RBG.