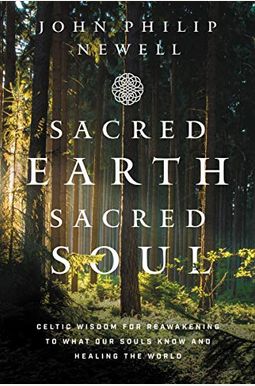 
 
Sacred Earth, Sacred Soul: Celtic Wisdom For Reawakening To What Our Souls Know And Healing The World
Book Overview
A leading spiritual teacher reveals how Celtic spirituality--listening to the sacred around us and inside of us--can help us heal the earth, overcome our conflicts, and reconnect with ourselves.

John Philip Newell shares the long, hidden tradition of Celtic Christianity, explaining how this earth-based spirituality can help us rediscover the natural rhythms of life and deepen our spiritual connection with God, with each other, and with the earth. Newell introduces some of Celtic Christianity's leading practitioners, both saints and pioneers of faith, whose timeless wisdom is more necessary than ever, including:
Pelagius, who shows us how to look beyond sin to affirm our sacredness as part of all God's creation, and courageously stand up for our principles in the face of oppression.
Brigid of Kildare, who illuminates the interrelationship of all things and reminds us of the power of the sacred feminine to overcome those seeking to control us.
John Muir, who encourages us to see the holiness and beauty of wilderness and what we must do to protect these gifts.
Teilhard de Chardin, who inspires us to see how science, faith, and our future tell one universal story that begins with sacredness.
By embracing the wisdom of Celtic Christianity, we can learn how to listen to the sacred and see the divine in all of creation and Read More chevron_right
Frequently Asked Questions About Sacred Earth, Sacred Soul: Celtic Wisdom For Reawakening To What Our Souls Know And Healing The World
Book Reviews
(10)
Did you read Sacred Earth, Sacred Soul: Celtic Wisdom For Reawakening To What Our Souls Know And Healing The World? Please provide your feedback and rating to help other readers.
Breathes new life into theology

Derived From Web

, Mar 2, 2022

John Philip Newell explores the major themes of Celtic belief and practice with a wealth of useful sections on Pelagius, Eriugena, John Muir and de Chardin. The reader is invited into a deep appreciation of the universe and all of creation as sacred. The book sheds light on the grace based thinking of Pelagius over against the original sin of Augustine of Hippo. An eye opener for anyone searching for an understanding of how God created the universe.
An answer to "how did we get this way?"

Derived From Web

, Jan 21, 2022

For anyone seeking to understand how Christianity morphed from an embodied, loving sect to a doctrine that too often attends to the head but not the body, the Rev. Timothy Evans' remedy is to seek reconciliation with the earth and the human beings. Or who has read my grandmother's hands and is wondering how their European ancestors were treated or what ancestral trauma lurks in their lineage. The book reveals how the Church's alliances with empire and Britain's indigenous world views of the Celtic people threatened that.
FOR ALL FAITHS - AND NO FAITH

Derived From Web

, Dec 9, 2021

JPN is a poetic and deeply intelligent writer, and the pages are full of depth. Without indoor institutions, a celebration of the heart occurs spontaneously, deliberately, sometimes grieving, and finding a winding path to wholeness, he said.
Good message. Repetitive language.

Derived From Web

, Nov 29, 2021

I liked the subject matter and the message, and the references to Iona which I have visited, Morgenthau said. However, I was not impressed with the writing itself as the same words and phrases were used again and again throughout to describe the experience of Celtic Spirituality.
A book to read more than once

Derived From Web

, Nov 24, 2021

I first got this book from my local library, but decided to get my own copy so I could refer to it often.
So Good!

Derived From Web

, Sep 17, 2021

I've read the entire book, and I'm in love. Newell Brands is known for creating some of the world's best-selling products. In Sacred Earth, Sacred Soul, Michael Powell reveals how the wisdom and life of Celtic Christianity is springing forth in this crucial moment of history. In The Age of Triumph, Newell documents how and why the teachers and deeper sacred truths of the Celtic Christian Tradition have been bullied, suppressed and even killed by the powers of imperial Christianity in bed with Empire. Even today, his writing is as accessible as it is profound.
RENEWAL OF SOUL

Derived From Web

, Sep 12, 2021

I was touched by the book's message of love.
Great read

Derived From Web

, Sep 8, 2021

I found John Philip Newell's writing to be clear and inviting, and his thought provoking. The Christian theology he describes, focusing on nine people from across the ages, is deeply needed.
Insightful

Derived From Web

, Aug 7, 2021

One of those books I will keep for future meditations and pondering. Through his eyes, Newell weaves together history explaining what many already know to be the reality deep inside. I found the book prophetic, and visionary, Raymond said. There were many Aha moments for me and many undiscovered branches on the tree enticing me toward further exploration, he said.
Powerful insights

Derived From Web

, Aug 7, 2021

John Philip Newel, the star of the 1960s TV series "The Young and the Restless," died Sunday at age 82. This book is not only a great spiritual book, but is vital to our spiritual awakening. A great read, Frank Trejo said.