Buy 3 Get 1 Free
Our Best Sale Yet! Add 4 Books Priced Under $5 To Your Cart     Learn more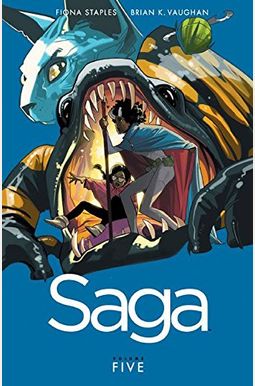 
 
Book Overview
Multiple storylines collide in this cosmos-spanning new volume. While Gwendolyn and Lying Cat risk everything to find a cure for The Will, Marko makes an uneasy alliance with Prince Robot IV to find their missing children, who are trapped on a strange world with terrifying new enemies.
Collects Saga #25-30.
Frequently bought together
Frequently Asked Questions About Saga, Volume 5
Books like Saga, Volume 5
Book Reviews
(12)
Did you read Saga, Volume 5? Please provide your feedback and rating to help other readers.
This series is amazing and Volume 5 still continues that momentum

Derived From Web

, Jun 3, 2022

This series is still amazing and Volume 5 continues this momentum. I am always waiting for the next graphic novel and can not wait to see Fiona Staples in person come April.
Warning; once you start reading the Saga series you may not be able to stop!

Derived From Web

, Jun 3, 2022

I can not wait for the next volume! Highly recommended for anyone who likes to escape into a facinating story.
One of the best out there now

Derived From Web

, Jun 3, 2022

I love this series! '' Alien adventure is a crazy sci-fi adventure. If you don 't like Saga, you have no taste.
Sci-Fi/Fantasy for the Contemporary Reader

Derived From Web

, Jun 3, 2022

Saga is one of the best stories I read in comics, I think. I dove into it by buying the first couple of volumes at a comic convention and it immediately grabbed my attention. The only thing is that I wish I had started reading it when it was first released, or after the series was completed, because waiting for each volume in TPB kills me! The book is progressive, positive and hard-hitting. It hits many topics that affect us as a society today, but because it is written in science fiction, it can reflect on them without the appearance of clowning. I would recommend this to just about anyone and should definitely be on the radar for younger generations.
Satisfyingly Warped

Derived From Web

, Jun 3, 2022

If you are new to the series, grab Volume One ASAP! This is unlike anything you will ever read and is thrilling and thoroughly silly and also thoroughly satisfying. Fiona Staples'imagery is extremely graphic and leaves nothing to the imagination and flows perfectly with Vaughn's witty and unique writing style. Although the plot is good and disturbing, it is very, very crazy. The Saga is multi-layered and intricately fast-paced, and every bit as intricate as George R. Martin's masterpiece. The first page of Saga will hook you and leave you craving for more once you blew through all five trades - paperbacks.
What a treasure

Derived From Web

, Jun 3, 2022

I wish some of the print science fiction I have read was capable of showing me the impact of living on sentient beings in a technology-driven, war-torn universe. Dark humor abounds along with some intense familial moments, but this is balanced by tenderly-driven action. Like most great science - fiction - writers, Vaughan Jam packs his stories with multiple themes and futuristic existential crises in a way that allows enough room for readers to imagine what all this means about life in the future and how our current actions might lead us to such a fate. Best of all, my wife, 18-year-old son, and I have another common interest to discuss and enjoy together. My only regret is that I'm caught up in the series that I have to wait for future installments, but the anticipation of this volume made for sweet suffering.
I wish Amazon were better about delivering graphic novels undamaged

Derived From Web

, Jun 3, 2022

Volume 5 is the first where all the story elements finally clicked for me. In this arc, Marko and Alana have some solid character development. Staples'renderings of Hazel make her role all the more heartbreaking, as does her older self's narration. Here Vaughan uses a dark sense of humor and jarring moments of violence to greater effect than in the previous volumes. The flashback to how Landfall and Wreath's war caused massive destruction across other worlds, luring the reader into almost wanting to identify with Dengo and the Last Revolution. For me, Saga gained only more depth and a powerfully mature use of Pathos in this latest installment. Can 't wait for Volume 6! As a side note, I wish Amazon were better about delivering unamaged graphic novels. My edition came with the bottom corner wrinkled with the back.
Amazing. Love this series!

Derived From Web

, Jun 3, 2022

Another fantastic addition to the Saga story is the story of Another ''. I love this series absolutely ''. I will say that Volume 5 was a little less intense than the previous volumes, but that was bound to happen. I have a feeling that volume 6 will be amazing since 5 seems to be a setupbuildup to the next volume. I can 't wait to continue this series. I am so glad that I started it and I would recommend it to anyone. Sorry, my review is a bit short, but I figure this is late in the series, people probably know about it now. I wanted to say that it was still intense, even if it was less amazing than previous volumes. To the next one!
Like a shroom fueled fever dream

Derived From Web

, Feb 10, 2022

Currently I am on Book 7, but this is one of the most ridiculously entertaining pieces of fiction out there, period. I can not overstate this. If there was ever a graphic novel to recommend to someone who doesn 't read comic books, this is that book. I say that Amazon eluded the dog on delivery. The package came in clearly bent in the middle, which damaged the back cover a bit.
I ordered volumes 5, 6, and 7 - ALL had messed up corner creases!

Derived From Web

, Jun 4, 2020

Love this series, but am seriously disappointed. I ordered three volumes and ALL of them had bent corners - see pictures in reviews. The box they shipped in was not dented or bent, which means that they were all in this condition when they were shipped to me.