Buy 3 Get 1 Free
Our Best Sale Yet! Add 4 Books Priced Under $5 To Your Cart Learn more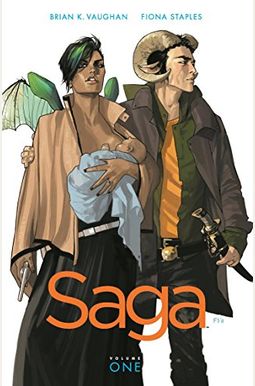 
 
Book Overview
Winner of the 2013 Hugo award for Best Graphic Story
When two soldiers from opposite sides of a never-ending galactic war fall in love, they risk everything to bring a fragile new life into a dangerous old universe. From New York Times bestselling writer Brian K. Vaughan (Y: The Last Man, Ex Machina) and critically acclaimed artist Fiona Staples (Mystery Society, North 40), Saga is the sweeping tale of one young family fighting to find their place in the worlds. Fantasy and science fiction are wed like never before in this sexy, subversive drama for adults.
This specially priced volume collects the first six issues of the smash-hit series The Onion A.V. Club calls the emotional epic Hollywood wishes it could make.
Voted one of the top graphic novels of the year by the NYT, IGN, the Examiner, and SF Weekly. Voted Best Comic of the year by MTV Geek and Best New Series by Paradox Comics. Voted a finalist in the GoodReads Best GN of 2012 contest.
Named one of Time Magazine's top 10 graphic novels for 2013
Frequently bought together
Frequently Asked Questions About Saga, Volume One
Books like Saga, Volume One
Book Reviews
(11)
Did you read Saga, Volume One? Please provide your feedback and rating to help other readers.
An Instant Fan

Derived From Web

, May 7, 2022

I bought this first volume on a whim from reading the other reviews, and I'm so glad I did! This has been a fantastic series full of likable characters that truly found their own voices in the narrative. If you have even the interest in finding something new, fun, at times dark, and wholly exciting to read, then I highly recommend this series.
Great art work, great story

Derived From Web

, May 7, 2022

I purchased this book based on Amazon's recommendation of "FANTASY" by Charlotte Bronte. I like your standard superhero stuff, but I find that I appreciate the lesser known stories a little more. Maybe because I've seen the other stuff all my life and these stories are completely new to me. In any case, I thought the art was fantastic in this, to the point that I want to find other books that Fiona has illustrated. And the story is pretty great, too, something I want to keep reading. Note the series is probably not suitable for kids.
Saga, indeed. Will be buying the future volumes.

Derived From Web

, May 7, 2022

Contains nudity, language and violence. However, the artwork is incredible and the characters are endearing — or at least interesting, if you end up disliking them. It's got a vibe like Star Wars, Samurai Champloo, and Cowboy Bebop. So if you're into any of those, then I'd recommend this series! Probably not for the squeamish or prudish. However, it is not like the series specifically caters to perverts or gore aficionados, it just happens every now and then.
Way beyond your little green aliens

Derived From Web

, May 7, 2022

The artwork is stunning. The creatures draw you in and make you want to learn more about the different species and where they come from. The story follows the life of Romeo and Juliet, played by Ciaran Hinds and Elizabeth Taylor. Science fiction, all fantasy in one. If you can just sit back, relax and enjoy the ride it is well worth it.
Romeo with a magic sword and Juliet with a space gun

Derived From Web

, May 7, 2022

The lovers at the center of this story come from two different sides of a great war being fought by magical forces versus a galactic empire. The art is wonderful and I enjoyed the sassy, funny and relationship between the two main characters, but I had to take off a star for the setting which is not clearly explained. What does magic and science have in common? What is the history between their two peoples? Hopefully volume 2 will clear up some of the confusion, Crowe said.
Saga vol 1

Derived From Web

, May 13, 2021

After seeing this around in the stores and finally on kindle, I decided to breakdown and give this graphic novel a try. The storyline is a bit weird and confusing to me as it jumps right in, as if I should know everything right off the bat. Though I'm not certain, I guess the further into this story the more I'll learn. So we meet our main characters as they give birth in the middle of a war that they are from opposite sides of the world, only to have the story narration by the baby as she's older. Now she's looking back on her life and trying to make the most of every moment. It's interesting to say the least, makes me want to read more to understand how robots have a human body and a tv like head, and how this war actually started, how Hazel's parents actually fell in love since her father was actually her mother's prisoner. Like I said, it's confusing.
The best graphic novel I've ever read

Derived From Web

, Apr 23, 2018

It was by far the standard by which I now set all other fantasies and sci-fi stories. Most amazing and whimsical characters and places exist here.
Just Awesome!

Derived From Web

, Apr 3, 2018

Fantastic storytelling and beautiful art. This product is not intended for children. Do yourself a favor and read it - you will definitely blow through it and then want to read all the other volumes. It's great to be back home, said Blair.
Reviews for all versions of this book are combined...

Derived From Web

, Dec 1, 2017

Note that reviews for all editions of this book seem to be combined, so it's a bit confusing to get the right one! I ordered the hardcover thinking that it was the beautiful edition everyone raves about in their reviews, but the cover looks like it was printed on a home computer. If you want the good hardcover edition, you have to buy it in hardback. Hopefully my review can save a few people the hassle of returning!
My first graphic novel

Derived From Web

, Mar 26, 2017

I really enjoyed this and have ordered the second and third books, too. The cover and recommendations from friends convinced me to give it a try, and I'm glad I did! The story is stunning and the illustrations are engaging. I can not express how much I love the cover art. Bada** breastfeeding, I love it!