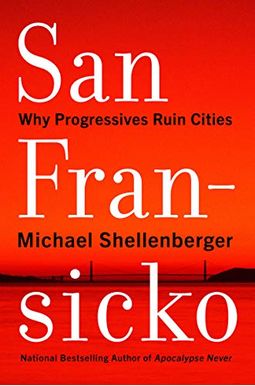 
 
San Fransicko: Why Progressives Ruin Cities
Frequently Asked Questions About San Fransicko: Why Progressives Ruin Cities
Book Reviews
(10)
Did you read San Fransicko: Why Progressives Ruin Cities? Please provide your feedback and rating to help other readers.
This book is more about the failure of our mental health system than housing policy

Derived From Web

, Feb 21, 2022

Shellenberger has written a hard-hitting book about the long-standing confusion in the United States about how to treat serious mental illness and addition. In the 1960s, when we emptied our mental institutions and created community-based mental health facilities, we failed in policy and practice to create a workable system. The result is that many people are living on the streets, because there is not a system to provide the support they need. This category of people represents a part of the mentally sound America-the other part is homeless people who cannot afford a place to live, a category that Shellenberger does not address in depth. Shellenberger's book is a call for a more commonsense approach to housing the mentally ill, and I hope it stirs the discussion and action needed, rather than the defensiveness of those coping with this population.
read It

Derived From Web

, Dec 31, 2021

I have worked as a staff member to both members of the Supervisors Board and the City Council of one of the largest counties and cities in the Bay Area over twenty years ago. We would receive mentially ill individuals sent here on the bus with notes that the sender could not support them. Some had 10 envelopes '' of pills. At least the author gives a solution to the so-called homeless, in place of tossing more guilt-money at the problem.
Quite possibly the best solution to SF problems!

Derived From Web

, Dec 8, 2021

A native of San Francisco, I can vouch for every single reason he has given for the astonishing decline of the city. There is nothing more disappointing to me than to read how the Homeless Industrial Complex manipulated the hearts of San Franciscans to help perpetuate the very problems they claim to cure while lining their own pockets. There isn 't a better book written that every San Francisco politician, businessman, clergy and voter should read!! This is the first book I have read that might actually help San Francisco regain its status as a place where our hearts remain.
Regurgitated conservative talking points

Derived From Web

, Nov 28, 2021

The author interview one, ONE homeless person and claims to be an expert. He sounds like many of my wealthy Haight Ashbury neighbors who feign compassion while secretly concerned about property values. Homeless people are still human beings, one of many facts that the author completely ignores.
Finally, A Nuanced, Rational Look at Helping the Homeless

Derived From Web

, Nov 2, 2021

Purchased this book based on a frustration with safe consumption '' in my city, where it was obvious that what they were doing made the situation worse. Unfortunately, the title is rather misleading, as it might imply a right-wing perspective - it's anything but. The author advocates an intelligent, non-ideological response to a significant problem for the homeless and the communities around them. The carrot and stick approach is so obviously correct, and the information in this book continued in this book, and the experience in the Netherlands and Portugal bears it out. "De-criminalization" is not legalization and addicts need strong hands of assistance, not derision, condescension, or worse, endorsement of their lifestyle. If anyone pays attention to his book, Shellenberger is going to save lives if anyone pays attention to his book.
Great insight

Derived From Web

, Oct 18, 2021

This book really dives into the facts of what is going on now and how we got here. I am a California native and what has been going on has greatly baffled and disturbed me. I live in San Francisco, and I suffer many of the same diseases as Southern California and Los Angeles. I used to take the train downtown, but it is not walkable any longer. Michael has some excellent information and suggestions for Michael. In this book there is much food for thought. I recommended it highly if you feel puzzled about what is happening in a progressive state like California.
Thought provoking read into US homelessness and solutions

Derived From Web

, Oct 18, 2021

Shellenberger cuts through the all-ecdotes, flowery language and false statements about homelessness and drug addiction in modern American city. In this book, Michael delivers a compelling, yet easy to read read book, packed with well thought out analysis of the problem of homelessness that plagues our cities. He also delivers the solutions that actually address the core of problems, based on real world examples from around the world and all backed by proven research. A must read for anyone looking for a fact based understanding of what went wrong in our cities and how to fix them so that we can have a better tomorrow for everyone.
A tough bunch of questions

Derived From Web

, Oct 17, 2021

This book gives insight into a number of confusing questions : Why do the so-called progressivesput with, support or condone the anti-social behavior of the left? Why do they promote the selective enforcement of the law? Drugs are illegal and drugs are illegal. Sleeping on the street is illegal. Defecating and urinating on the street is illegal. Why aren 't these laws enforced? The short answer is in the name of "freedom ", certain psychotic and drug addicted people are allowed to make life miserable for the rest of the city dwellers. It is thought unacceptable to curtail the freedom of the many mentally-challenged and hard drug-addicted homeless. It is thought unacceptable to curtail the freedom of the many mentally-addicted and hard drug-addicted people. We allow what we get.
This is a vital and well researched book. Must read!

Derived From Web

, Oct 17, 2021

Even though it demonstrates the ongoing disaster of the "homeless" policies in San Francisco, it is really about the alternative ways we can truly help the addicted and mentally ill in our communities. What we are currently living with are open air drug scenes and it is not a problem of lack of shelter. These addicted and mentally ill citizens need real help and this book describes specific, proven methods to move past this nightmare. From cover to cover, read it from cover to cover and then send a copy to your local representative. There are policies that work in the Netherlands and Portugal that could easily be replicated in our cities. You will finish the book hopeful for a positive change that seems so intractable at the moment.
I'm "progressive" and agree that SF needs an overhaul. Here for it.

Derived From Web

, Oct 12, 2021

This is SUCH an important read to learn why and how our systems are broken in SF and other cities, and Michael and his team detail a great plan to help our addicts and others recover from the darkness that is now in SF's Tenderloin, with compassion and care and RESULTS, looking forward to seeing important, needed change. Thank you Michael Shellenberger for your heartbreaking research and heart-felt inspiration for change around these important topics in our own backyard.