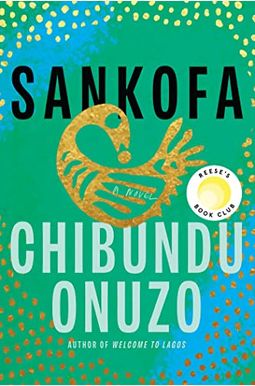  
Book Overview
Girl, Woman, Other meets An American Marriage in this gripping story of a mixed-race woman who goes in search of the African father she never knew, by a prize-winning writer who brilliantly captures the essence of a people and a place (Nicole Dennis-Benn).
Masterful in its examination of freedom, prejudice, and personal and public inheritance,
Sankofa
is a story for anyone who has ever gone looking for a clear identity or home, and found something more complex in its place. Anna is at a stage of her life when she's beginning to wonder who she really is. She has separated from her husband, her daughter is all grown up, and her mother--the only parent who raised her--is dead. Searching through her mother's belongings one day, Anna finds clues about the African father she never knew. His student diaries chronicle his involvement in radical politics in 1970s London. Anna discovers that he eventually became the president--some would say dictator--of a small nation in West Africa. And he is still alive. When Anna decides to track her father down, a journey begins that is disarmingly moving, funny, and fascinating. Like the metaphorical bird that gives the novel its name,
Sankofa
expresses the importance of reaching back to knowledge gained in the past and bringing it into the present to address universal questions of race and belonging, the overseas experience for the African diaspora, and the search for a family's hidden roots.
Frequently Asked Questions About Sankofa
Book Reviews
(9)
Did you read Sankofa? Please provide your feedback and rating to help other readers.
I LOVE RHIS BOOK!

Derived From Web

, Feb 13, 2022

I think it is hard to write real characters, but Onuzo did a great job creating these interesting people with loose ends that kept me attached, but also seeing their flaws and at times not wanting to like them. I want to know so much more about each of the and where things go, but at the same time it didn 't feel like a cliffhanger. The book felt like an invitation to a few months of the main character's life during a significant event. But we can imagine how she continues to live, changed by the experience.
Unreadable; formatting issues maybe?

Derived From Web

, Dec 31, 2021

Unfortunately, I did not discover the formatting error until a few days after the return window was closed. Very disappointed ''. I was really looking forward to reading this book ''.
Goes into La La land

Derived From Web

, Dec 18, 2021

Enter an unknown father who is an ex presidentdictator of an African nation and we are off to La La Land. Its opulence, magical zoos, semi-private conjuring of the dead, the stuff of fairy tales, is the stuff of magical zoos. I finished it, but no thanks.
It's Not Black and White

Derived From Web

, Oct 31, 2021

I loved the ongoing topic of black and white, not just in the racial sense, but also in our perception of people and relationships. Anna defined her marriage and her daughter in static terms, as she defined her own personality. But when she discovered the diary of a father she never knew, she began the journey of discovering not only who was, but who he had become. The story is particularly interesting in its portrayion of racism, especially for those of western race, colonialism and the assumptions of mixed culture. I took a star because I felt the beginning with the repetitive reading of the diary was a bit stuck and I felt the end was a bit abrupt. It was, of course, a wonderful story.
Wonderful Book

Derived From Web

, Oct 30, 2021

Onuzo starts with a simple premise, a mixed London woman who never knew her African exchange student father, learns more about him from her late mother's personal effects. Her efforts to learn more about him become a journey of self-discovery. Interesting story told beautifully by modern fairy tale, political thriller and African culture.
Not much of a ending

Derived From Web

, Oct 20, 2021

I felt as if I were reading to reach a dramatic ending and instead the ending left me very much unimpressed. I enjoyed the details of the story and learning about the characters, but Francis did not seem to be much of a character at all. For me, just a little better than 3 stars.
Family Culture Integration

Derived From Web

, Oct 16, 2021

The delicate ties of the family and the subtle and not so subtle clash of races are beautifully integrated in this page turning story.
Wish there was more . . .

Derived From Web

, Oct 13, 2021

I enjoyed the story, identifying with the characters and their life situations. The changes in the scenery and the complexity between 1st world and 3rd world situations was always believable. The climax was striking and the elegant and gentle ending simply perfect. Thank you Chibundu Onuzo, I salute you as a formerly White South African, now part of this Rainbow Nation.
poetic and deeply moving

Derived From Web

, Oct 12, 2021

This story is one that I will continue to think and meditate on for a long time to come. It is not just about the feeling of belonging or missing a piece of oneself ; it is much deeper, more complex and revealing of humanity beneath the surface. It is as much about becoming as it is about making peace with who you have always been, connecting to personal history and finding your way back home.